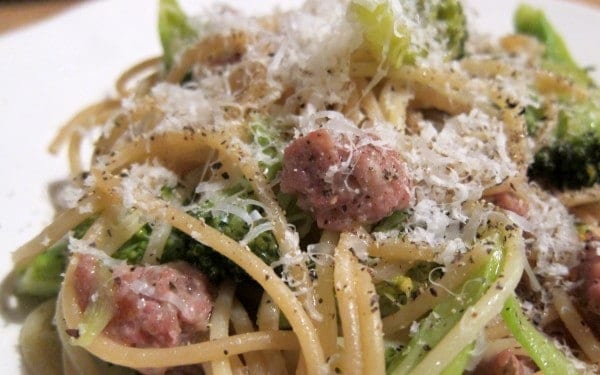 I'M ABOUT TO SAY SOMETHING that gives me a ridiculous sense of pride and satisfaction. Our family loves cauliflower. However, I'm sure it won't last (See the ever-evolving What Works Now, What Doesn't Work Now lists to the right… Sigh.) and they'll really only eat/enjoy it two ways. The first is roasted with olive oil, salt and pepper. With browned edges, every bite is crispy, salty and all of the cabbage-y taste disappears completely. It's wonderful with any roasted meat (especially since the oven's already on = easy.) The second option is mixed with pasta, cheese and turkey sausage. I originally saw this recipe in an issue of Food Network Magazine, just after Estelle was born last year. We tried it out while my in-laws were visiting to help, and despite my husband and father-in-laws' initial doubts it was a hit! We've been making it ever since. You know who likes it the most these days? Eleven-month-old Estelle. I think she knows it's in her honor…
This week I tried something different, adding broccoli instead. It was also delicious and more colorful. But if your dining companions have an aversion to vegetables, the broccoli can't be so easily disguised so take heed. On that note, go with the cauliflower version but remove the biggest pieces from your picky eater's plate. Blend them up with a little warm water and add it all right back into the sauce with no one being the wiser. Another common issue issue is meat. As in, lots of kids don't like it. If this describes your crew, just don't give them any sausage but open up a can of white beans and add a handful to his or her serving. If that's still too overt, throw the beans in a blender too (or use the potato masher to break them up). Added nutrition, undetected!
SPAGHETTI WITH SAUSAGE TWO WAYS
This recipe works equally well with broccoli or cauliflower. Use what you like.
Freshly grated cheese makes all the difference–but you can usually have it ground (for free) at the deli counter.
Cook the noodles first; you'll need some pasta water for the sauce.
Makes 4 medium-size portions
ingredients
1/2 box whole wheat spaghetti noodles
12 ounces sweet Italian turkey sausage (3/4 pound), casings removed
3 tablespoons extra virgin olive oil plus more for drizzling
6 cloves garlic, sliced
1 medium/large head of cauliflower or broccoli cut into small florets
1 tablespoon dried oregano
1 cup freshly grated Pecorino or Parmigiano-Reggiano cheese plus more for sprinkling
instructions
Add the noodles to a pot of boiling (and salted) water. Follow cooking time on the box but reduce by 2 minutes. Drain but reserve 2 cups of cooking water.
In a large skillet over medium heat, cook the sausage completely (about 5 minutes), breaking up pieces evenly. Add a tablespoon of oil and the garlic. Cook together for 1 minute. Add another tablespoon of oil and the broccoli or cauliflower. Cook for 3-4 minutes until the edges are toasted. Add oregano and stir. Add 1 cup of pasta water. Cook for 6-8 minutes for broccoli and 8-10 minutes for cauliflower, until tender and the sauce is reduced. Add the noodles, another tablespoon of olive oil and sprinkle with salt (and pepper, optional). Toss well. Mix in the cheese and serve. (If the pasta is too dry, add 1/4 of cooking water.)
Drizzle olive oil on top and sprinkle a bit of cheese (visible cheese seems to make all the difference!)