WHAT STARTED OUT AS A DECADENT DUCK RAGU, turned into a slow-cooked pasta sauce full of roasted chicken, diced carrots and fragrant rosemary. Then it got baked.
The first thing I read about the duck ragu from "My Father's Daughter: Delicious, Easy Recipes Celebrating Family & Togetherness" by Gwyneth Paltrow is that it's her favorite recipe in the book, learned during a birthday cooking session with friend Jamie Oliver. The second thing was this: it's expensive. Ingredients like a whole organic duck and duck bacon are sure to bust even the most flexible family grocery budget. (Who knew they even made duck bacon?!) Don't get me wrong, I love duck and almost always order it when I see it on a menu. But for home cooking, it's just too involved. Usually there is some sort of suggestion to braise it in its own fat…and I'm out. That was the first substitution. Since duck is so "game-y" I used chicken thighs (with the skin) instead. I also doubled the carrots, a common technique in my kitchen, and substituted pancetta instead of that duck bacon. You could use regular bacon but in Italy, this is the closest thing. And just for fun we threw in whole wheat bow-tie pasta called farfalle in Italian which, adorably, means butterflies. (Phoebe was delighted when she saw the box and picked up a piece of pasta,"It's little! It matches Estelle!")
The sauce is a slow-cooking commitment but one that fills your whole house with a wonderfully homey smell. The perfect thing for a cold weekend. Since this was the first recipe I tried, I made it two ways. Regular pasta on a plate, then baked in ramekins with a hunk of fresh mozzarella hiding inside–both with plenty of freshly grated parmigiano on top. Phoebe ate the top layer of her ramekin, fished out the second layer of cheese then kept asking if I'd help her find the rest of the cheese. That's about as far as we got. But she did enjoy the regular pasta on a plate with one exception: the visible pieces of meat. My suggestion for toddlers/picky eaters is shredding the meat very finely, which I didn't do. Ditto for the tomatoes. Since eating is really such a visual thing, the fewer distractions the better.
As it turned out, the main changes to this recipe were just as kid-friendly as they were budget-friendly but either way, I'd call this a successful dish. We'll have it again later in the week, this time with spinach ravioli, what's not to like about a built-in vegetable? Even Jamie Oliver himself would be proud, at least a little.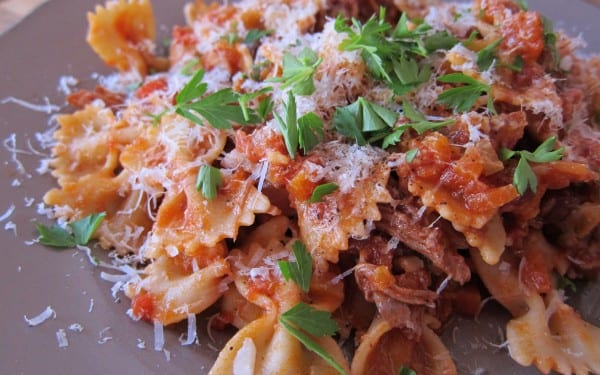 {Foodlets Recipe Makeover: Delicious Recipes Made with Kids In Mind}