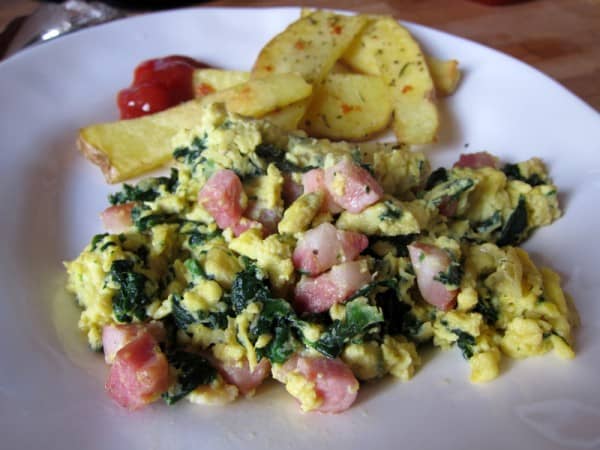 CALL IT A VARIATION of green eggs and ham. We do scrambled eggs or a fritatta (baked in the oven for the last 10 minutes to get fluffy) often. It's easy, inexpensive, healthy and the toddler likes it. Sold!
Today's version included pancetta and spinach (frozen, organic) sauteed in olive oil then whisked eggs, milk, salt and pepper. But sometimes it's sausage, eggs, peppers…really anything can go in there. And because Estelle loves them so, we added oven roasted potatoes with garlic and rosemary today too.
In terms of keeping things on the better-for-you side, I try to keep the ratio of veggies to eggs about even, use cheese or meat sparingly and almost always add spinach.
It's also equally versatile when it comes to the time of day. We'll have a scramble for breakfast, lunch or dinner. Ditto for pancakes.