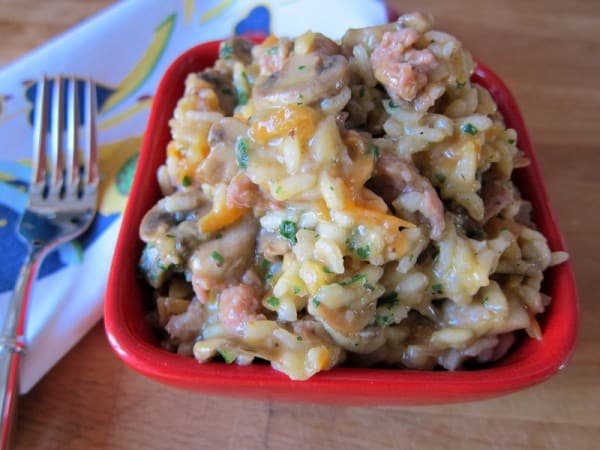 WE'VE GOT A RICE LOVER in the house. Her name is Estelle and to that I say, finally hooray! This recipe is based on a feature I recently read in Family Circle magazine, "10 Family Meals Under $10". It seemed like a good start and as usual, I made my little updates for health and happiness. I'd say we achieved both.
First a word about risotto. It's not fast but it's not hard. Stirring is the name of the game here. In fact, the whole thing reminds me of making pudding. But then, I love to think of pudding so… Okay pregnant lady, back to the rice. I'd like to update two additional things about this recipe: find a way to use whole grains and bake the whole thing instead of stirring. (If I'm going to be hovering over a hot pan, it'd better be full of chocolate pudding. There. Now I'm done.) However, this was very good, very good for us and everybody ate some. Not bad for 20 minutes' work!
SAUSAGE MUSHROOM RISOTTO
For picky (non-green) eaters, omit the parsley or basil until after the kids are served. Then add herbs plus more salt and pepper to adults' plates to taste.
This recipe is great to make during nap time. It'll hold on the stove for an hour or so and in the fridge for several hours (just add a little water to the pan and warm slowly and gently when it's time for dinner.)
ingredients
2 tablespoons extra virgin olive oil
1 cup shredded onion
1 pound turkey, chicken or pork sausage
1 cup shredded carrots
3  cloves garlic, diced
2 cups sliced mushrooms
1 cup arborio rice
2 cans low-sodium chicken broth (14.5 oz.)
1/2 teaspoon salt
1/2 teaspoon pepper
1/2 cup parmigiano-reggiano cheese, grated
1/4 cup fresh parsley or basil finely chopped
instructions
In a heavy bottom sauce pan, Dutch oven or high-sided skillet, saute onion in olive oil over low heat until it starts to sweat, about 5 minutes. Add sausage and carrots. Increase heat to medium and cook until meat is thoroughly browned, about 8 minutes. Add garlic and cook for an additional minute. Remove meat and veggie mixture to a plate and cook mushrooms in sausage drippings until browned, about 5 minutes. Add rice and cook for 1 minute, stirring to brown evenly.
Turn the heat down to medium-low. Using a 1/3 cup measuring cup, start adding broth a little at a time, stirring then cooking until ALMOST completely absorbed. Continue adding broth until rice is fluffy and broth is nearly gone, about 20 minutes. Add meat and veggies back into mixture plus salt, pepper and cheese (plus herbs if using at this point). Serve with a little extra cheese on top plus salt and pepper to taste.