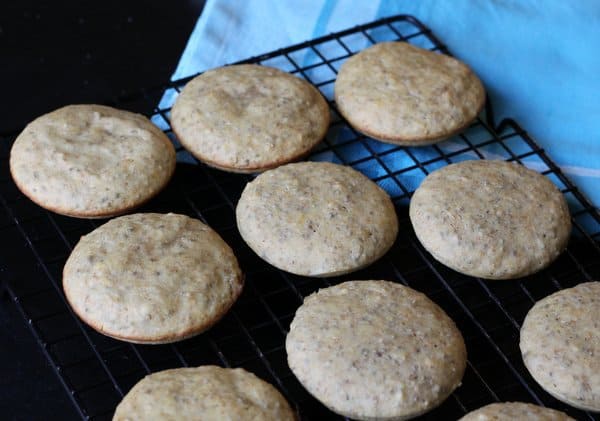 TODAY'S POST IS A TWO-FER. As promised, we've got a delicious recipe from "More Peas, Thank You" by Sarah Matheny and as usual, I did a little revamp of my own. I just couldn't help myself. Below you'll find the original recipe for Lemon Chia Seed Pancakes plus our own muffin top version shown here.
The pancakes already sounded delicious, and quite healthy too, so I suggest that you make them. But there's a problem at my house and it's the same one that Sarah jokes about in the book: I never, ever get to eat a hot pancake when I'm flipping the dang things at the stove for 20 minutes. So I converted them to muffin tops and baked the whole batch in the oven at once. It worked great, and this meant…we all got to eat them at once. Even better.
Pouring the batter into the pans reminded me of our family camping trips when I was a teenager. My mom and step-dad would reserve a camping spot at Lake Chelan every summer, and every summer they'd load up our Astro van and struggle with the boat hitch until we had two tents, two kids and a cooler packed up; ready for a trip across the mountains.
You could always count on a few things during these outdoorsy adventures: the sun would be scorching, the water freezing and my mom would be cooking our meals on a Coleman stove at the campsite. One year she brought along a packet of instant blueberry pancake mix. You added water, maybe milk and I think an egg. Anyway, these turned out to be the best, most flavorful pancakes we'd ever had. They also turned out to be pancakes made from a muffin mix. She'd grabbed the wrong bag by mistake at the store, but this mix-up was one that she carefully made every time from that point on.
So, muffins to pancakes and pancakes to muffins. They swap easily depending on your needs. These days I like to add wheat germ or oat bran when I can, and here I could, so I did. I also doubled the amount of chia seeds, added vanilla and one more lemon. You can never go wrong with more lemons, I say.
I served them with a little puddle of pure maple syrup on a plate. Easy to eat with their hands, all three of these rascals dug in. Except George, no syrup for him. Just soft lemony goodness that he could sink his gums and that one partial tooth right into. (And just like Sarah says with her "Pea Points" recipe note below, these also popped right into the toaster for the easiest reheating ever.) I think they'd be perfect camping food too; I could even make them ahead of time and save myself a bit of trouble, or at least kerosene.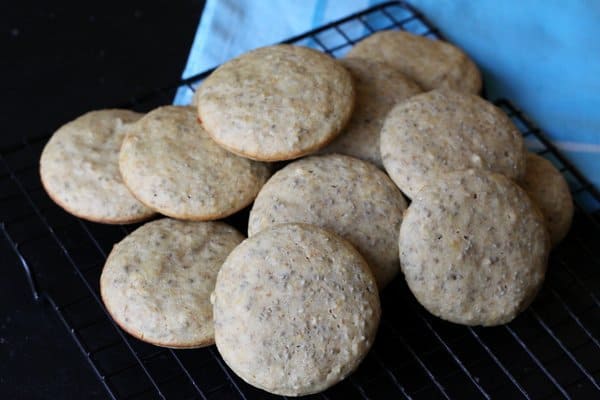 Lemon Chia Seed Pancakes from "More Peas, Thank You"
Makes 12 6-inch pancakes
  INGREDIENTS
1 cup whole wheat pastry flour
1 cup unbleached all-purpose flour
2 teaspoons baking powder
1⁄2 teaspoon baking soda
1⁄2 teaspoon salt
1 tablespoon organic sugar
1⁄2 cup unsweetened applesauce
1 1⁄2 cups nondairy milk or organic milk
2 tablespoons fresh lemon juice
2 teaspoons lemon zest
1 1⁄2 tablespoons chia seeds
cooking spray or oil,  to grease skillet
vegan margarine or organic dairy butter and powdered sugar, to garnish
 DIRECTIONS
In a large bowl, combine flours, baking powder, baking soda, salt and sugar. In a medium-size bowl, combine applesauce, milk and lemon juice.
Add milk mixture to dry ingredients and lightly stir until just combined. Fold in lemon zest and chia seeds.
Heat a skillet or griddle that has been greased with cooking spray or oil over medium heat. For each pancake, pour approximately 1⁄4 cup batter into the skillet. Cook for several minutes, until the bottom is golden and bubbles have formed on the surface of each pancake. Flip pancakes and cook for an additional 1 to 2 minutes, or until golden.
Serve with vegan margarine or organic dairy butter and a dusting of powdered sugar.
Nutrition information per serving: 110 calories, 1.5 g total fat, 0 g saturated fat,  0 g trans fat, 0 mg cholesterol, 190 mg sodium, 21 g carbohydrate, 3 g fiber, 4 g sugar,  4 g protein, vitamin A 2%, vitamin C 4%, calcium 6%, iron 4%
* PEA POINTS: I always double my pancake recipe when I'm whipping up a batch on the weekends. Save leftovers in the freezer and pop them in the toaster for a quick breakfast on busy mornings.
FOODLETS RECIPE MAKEOVER
Lemon Chia Seed Pancakes >> to even healthier, even easier muffin tops
Use all whole wheat flour but substitute 1/2 cup of flour for oat bran or wheat germ
Use 1/4 cup chia seeds
Add 1 teaspoon vanilla
Add 1 more tablespoon of sugar OR use 1/2 cup of honey instead of all the sugar (and cook for 3-5 more minutes)
Double the amount of lemon zest and fresh lemon juice (four medium size lemons)
Add butter to the cups of a muffin top pan and bake for approx 20 minutes at 350 until fluffy and cooked through.