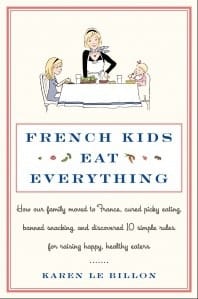 Got picky eaters? Whether you're struggling with mealtimes or just looking for an inspirational read, you'll love this one.
THIS GIVEAWAY HAS ENDED

You have four chances to enter to win one of two free copies of this inspiring tale, "French Kids Eat Everything: How Our Family Moved to France, Cured Picky Eating, Banned Snacking, and Discovered 10 Simple Rules for Raising Happy, Healthy Eaters" by Karen Le Billon.
ENTER TO WIN BY DOING THE FOLLOWING AND LEAVING A COMMENT BELOW, LETTING ME KNOW (you'll have four chances to win total, which should result in four comments below):
Posting a comment below: What's your family's favorite meal? OR What's the hardest food to get your kids to eat?
Posing a comment below your favorite Foodlets post (Have you tried any of our recipes? Are there any you're thinking of making? Let us know!)
Following Foodlets on Pinterest
Liking Foodlets on Facebook
Once you've done one, two, three or four of these, be sure to leave a comment below letting me know.
AND AFTERWARD, A LITTLE MORE…
> Recipes we've tried from "French Kids Eat Everything": Stuffed Tomatoes and Shredded Carrot Salad
> My recent Huffington Post Column, Why French Kids Eat Everything