I'M PRETTY SURE THIS IS WHAT HEAVEN SMELLS LIKE. Sweet apples slowly roasting in the oven, the scent of cinnamon swirling in the air… I enjoyed the amazing aroma almost as much as the moment I handed our kids a bowl full of low-sugar, full-flavor apple chips…and they loved them! We make lots of kid-friendly snacks around here, and more than our share of low-sugar desserts. That's why I love this one. It's both.
I've seen tons of recipes for homemade apple chips online–some with maple syrup and walnuts (decadent!), others with lemon juice (tangy!) and would like to try a version using olive oil (crispy?)–but after cooking up five batches in one weekend I settled on a variation of my own that's both simple, low-sugar and includes only 3 ingredients. Assembling the chips is easy but I'll warn you right now that it's not a quick process. You'll need 90 minutes to 2 hours to really roast these in the oven. With any luck, your oven is bigger than the Euro-sized appliances in my Roman apartment (and therefore your pans are too) so you'll be able to make more at a time. Either way, it's worth the time.
Using two quarter sheet pans at a time, my batches worked out to be about 2 apples, sliced thinly, creating approximately 25 chips. I lined my pans with Silpat liners, which worked beautifully. Elsewhere I've seen instructions to use parchment paper and think that's probably a solid substitute.
If you make these, and I think you should, can you let me know what variations you're trying? Adding spices, changing cooking times, and so on? I'm trying pears next. Wish me luck…
 BAKED APPLE CHIPS WITH CINNAMON SUGAR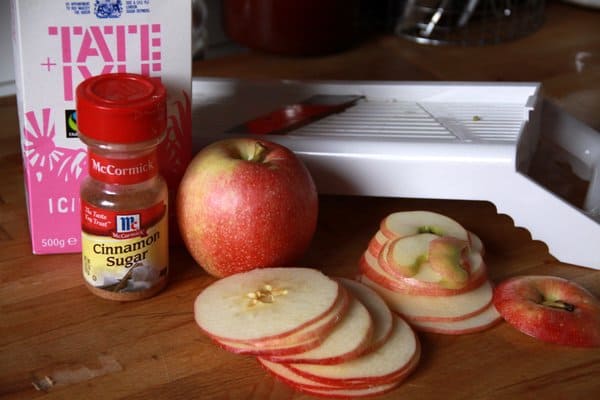 I add more cinnamon, less sugar to my cinnamon sugar blend just to get a bit more flavor and of course, a smidge less sugar into every chip.
ingredients
2 apples (golden delicious, gala or other fall baking apples are best)
2 teaspoons powdered sugar
2 teaspoons cinnamon sugar
instructions
Preheat oven to 200 degrees F (or the lowest setting your oven will go to).
Wash and slice apples horizontally, using a mandolin if possible. Don't bother coring, just remove any pieces of seeds.
On a baking sheet lined with a non-stick sheet such as Silpat, or parchment paper, sprinkle powdered sugar in a very thin, even layer. Line up apple slices, side by side as closely as they'll fit in. Sprinkle cinnamon sugar on top. Place in the warm oven for at least 90 minutes, rotating once halfway through. For sweeter and chewier apples, remove at this point. For crispier apples with a more toasted flavor, cook for the full 2 hours.
Alternatively, skip the cinnamon and sugar altogether. You'll still get flavorful apples, and a sugar-free snack.
Note: the "chips" may not be crispy to the touch when you first remove them from the oven. Remove them from the baking sheet and allow to cool on a wire rack or counter space. They'll crisp up a bit here. Also, the thicker you slice the apples, the chewier the result.
This post is part of Melt In Your Mouth Mondays and Mix It Up Monday.