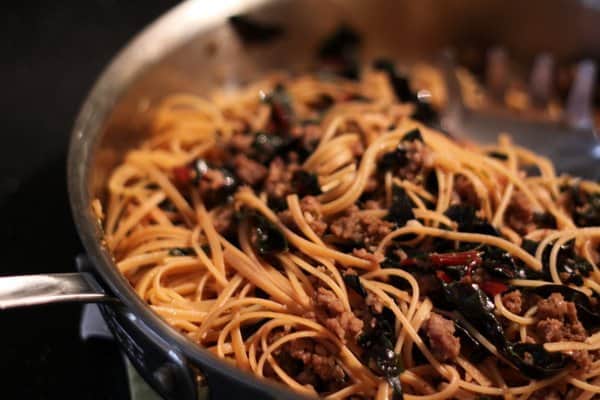 YOU KNEW IT WAS COMING, but I'm not sure Paul did. Anyone who spends any time on 101 Cookbooks, as I am this month during our cookbook giveaway, will find two things: breathtaking photos, and a lot of greens. As I said earlier, we're doing recipe makeovers right here from the rental house in NC, updating Heidi Swanson's amazing ideas for greater ease (for busy moms) and kid-friendliness (actually, also for moms). It all started with some Swiss chard last night and guess who ate it? Everyone.
One of the dreams I had when moving from our apartment in Rome to the suburbs of North Carolina was easy access to farmers' markets. And in the space of two weekends, I've seen two. So, as far as dreams go, pretty good! (Now if we could just do something about realizing the future "Farmette", which will be my little slice of heaven: a few acres of rolling hills with a pond and deluxe swing set-tree house combo that's somehow as fun as it is beautiful, a path to our vegetable garden flanked by hearty rosemary bushes and a dozen fluffy chickens pecking their way around the yard. Oh, also a kitchen island inside.) But back to the markets.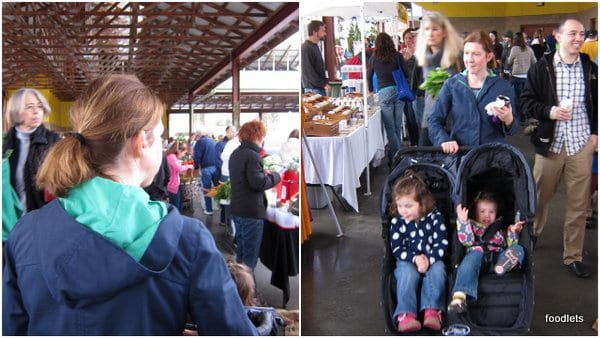 It may be winter time but the pickings are anything but slim around here. Sweet potatoes, kale, apples, butternut squash, acorn squash, beets…these are just a few of the beautiful things picked up so far. And chard. I haven't seen Swiss chard since I was a kid, in our own vegetable garden. I'm sure I never noticed how gorgeous the colors were at the time, probably shrugging my shoulders the same way Phoebe did when I gushed over these greens yesterday. But really, just LOOKING at this stuff makes you feel healthy. Luckily for me and my standing as a mom-who-tries-to-encourage-good-eating, this was the tastiest way to get a bunch of antioxidants into our diet since blueberries started landing in our cereal bowls.
About the pasta. I was inspired by several recipes from 101 Cookbooks, like this one and this one too, and put together a new pasta concoction pretty easily. As I cooked, I channeled my inner Swanson, snapping pictures as I went along.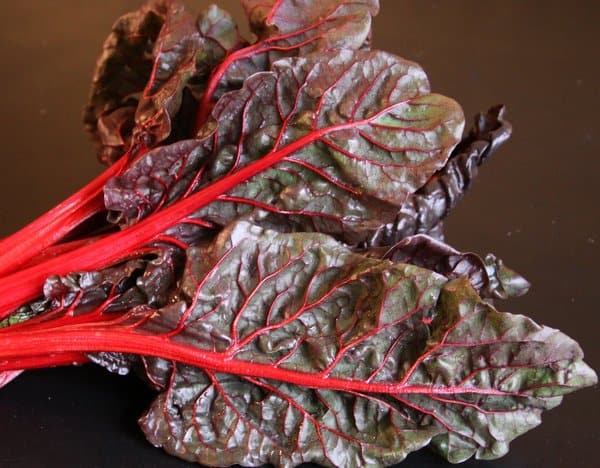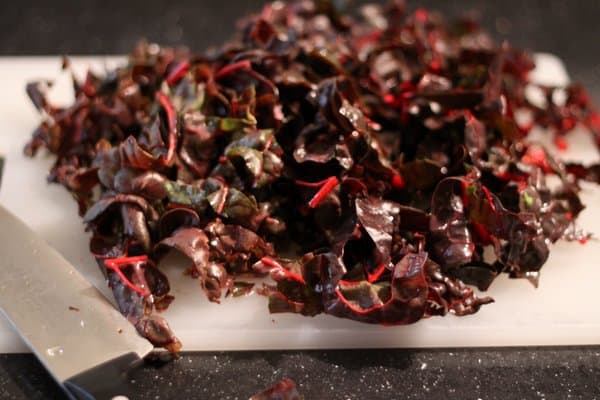 Then a giant pink beanbag invaded my kitchen. Pretty sure Heidi doesn't have these shenanigans going on at her place but anyway…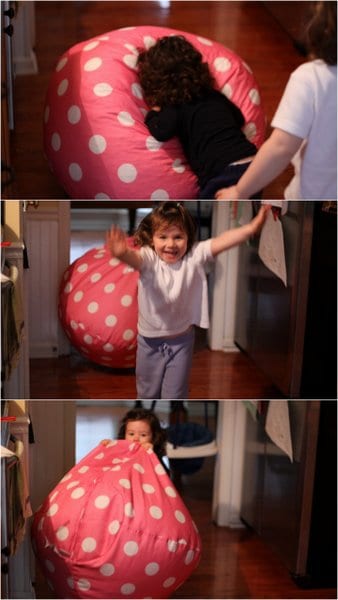 I sauteed the sausage along with the garlic on medium heat, while a big pot of water started to warm on the next burner over. Just as the meat was nearly brown, I added the chopped chard and if you're making this dish ahead of time, it's a good stopping point. You could cover with a lid and leave this on the counter for an hour or two and cook the pasta later. Or cook to this point the night before and store the whole pan in the fridge overnight.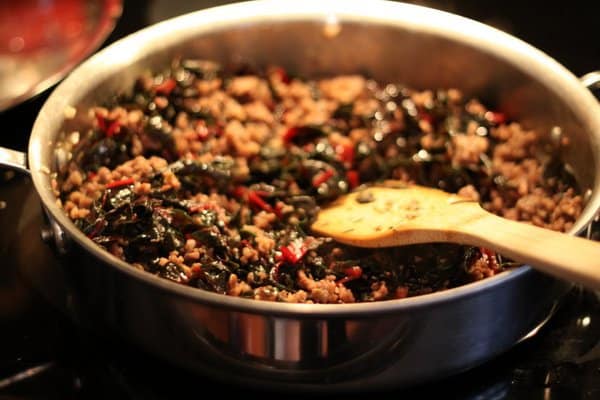 Last night, I made everything at once and added the VERY al dente noodles (stop cooking them 2-3 minutes before the package instructions) along with a cup or so of cooking liquid. Letting the noodles finish in the pan gives everything so much flavor, particularly if you're using any kind of whole wheat pasta as I do.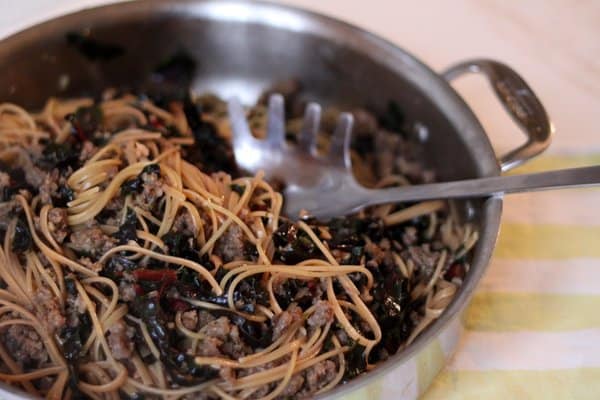 There are 2 ways to top it: a dash of extra virgin olive oil plus shredded Romano cheese or give it a textured twist with cranberries and slivered almonds. (Pine nuts and raisins would work too.) You might decide the way I often do, based on whatever is in my kitchen or what's on sale at the store. Or you'll just serve it in the way that your own rascals are most likely to actually eat it. 
 SPAGHETTI WITH SAUSAGE, SWISS CHARD AND CHEESE
ingredients
1/2 pound whole wheat spaghetti
1 pound sweet Italian sausage (or turkey sausage)
4 cloves garlic, minced
4 cups chopped Swiss chard
1 tablespoon dried oregano
2/3 cup freshly grated cheese (Parmesan or Romano), separated
extra virgin olive oil
salt & pepper
optional: 1/2 cup raisins
optional: 1/2 cups slivered toasted almonds
instructions
Put a big pot of water on to boil; at the same time use a large skillet to brown the sausage and garlic on medium heat. Cook for about 5 minutes, breaking up the sausage into small chunks. If it's very lean, use a drizzle of extra virgin olive oil in the pan. After the sausage has browned, add the oregano and chard then stir. Turn the heat to medium-low and put a lid on the pan.L
Once the water boils, add 1 tablespoon of salt then the pasta. Remove pasta from the pot 2-3 minutes BEFORE the package instructions suggest. Add partially cooked pasta to the sausage pan plus 1/3 cup of shredded cheese. Stir and let sit for 5 minutes or so (I use pockets of time like this to set the table/beg the kids to stop throwing crayons on the floor/sometimes both.)
Pile the pasta on each plate, adding a drizzle of the greenest extra virgin olive oil you can find (seriously, the green color usually means very fresh olive flavor = mmmm.) and a generous sprinkle of grated cheese. Adults will like salt and pepper on top; kids might not. We did add more toppings to the wee ones' plates though: tangy dried cranberries and crunchy slivered almonds. They love these foods and I find that I have more luck getting them to eat new things (Swiss chard) when it's surrounded by the familiar (almonds) and beloved (cranberries). Bonus: both of those are already good-for-you-foods anyway.