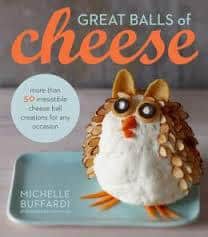 PREPARE TO DAZZLE YOUR KIDS (and everybody else) with this one. What can I say about "Great Balls of Cheese" except that it's easily the cutest cookbook I've ever seen, and I've seen a lot of precious ideas by now. It's not just for kids, though they'll flip over most of these ideas like the preschoolers in our four-year-old's class did when we tried a turkey-shaped recipe last week.
Author and fellow former MSLO alum, Michelle Buffardi, has packed more than 50 recipes  inside this little book. It's awesome and I hope you win a copy of your very own. You can't have mine–Phoebe's already marked all the pages of projects she wants to do–but here's how you can enter.

GIVEAWAY GUIDELINES & RULES
One lucky *winner will be drawn at random and receive a copy of "Great Balls of Cheese" by Michelle Buffardi in the mail.
*Sorry, this giveaway is only open to U.S. residents.
Giveaway dates: December 3-20, 2013
Enter to win by doing one or more of the following:
Like Foodlets on Facebook and comment below to let me know you have, or already do
Follow Foodlets on Pinterest and comment below to let me know you have, or already do
Tell a friend about Foodlets and comment below to let me know you have
Sign up to get new Foodlets posts delivered directly to your email inbox (see box to the right)
Comment on your favorite Foodlets post, a recipe you've tried (and enjoyed!) or comment below about what foods you'd like your kids to eat more of in 2014.
Good luck!