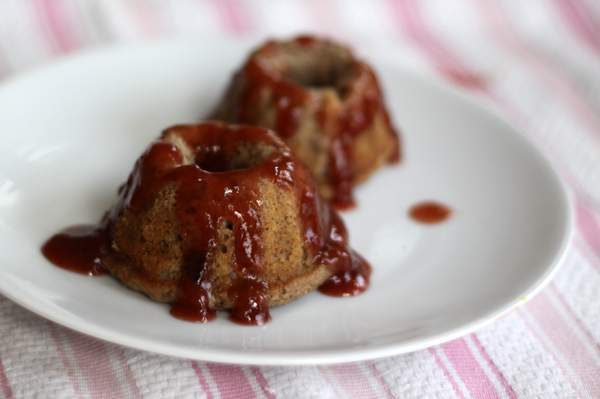 FRESH STRAWBERRIES ARE HARD TO COME BY this time of year. And if you're into cooking fairly seasonally like I am, you might love a cheat like this one. Get all that yummy strawberry flavor (and the pretty pink color) by using strawberry fruit spread. Try to find something low in sugar and even better if it's organic. Either way, this is a great way to get your strawberry fix in February. 
We've been doing a lot with strawberry fruit spread recently, from strawberry puffs with fresh cream on Foodlets to strawberry & cream mini pop-tarts, for  e-How where I'm now a contributor. (Stay tuned for St. Patrick's Day ideas coming right up!) Also in my how-to-make-things-pink arsenal, frozen organic strawberries. I love these things. Simple to find year-round and easy on the wallet too. How else can a mom afford both organic produce and college? But today, we're keeping it even simpler with fruit spread. So here goes.
Strawberry Jam Muffins with Strawberry Jam Glaze
ingredients
1/2 cup unsweetened applesauce
2 large eggs
2 teaspoons vanilla extract
1/2 cup strawberry fruit spread
1/2 cup sugar
2 tablespoons canola oil
1 1/2 cups whole wheat flour
1 teaspoon baking powder
1/2 teaspoon baking soda
1/2 teaspoon salt
instructions
Preheat oven to 350 degrees F. Grease muffin pan or use liners. (I prefer to grease the pans with butter so you don't lose any muffin in the liners.)
In one large bowl, combine applesauce through oil. Then set a metal strainer on top of the bowl and add the dry ingredients. Sift then stir gently to combine. Fill muffin pan 3/4 full and bake for 12-15 minutes.
for the glaze
1/2 cup strawberry fruit spread + juice of 1 lemon. Pour into a saucepan and heat on low, or microwave until the jam starts to melt. Add a tablespoon of water if needed (I did not need it) and drizzle on while still hot. Serve immediately. NOTE: If you are going to serve these later on, add 1/4 cup confectioner's sugar to the jam so it's more like a paste. That will hold up and keep shape for longer–though it's much more sugar.
*And another idea! You could also make these into bar cookies. I added 1/2 cup whole oats and drizzled 1/2 cup of extra strawberry jam to the ingredients–then baked and cut out hearts. Here's a little how-to clip about how we did it.