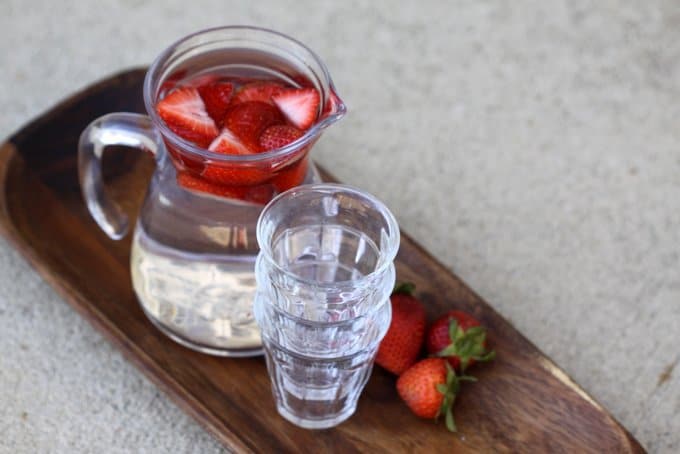 IF YOUR KIDS ARE HOOKED ON THE SWEET STUFF, this may be a good substitute. It's simple, tasty and best of all, a smart solution for weaning even the biggest juice fans off it for good. What's wrong with juice? It's just so full of sugar, basically the equivalent of soda, which is obviously not great for little bodies and even worse for tiny teeth. Really.
A friend of mine recently told me about her daughter's first visit to the dentist which resulted in a root canal. For a three-year-old. It turned out that she'd been drinking a lot of diluted juice, yes even diluted, but even that was no match for those little teeth. This is no shaming session though. The secret to preventing cavities is more complicated than I expected–like everything about parenting these days. There's even new evidence that pregnant moms who take high levels of vitamin D have babies with stronger teeth. As if those of us with giant mid-sections need another thing to worry about…but I digress. Let's just talk juice.
Juice is tricky. It's basically sugar gussied up to look like a light and healthy drink, something you SHOULD give the kids. That's how I grew up. And I'm not even talking about Tang or Kool-Aid; frozen concentrate was a staple in our house. But there are better options now. Like water. That's because today's juice isn't any healthier. As Laurie David, Academy Award winning producer of An Inconvenient Truth and upcoming movie Fed Up (which takes on the food industry in a similar way) says in her gorgeous new cookbook The Family Cooks, "even if the label says '100% fruit juice' or 'no added sugar,' once the fiber is removed, fruit juice becomes sugar water, just like soda. A 12-ounce glass of Tropicana orange juice has 8.25 teaspoons of sugar. Welch's grape juice has 10.5. Imagine adding that by hand to your child."
The good news is, we've got a straightforward win here. Instead of juice, try a little sliced fruit in water. Strawberries, peaches, oranges, even cucumbers add a delicious hint of flavor without an iota of sugar. Think sangria without the booze. And if the kids want to fish out the fruit and eat it? Even better.