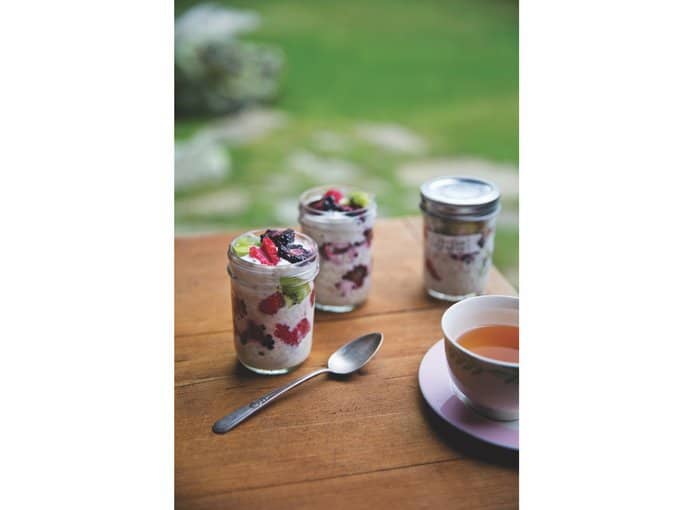 Summer porridge? It may sound like an oxymoron, but this hearty mix of raw oats, yogurt, and fresh fruit is cool and tangy. Spoon it into pretty glasses or mason jars, pop them into the fridge, and let chill overnight so the oats soften and all the flavors get to know each other. The next morning, enjoy breakfast in the sun, or just tuck a jar to go into your pocket–or into little hands–if time is tight.

fresh, fruity summer porridge, a recipe from "The Family Cooks"
Author:
Laurie David, author of "The Family Cooks"
Ingredients
1 cup old-fashioned rolled oats (not "instant")
3 cups plain yogurt (whole or low-fat) or kefir
3 tablespoons honey or maple syrup
2 large apples (not peeled), grated
1 cup mixed fresh fruit, such as sliced kiwi or strawberries, raspberries, blueberries, or blackberries (save a little extra for garnish)
Instructions
Combine the oats, yogurt, honey, apples, and mixed fruit in a bowl, making sure that the apple is completely folded into the yogurt .
Divide the porridge evenly among six 8-ounce glasses or mason jars, cover tightly with wrap or lids, and refrigerate overnight. Have a good night's sleep.
The next morning, as the sun rises, garnish the porridge with more fresh fruit and call the troops to breakfast.
Reprinted from "The Family Cooks" by Laurie David. Copyright (c) 2014 by Hybrid Nation Inc. By permission of Rodale Books. Available wherever books are sold.