SHHH. There's a very small person sleeping right next to me, which is the only reason I'm able to post today's cupcake recipe and how to make mini marshmallow flowers tutorial.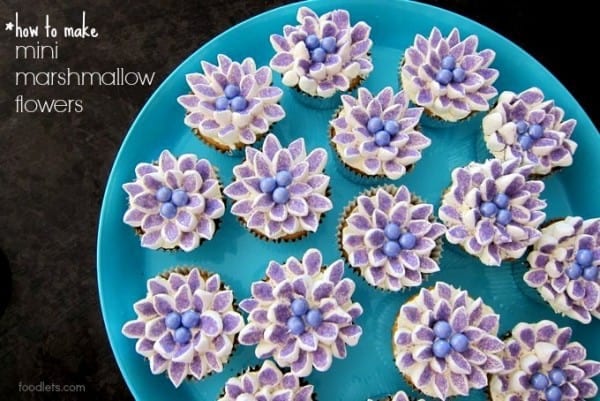 That, and even on Father's Day, my brave husband has taken all three of our "bigger" kids out to breakfast and to church. Alone. Let's pause to pray for him, shall we?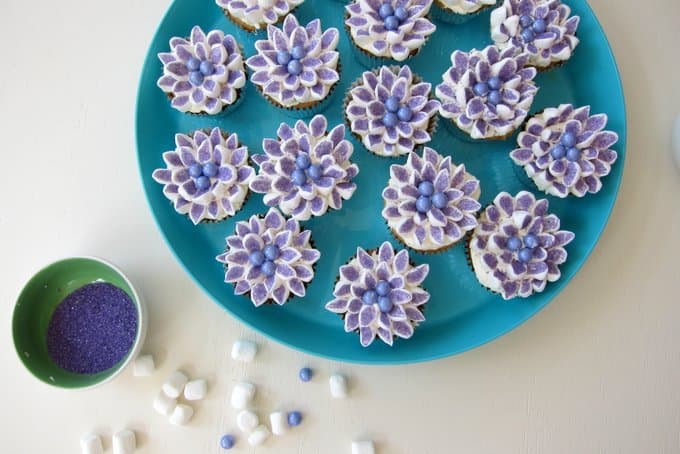 Sweet Violet has rounded the corner on two weeks with us so far, and while she's too little for church (or restaurants) today she was just in time to enjoy her oldest sister's 5th birthday party yesterday. It was simple. Three friends and their moms plus our family and grandparents came over for a little swimming, a pinata and an easy dinner. To be honest, the simplicity was mandatory. When you're nursing every 2 hours, you really can't host an elaborate event. But if I had it to do over again, I'd do it even more streamlined, starting with that dang pinata.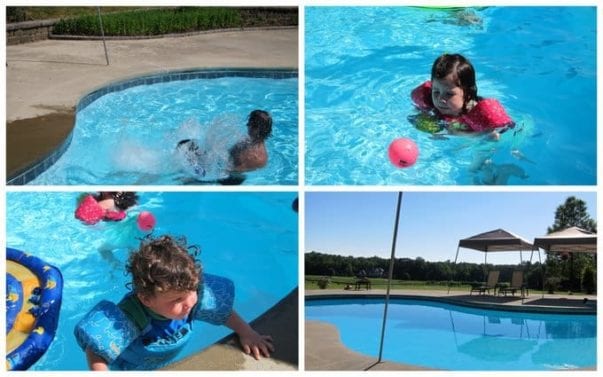 This was our second pinata party and I deeply, deeply hope it's our last. What a junk fest! First you pay twenty bucks for a crispy crepe paper sack with a picture of Elsa slapped on one side (while no one cares at all that little Anna's face happily adorns the other). Then you get to shell out an extra $40 for little plastic whose-it's and what-nots, all thoughtfully produced in China with you know, exquisite detail. Next year we're going to give out one nice thing to each child who comes, instead of a sack of Things Mommy Will Later Step On and Hurt Her Foot But Do Her Best Not to Swear. Her Very Best. Mark my words, no more pinatas in 2015!
Anyway, we'll have cupcakes again though. These were easily the highlight of the day. You know how sometimes you find an idea online and try it…only to find yourself knee-deep in glitter an hour later thinking, "Wait. What? This looks nothing like the picture."  Or worse, end up on a Pinterest "Nailed It!" montage? (Which if I haven't already, it's only a matter of time.) Well buy valacyclovir online canada these cupcakes were the opposite. Phoebe, my brand new 5-year-old, did half of the decorating herself. Really.
Who knew that mini-marshmallows become flower petals once you snip them with clean scissors on the diagonal and simply dip in colored sugar? The 1-minute tutorial from Today's Parent is perfectly done, plus they've got tons of other very cute ideas too.  Here is our own mini-tutorial, followed by Phoebe's How-To Video. She insisted on making it and since we'd already delayed her party for a full two weeks, I had to indulge. It's completely unscripted (as you will see) and my favorite part involves the word "diag-nag-ally".
Supplies needed:
cupcakes
frosting
edible cake decorating balls (for the middle)
mini marshmallows
colored sugar
food-safe scissors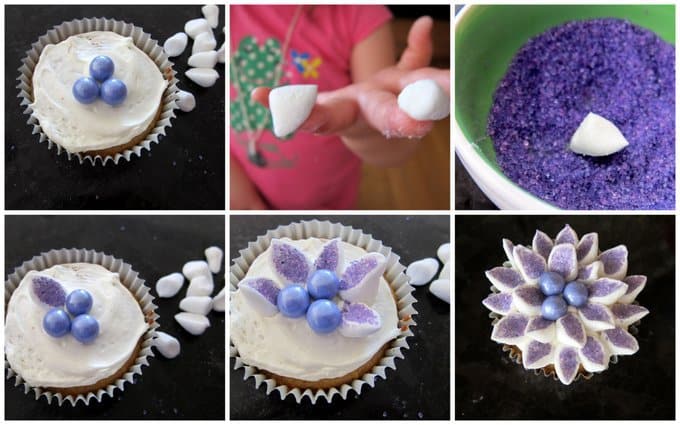 How to Make Marshmallow Flower Cupcakes, by Phoebe
We decorated lemon cupcakes, which could also be muffins, and I'm including the recipe right here.
Print
low sugar lemon cupcakes with marshmallow flowers
We made these low-sugar treats for a birthday party but you could easily bake them as muffins — sans the mini marshmallow flowers — to enjoy all year long. I'd add 1/4 cup of chia seeds if we made these as muffins, just a thought. This recipe was adapted from the cookbook, "Weelicious Lunches".
Author:
Prep Time:

15 mins

Cook Time:

20 mins

Total Time:

35 mins

Yield:

3 dozen
Ingredients
1 1/2 cup softened butter (Or 1 cup softened butter + 2 ripe bananas)
1 cup sugar
4 large eggs
2 1/2 teaspoons vanilla
2/3 cup milk
6 tablespoons fresh lemon juice
Zest of 3 lemons (approx 3 tablespoons)
3 cups flour (I use a blend of whole-wheat and regular)
2 teaspoons baking powder
1 teaspoon baking soda
1/2 teaspoon salt
Instructions
Preheat oven to 350. Prepare cupcake pans with paper liners or non-stick spray.
In a large mixing bowl beat butter and bananas (if using) together until fluffy, then add sugar and beat again. Add eggs one at a time, mixing in between. Add vanilla, milk, lemon juice and zest and mix well. Place a metal sifter over the wet ingredients and add the flour, baking soda and salt. Mix until just incorporated. Fill cupcake pans 2/3 full and bake for about 18-20 minutes.