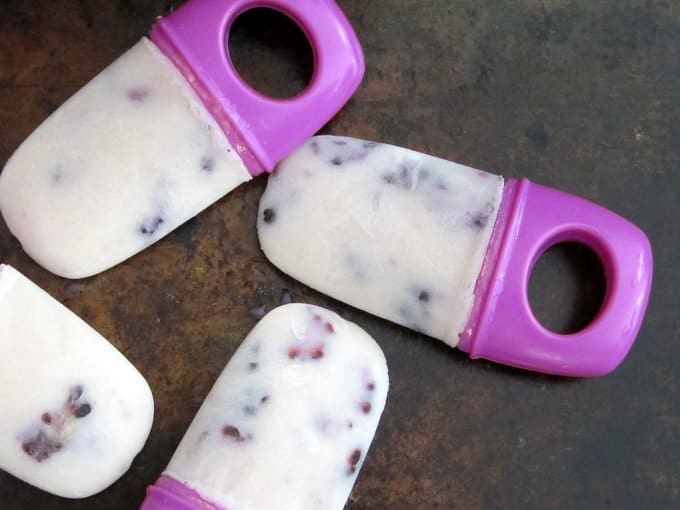 NOPE. There's no sugar in these babies. Just milk, yogurt, a dash of maple syrup and fresh blackberries–though you could use any fruit you (and more importantly, the kids) like. With summertime in full swing around here (read: 90 degree days) homemade ice pops hit the spot.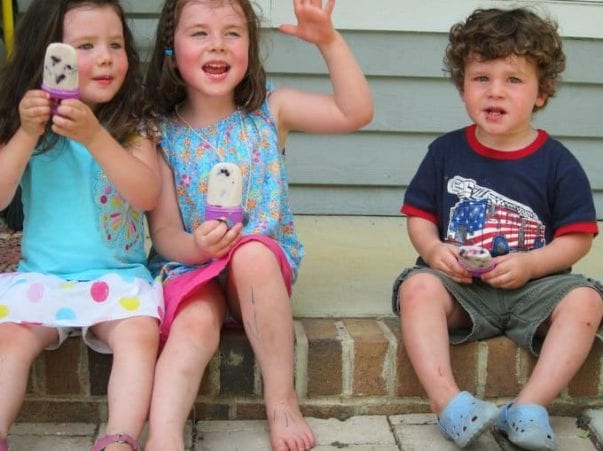 That's good news because thanks to help from my in-laws and all the amazing meals provided to us by our small group from church, I have hardly cooked a thing in the last two weeks. Even though it's my fourth time around — maybe BECAUSE it's my fourth time around — I'm very, very tired. Ti-urd. There is a baby waking me up twice every night. For about an hour each time. I knew this would happen of course, but as I told Paul the other day, just because you KNOW something is going to be hard ahead of time doesn't actually make it easier when you're in the thick of it. Good thing they make these rascals so darn cute.

blackberry cream ice pops
Blackberries were easily found when we whipped these up but you can substitute any fresh fruit (or frozen) your kids will enjoy.
Ingredients
1 cup milk
⅓ cup yogurt
⅓ cup chopped fresh fruit (blackberries, raspberries, peaches, etc.)
3 tablespoons pure maple syrup
Instructions
Combine everything in a mixing bowl (preferably one with a spout) and pour into ice pop molds. Freeze for at least 4 hours, or overnight.
Depending on the size of your ice pop molds, you'll get 6-8 ice pops.