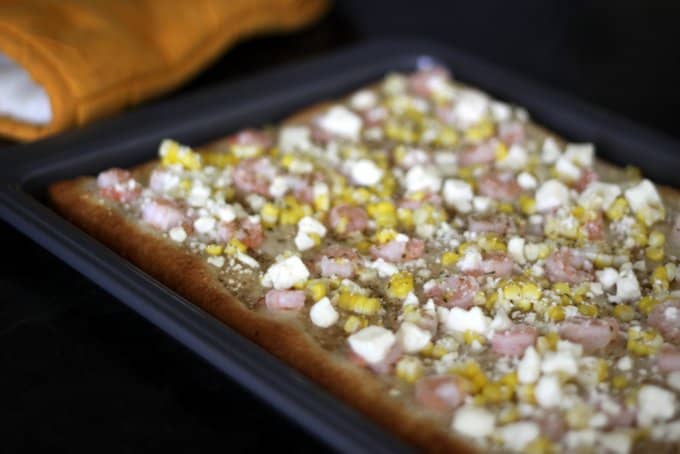 I KNOW, I KNOW. What's wrong with pepperoni? Not single a thing. We just happen to have a 5-year-old major shrimp lover at our house, so when I saw a similar idea in a magazine recently, I gave it a shot. As usual, the adults liked it more than the kids, except for the one, but those who tried it had a treat in store. A fresh and light take on a family staple, homemade pizza. The corn was sweet and crunchy, the feta salty and the shrimp was nice and juicy. I'd make it again for sure, and maybe for a brunch.
This dish was part experiment, part excuse to use leftovers (corn from dinner the night before.) We bought our pizza crust but you could certainly make yours. I like the look of this one from Bobby Flay and a healthier whole-wheat version from 100 Days of Real Food too. Then add a drizzle of olive oil, salt, pepper, dried oregano plus the toppings: shrimp, feta crumbles and corn cut off the cob. Into the oven for about 10 minutes and, yep, lunch was ready. We served it with wedges of lemon, which always add zip to any dish, plus my kids love lemon so it's a gateway food. They'll try anything they can squeeze a lemon on.
One more thing, I love to encourage our kids to find things they love–then try them in a different dish. One of the best tools I can give these guys is the ability to be open minded about trying something beloved, in a slightly surprising way. I think about strawberry ice cream. It's delicious but what if I'd been so focused on ordering the pink stuff every time that I never tried chocolate? I'd have missed out on a soulmate true favorite. Your kids don't have to eat corn pizza, but I believe in taking stuff they already like and presenting it in new ways, just for fun, just to expand, just for lunch.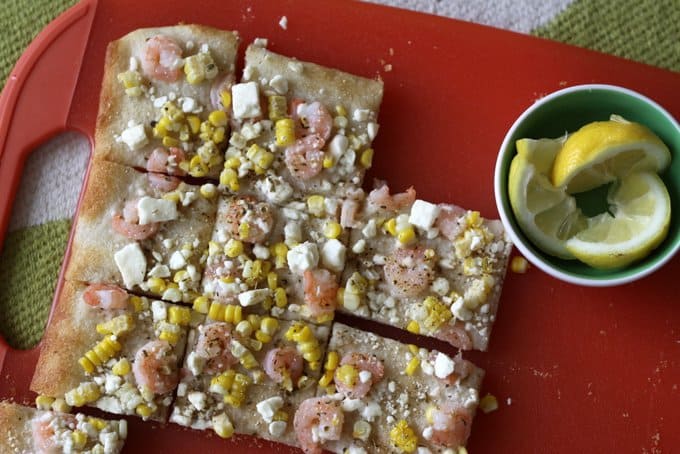 shrimp, feta & corn pizza
If you buy your dough, follow package's directions for cooking time and temperature.
Ingredients
1 pizza crust
1 tablespoon extra virgin olive oil
1 pinch salt
½ teaspoon dried oregano
Couple cracks of fresh pepper
1½-2 cups small shrimp (we used pre-cooked, frozen, "medium" sized shrimp and thawed them under the tap)
1 ear of corn, cooked and freshly cut off the cob (we used a leftover from dinner the night before)
½ cup feta cheese crumbles
Instructions
Preheat oven to 375 degrees F, or whatever your dough package says. Ours advised cooking the dough for 5 minutes first, then adding toppings for an additional 5 minutes.
When you're ready to add toppings, drizzle olive oil on dough, followed by salt, oregano and pepper. Then sprinkle a layer of shrimp, corn and finally feta cheese. Pop in the oven for 5-8 minutes--or until everything is warm--and enjoy.