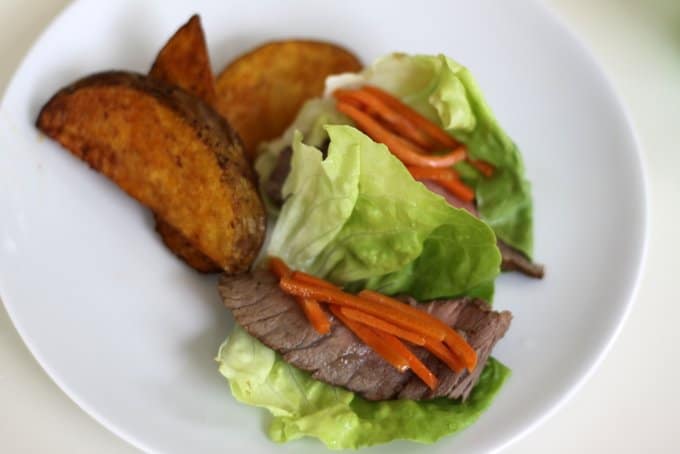 THERE ARE TIMES WHEN I JUST WANT TO TRY SOMETHING NEW. Despite how the kids might react. When I made lettuce wraps with steak and carrots, I knew there would be resistance from the knee-high critics but sometimes, every once in a while, I don't care. If we agree that a win is when everyone tries a bit, and doesn't slink out of their seats in protest limp-noodle style, if that's what we're calling success, this one won big. Plus, I loved it.
Before you write this one off though, thinking it's a little too much to ask of tiny diners, know that I'm no fool. There were a few things I did to stack the deck in my favor and you could too: I know they like steak, so, easy sell. Potatoes? Yes, please. It was the lettuce (always referred to as "salad", and always proceeded with "I don't like") and the carrots. Nobody can be counted on to eat/enjoy/not complain about carrots, except when I make these. This dish was risky because it's all very, shall we say, annoying, to go to the trouble of planning, buying ingredients and actually making a dinner only to have everyone start whining ASAP the moment the plates hit the table. It's the worst. I used to think the jobs I had in my twenties were those with the least amount of respect and praise…until I started feeding my young.
But, there's good news too. The best thing I had going was the fact that they get excited when I get excited about trying something new. If I seem jazzed, they get at least a little curious.
Second, the whole thing was deconstructed. I love offering meals they can dish up or assemble themselves. A little pride of ownership works very well for the folks in booster seats. Then I talk them through it. "You take a piece of lettuce — it's like a boat — and put a juicy piece of meat right in the middle. Can you do that? Then add a few carrots, just for crunch. What color are these carrots?" And there was dipping sauce too. As you know, with this group you really can't go wrong with condiments.
And last, I don't care who eats how much of any one thing. As long as everyone gives it all a shot, the rest is up to them. In the meantime, I dug in.

lettuce wraps with steak & carrots
I marinaded the steak for 3 days so it had lots of flavor when I finally cooked it but a simple night in the fridge would work too; the flavor would just be a bit less intense.
Ingredients
2 tablespoons olive oil
¼ cup soy sauce
2 garlic cloves, smashed
3 cracks fresh pepper
1 tablespoon brown sugar
¼ cup pineapple or orange juice
1-1½ pound flank steak or London broil
1 head butter lettuce (or similar lettuce with big, soft leaves)
2 cups grated carrots
½ cup pineapple or orange juice
3 tablespoons soy sauce
1 tablespoon olive oil
Optional: freshly squeezed lemon or salt
Instructions
Combine the oil, soy sauce, garlic, pepper, brown sugar and juice in a large zip-top bag. Mix it around then add the meat. Refrigerate at least overnight or up to 3 days.
Remove meat from fridge and dry off excess marinade with paper towel. Allow to warm to room temperature for about 10 minutes. After about 8 minutes, start a burner or the grill and add the meat. Cook for about 5 minutes per side, then cover. The steam will continue to cook the inside.
Wash and tear apart the lettuce. Then make dipping sauce with remaining ingredients: juice, soy sauce, olive oil. Taste it and consider adding salt or a freshly squeezed lemon if you like.
Slice the steak in think strips. Assemble a platter with all the ingredients -- steak, lettuce, carrots and sauce -- and dig in.