LAST NIGHT'S DINNER WAS A DISASTER. Sometimes I use a lot of smart strategies for making dinner quickly and easily, but not last night. There I was at 5:30pm, stirring a pot on the stove to make a vaguely Mexican dish I saw somewhere online. You know, the kind that's not too spicy for the kids but still has enough beans, cumin and tomatoes to seem like something new. Not that I was really focusing anyway because about five minutes into the process I left the room. Off to break up a fight in a bedroom down the hall. Back to the stove. Then over to pick up the baby. Jiggle, jiggle. Back to the stove. Slam! There goes the bedroom door again. And now someone is crying…
I hate making dinner on nights like this.
That's why I wanted to share this technique with you. With the smallest bit of thought, one dinner can easily become the base for one or two dinners later on. That said, I give you one of our new family favorites, stuffed peppers with beef, tomatoes and brown rice. And no, the delicious peppers below were not involved with last night's debacle. They're too civilized for that.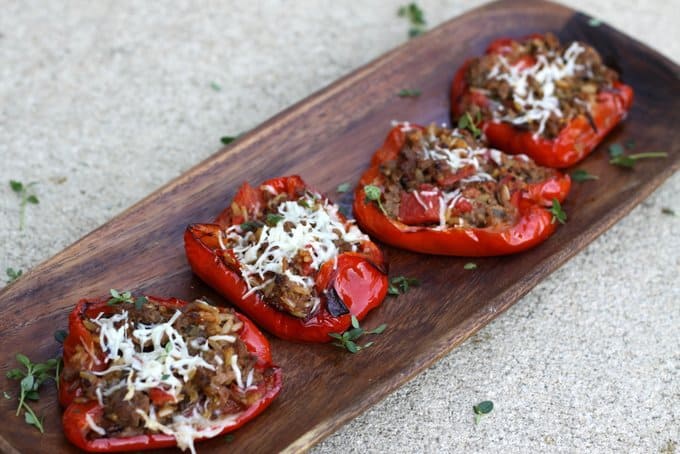 TECHNIQUE: Make one thing you can use twice (or three times) in one week. It sounds so simple but I don't typically plan very far ahead so even something so straightforward as this remained a Nice Idea, one I never used. Until I had a fourth child. Now I need to be smarter and boy has this helped.
Some examples:
Sauteed Beef & Rice. Sautee 1 pound of ground beef (I like the grass-fed kind without antibiotics but potato, potahto.) + 1 chopped onion then add 1 can diced tomatoes + 2 cups cooked rice. Use it for…
The filling in our roasted peppers above. Just add chucks of peppers (if you like) and top with mozzarella cheese.
The base for Italian Summer Casserole later in the week. (Even though the original recipe said to use sausage, valtrex online purchase ground beef would work or just use sausage in the first place.)
Taco or burrito filling
Grilled Chicken Thighs.  Buy one of those big packs (again I get the hormone/antibiotic-free kind) and grill them with olive oil, salt and pepper. Then use them for…
Slow Cooked Pork Roast. One 3-pound pork roast cooked in the slow cooker can be used for…
Even French toast works this way. I made a few extra pieces on a (sort of) leisurely Saturday morning, threw them in the fridge and heated them up for the kids' breakfast today.
None of this requires a ton of advanced planning, which is good for a very cranky sleep deprived person like me. It's just a little bit of planning. And a lot of help.

stuffed peppers with beef, tomatoes & rice
Ingredients
2 tablespoons olive oil
4 red bell peppers, cut in half, seeds and stems removed
1 onion, diced
1 pound ground beef
1 teaspoon salt
½ teaspoon freshly ground pepper
1 can diced or crushed tomatoes
2 cups cooked rice
1 tablespoon dried oregano
2 tablespoons fresh basil
1 cup grated Mozzerella cheese
Instructions
Heat oven to 400 degrees F. Coat bottom of baking pan with olive oil. When oven is ready, put peppers in the pan, cut side DOWN. Bake for about 5-7 minutes until skins start to wilt. Remove and set aside.
Meanwhile, start cooking the onion in a large pan, about 3 minutes, then add ground beef, salt and pepper. Cook until no longer pink, about 5-7 minutes. Add tomatoes and bring to a boil. Cook for about 3-5 minutes until juices reduce by half. Turn off burner, add rice and spices.
Fill each pepper with mixture, top with cheese and bake for 15 minutes.
Reserve leftover filling for dinner later in the week.