WHEN LIFE GIVES YOU 12 CUPS OF SHREDDED ZUCCHINI, FRESH FROM THE GARDEN, YOU… If you're a crazy person like me, you hit the kitchen and make zucchini muffins. Lots of muffins. Now these are not our first healthy zucchini muffins. (So far we've done zucchini spice muffins and a zucchini chocolate cake.) But they're some of our tastiest!.
You might notice that these are flat, like pancakes, and no it's not your sleep-deprived eyes playing tricks on you. That's just our "muffin top" pan at work (ahem). We have tons of muffin pans, from zoo animals to mini muffins, to flowers, gift-wrapped presents and more.  I love making healthy homemade muffins to have on hand and I find that varying the size and shape just adds a little more zip, especially when you're tucking them into a homemade lunch to go or rounding out a snack at home.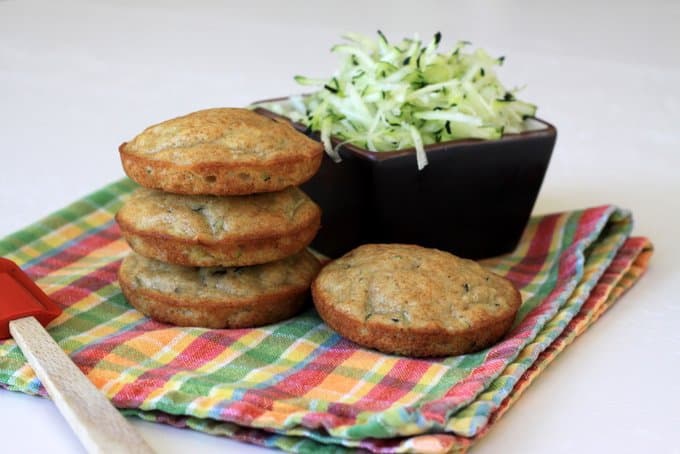 Originally this was another Martha Stewart creation but we made some updates, the best of which were simply the cooking temperature and the pan. Instead of making a loaf, which can be hard to bake evenly with a wet batter like this one, the muffin tops worked perfectly, as would any small muffin pan. I used whole-wheat flour and also mini chocolate chips because you can get away with using less of them, and still manage to  still get a couple in every sweet little bite.
Now, with the leaves in our zucchini patch fading from green to brown, the end appears nigh. This could be the end of our zucchini era but that just means more tasty things ahead…like pumpkin. Stay tuned. You know I love a good pumpkin muffin.
Print
applesauce zucchini muffins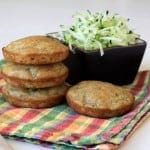 Adapted from Martha Stewart's Zucchini-Applesauce Chocolate-Chip Loaf.
Ingredients
Nonstick cooking spray or butter for pan
3 large eggs, room temperature
1/2 cup oil
1/2 cup unsweetened applesauce
1 cup sugar
2 teaspoons pure vanilla extract
3 cups grated zucchini (from 1 large zucchini)
2 cups whole-wheat flour
2 3/4 teaspoons baking powder
1 teaspoon coarse salt
2 teaspoons ground cinnamon
1/2 cup mini chocolate chips
Instructions
Preheat oven to 375 degrees F. Prepare pans with cooking spray or greasing with butter.
In a large bowl beat the eggs, then blend in oil, applesauce, sugar and vanilla. Fold in zucchini. Using a metal sifter over the bowl, add flour, baking powder and salt. Stir until the mixture is not quite together then add chocolate chips.
Fill muffin tins 3/4 full and bake for approximately 10 minutes, depending on the size and shape of your pan.