IT'S SOUP SEASON! With brisk evenings coming closer, days getting shorter and still not a full night's sleep in sight, this new mom thought it was time to give my ol' slow cooker another try.
Inspired by 100 Days of Real Cooking, we made our own version of a thick and rich soup that our kids actually loved. These are not known soup lovers, so this was big.
The part where they got to sprinkle on their own toppings didn't hurt either.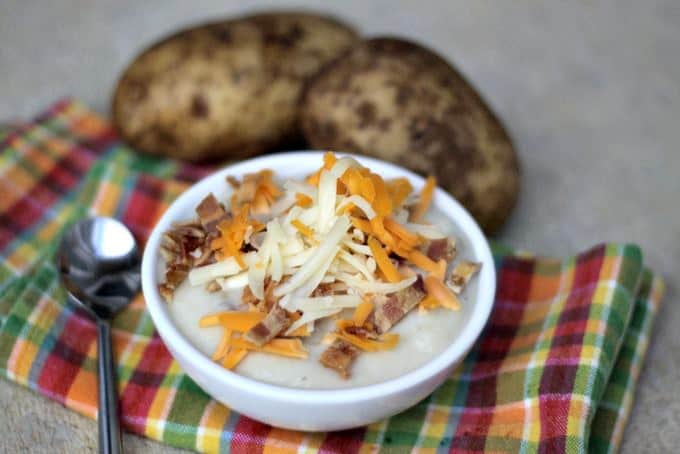 We used russet potatoes, sweet onions, plenty of garlic and chicken stock–you could use whatever you have on hand. Toppings were standard, albeit kid-friendly, baked potato fare: two kinds of cheddar cheese and crispy bacon. Yeah, I used a separate pan to cook the bacon earlier in the day but it was worth it. (Dear Nap Time, thank you for sparing us all the trauma of little flecks of bacon grease spattering on clingy children near the stove. xoxo.)
We also served our soup with a brown honey bread from the bakery section of the grocery store. Take and bake? Paired with salted butter and raw veggies plus dip…fall dinners don't get much better, or easier.
One tip for those of you with bread mongers. My kids go nuts when they see bread (especially our homemade bread) and lose the ability to actually chew any other food because their mouths are too busy begging for bread.
Bread, please! Can I please have some bread? Breeeeead. Br-br-bread. Please?
Now I'm wiser: The bread comes out AFTER cheap valtrex online order they've already started on the veggies and soup.
In fact, this is the order I serve dinner, you know, when I have the wherewithal/there's enough time left on the Dora video: veggies, main, bread.
This gives tiny tummies a head start on the good stuff.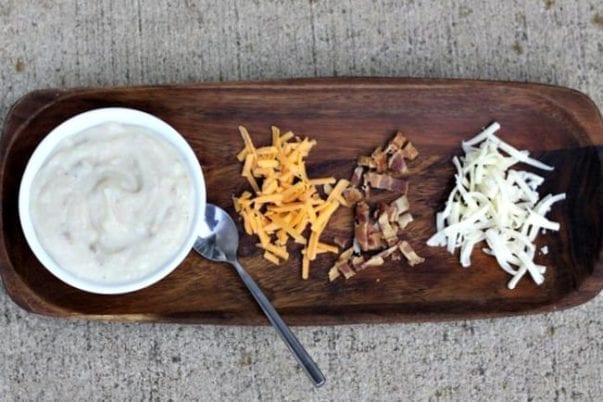 Print
slow cooker potato soup, fully loaded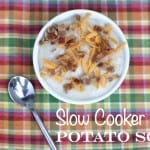 To make this soup on the stovetop, use a heavy bottomed pan. Cook the onions in 2 tablespoons of olive oil for 5 minutes then add potatoes, garlic, stock, salt and pepper. Bring to a boil and simmer until potatoes are tender, about 20 minutes. Add half & half + any toppings you like.
Ingredients
2 sweet onions chopped
2 pounds russet potatoes chopped into 1-2 inch pieces
6 cloves garlic, smashed
32 ounces chicken stock or broth (one carton)
1 tablespoon kosher salt
1/2 teaspoon freshly ground pepper
1/4 cup half & half
shredded cheddar cheese, cooked bacon and any other toppings you like
Instructions
Put everything to the slow cooker EXCEPT the half & half and toppings. Cook on low for 7-8 hours.
Use an emersion blender until everything is as smooth (or chunky) as you like.
Swirl in the half & half, then ladle into bowls, letting each person choose toppings.
Like this one? Be sure to LIKE FOODLETS ON FACEBOOK so you'll never miss a new idea or tip.
And check out the rest of our family-friendly slow cooker recipes too. Every one of them is simple to make, full of fresh ingredients and kid-tested x4.