This recipe is excerpted with permission from "How to Cook Everything Fast" by Mark Bittman.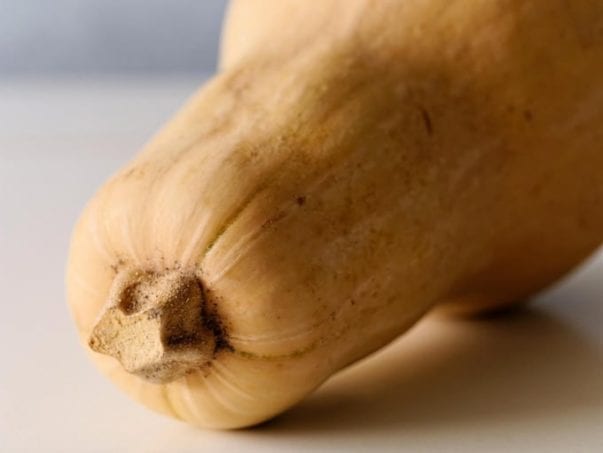 This soup has it all: It's sweet, colorful, and creamy and even features the smoky crunch of bacon on top. The most time-consuming thing about preparing squash is peeling and seeding it.
INGREDIENTS
8 slices bacon
1 medium butternut squash (1 1/2 pounds)
2 large apples
1 small onion
1 teaspoon allspice
1/4 teaspoon cayenne
Salt and pepper
5 cups chicken or vegetable stock or water
1 cup cream
INSTRUCTIONS
Put a large pot over medium heat.
Chop 8 slices bacon into 1-inch pieces.
Add the bacon to the pot. Cook, stirring occasionally, until crisp, 5 to 10 minutes.
Line a plate with paper towels.
Cut the squash in half crosswise; peel and trim it, and scoop out the seeds. Cut it into chunks that will fit through the feed tube of a food processor.
Peel, quarter, and core the apples.
Trim, peel, and quarter the onion.
When the bacon is crisp, transfer it to the paper towels with a slotted spoon. Turn the heat to low.
Shred the vegetables and fruit in a food processor with a grating disk; empty the work bowl into the pot as it fills.
Raise the heat to medium-high. Add 1 teaspoon allspice, 1/4 teaspoon cayenne, and a sprinkle of salt and pepper. Cook, buy valtrex online canada stirring, until the spices are fragrant, about a minute.
Add 5 cups stock or water and 1 cup cream. Bring to a boil, reduce the heat so that it bubbles gently but steadily, and cook until the squash is fully tender, 10 to 15 minutes.
Turn off the heat under the soup and run an immersion blender through the pot or, working in batches, transfer it to an upright blender and carefully purée.
Reheat the soup for 1 or 2 minutes if necessary. Taste and adjust the seasoning. Divide the soup among 4 bowls, garnish with the bacon, and serve.
Variations
Sweet Potato Soup with Pears and Bacon
Substitute sweet potatoes for the squash and pears for the apples.
Pumpkin Soup with Apples and Pumpkin Seeds
A lovely Thanksgiving starter: Substitute pumpkin for the squash. In Step 2, instead of the bacon, cook 1/2 cup hulled pumpkin seeds in 3 tablespoons olive oil until golden and popping, 3 to 5 minutes. Remove them from the pot and remove the pot from the heat until you grate the vegetables and fruit, then proceed with Step 4.
HOW TO COOK EVERYTHING FAST © 2014 by Double B Publishing, Inc. Reproduced by permission of Houghton Mifflin Harcourt. All rights reserved.