"THUMBS UP!" they all said.
"To the bacon."
I made this dish for dinner last night and while all the kids (ages 2, 3 and 5) dutifully ate some cabbage, those forks seemed suspiciously bent on finding the bacon rather than full bites. And before you say, "duh!", I say…give cabbage a try. Because it's delicious.
Fried cabbage with bacon is also a perfect dish to make at nap time because it can just hang out on the stove until you're ready for dinner. We served it as a main dish and my aim was to pop a loaf of crusty bread in the oven before dinner–which didn't quite happen. But you should do that. Or serve it as a side dish.
Here's how you do it:
In a Dutch oven, cook 6-8 pieces of bacon (or cook the whole package–you can't really go wrong with too much bacon).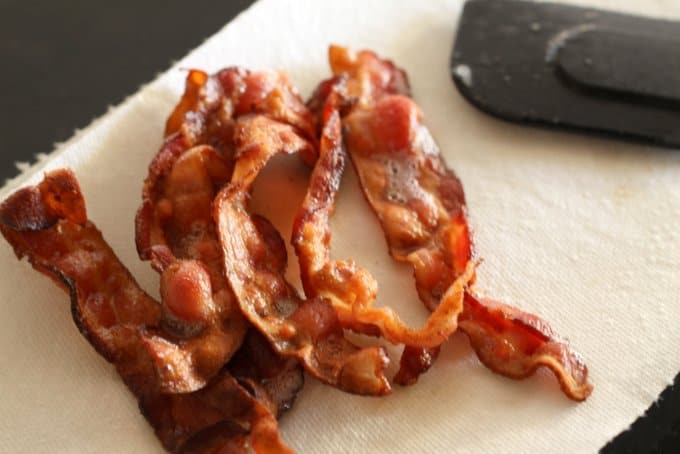 Meanwhile dice an onion plus 2-3 cloves of garlic. Then "shred" your cabbage by simply slicing it.
If you haven't worked with a whole cabbage before, just cut it into quarters, then slice out the core on the diagonal.
When the bacon is crispy take it out and set aside on paper towels. Put the *onions and garlic in the same pan to cook on LOW heat for 10 minutes. Add the cabbage plus a half teaspoon of salt and a few cracks of ground pepper. Deglaze with about 1/3 cup of water–add it slowly, scraping the bottom of your pan with a silicon spatula or similar to get any tasty brown bits. Then cover the pot, cooking for about 20 minutes on medium-low, stirring occasionally. (*If you used more than 6 pieces of bacon, you'll want to drain some of the grease out before adding the onions.)
Crumble the bacon and either mix it in, or let kids (and adults) sprinkle it on top. I always like an interactive element because I think it helps get the kids more excited, more willing to try something new. And everyone knows that bacon is the ultimate bridge between already beloved and something new.

Fried Cabbage with Crumbled Bacon
Ingredients
6-8 strips of bacon
1 onion, diced
2-3 cloves garlic, diced
1 head cabbage, shredded
½ teaspoon salt
2-4 cracks of fresh pepper
Instructions
In a Dutch oven, cook bacon strips on low until evenly crispy. Set aside on paper towel.
Add onion and garlic to the same pan, cooking on low for about 10 minutes.
Now add shredded cabbage, salt and pepper. Turn heat up to medium-low and stir.
Deglaze with ⅓ cup of water, scraping the bottom of the pan to get any brown (and tasty) bits, then simmer with the pot covered for about 20 minutes.
Add bacon crumbles to the cabbage or leave them aside and let each person sprinkle on top.