"Can we make those cranberries again?" my five-year-old asked the other day. Noting this was a request for fruit (right?) rather than say, bunnie-shaped crackers, I dove right in.
"Oh, the muffins?" I guessed remembering how many batches of these low-sugar cranberry oat muffins we made last year, totally congratulating myself on baking something so tasty she remembers it a whole year later. I really am a good cook. I thought. And healthy too. 
"No."
"Oh."
With a few more rounds of "Was it this?" or "Maybe it's that?" between us, Phoebe and I finally arrived at the simple answer: CRANBERRY SAUCE, DUMMY! (That last part was implied. By me.)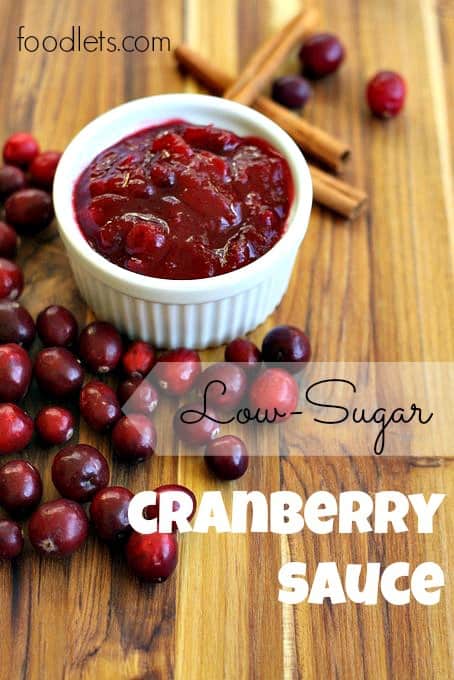 Here's our favorite recipe, one that each kid who eats solid food had three helpings of last night during our trial run.
Print
Low-Sugar Cranberry Sauce Your Kids Will Gobble Up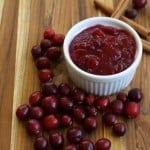 Ingredients
1 bag fresh cranberries
1/2 cup sugar
1 cinnamon stick, broken in half
1 Granny Smith apple, peeled and diced
2 teaspoons cornstarch
optional: zest and/or juice of one orange
Instructions
In a medium saucepan over medium heat, combine the cranberries, sugar and cinnamon stick with 1 cup of water.
When the first berries start to burst, add apple and 2 cups of water. Boil on low for about 10 minutes until apples become soft.
This is important: Take 1/2 cup of liquid out of the pan and add cornstarch to it. Mix. Pour the cornstarch mixture back into the pot and stir.
Take off the heat and cool. The sauce will thicken as it cools. Refrigerate for about 3 hours before serving. (Store in a covered container in the fridge for up to 1 week.)