HOMEMADE APPLE BUTTER IS one of those things Paul and I remember loving as kids. Both of our moms made it. In fact, apple butter has been shipped to our kids by two different grandmothers to two different countries, only to be devoured in one week flat. That's because it's delicious. But with four small kids, I just couldn't see spending hours over the stove to make the stuff myself (seriously, it takes hours). Enter slow cooker apple butter, one of my very favorite ways to eat apples. Ever.
I used another blogger's version of slow cooker apple butter once before and since then I've come up with my own. So rich in flavor and wait for it, pretty darn easy. Let me get more specific.
4 THINGS I LOVE ABOUT THIS SLOW COOKER APPLE BUTTER
1. This apple butter cooks itself overnight. You don't have to stir it even once. And it's not fussy about what to do next. All you have to do is grind it up and throw it into containers..at some point during the next day.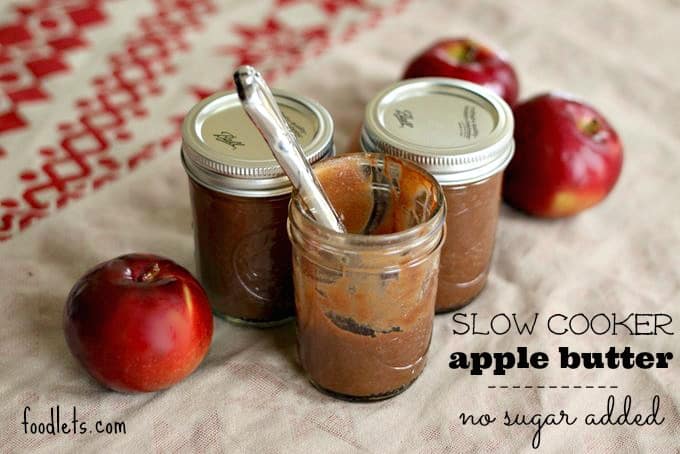 2. There's no need to peel the apples. Just core them, like this.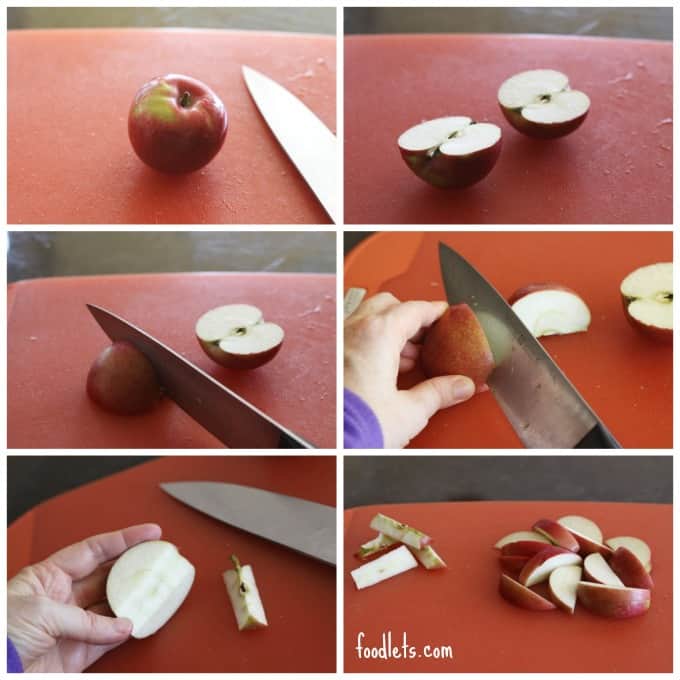 3. You don't add any sugar at all. I used half a cup of apple cider, plus spices and 5 pounds of fresh apples. That's it.
4. Unlike cookies or muffins, apple butter won't get squished in backpacks and lasts a month or so in the fridge. Therefore, it's the perfect gift. This week we're giving jars to neighbors and teachers but if you keep yours all to yourself, we'll never tell.
Oh! One more thing. It's such an easy recipe that your kids can help. Mine did and at times it looked like this.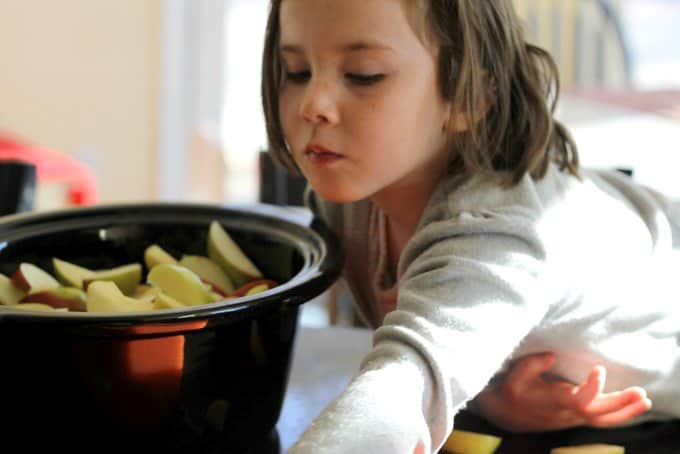 But mostly, there was this.
Somehow we still ended up with this.
And eventually this. I bought these little wrapping kits at World Market last year but you could easily just wrap a pretty bow on top.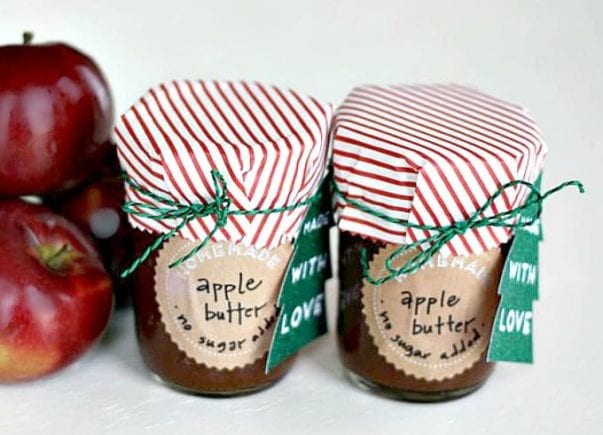 And just when you thought I'd stop talking about how great this recipe is, there is ONE MORE THING. Your house will smell heavenly for 10 hours.
WHAT DO YOU DO WITH APPLE BUTTER?
We love apple butter on thick slabs of toast, especially on hearty bread like Dave's Bread (which I've seen at Costco and stores like Whole Foods), our favorite Whole Wheat Apple Bread or even Bread Machine Homemade Rolls like these. But it's also amazing on a Dutch Baby (or Big Pancake), another childhood favorite of mine that if you haven't tried, you really will thank me. And don't forget hand pies. Just slather this apple butter on a wedge of pie crust, fold and bake. Happy holidays!
Print
Slow Cooker Apple Butter (No Sugar Added)
Ingredients
5 pounds apples (my favorites: macintosh, golden delicious, braeburn, even granny smith will work)
1/2 cup pure apple cider
3 tablespoons cinnamon
1 teaspoon ginger
1/2 teaspoon ground cloves
1/2 teaspoon freshly ground nutmeg
1/2 teaspoon salt
(optional) 1 teaspoon apple cider vinegar OR the juice of 1/2 lemon
Instructions
Core all apples but don't peel.
Put apples plus all other ingredients into a slow cooker and mix with a large spoon or your hands, coating all the apples. It'll be VERY full.
Put the lid on and cook at LOW for 10 hours.
Let the apples cool off a little, then use a blender or food processor to grind up the apple butter evenly. You should not have to add more liquid.
Store in jars or plastic containers up to a month in the fridge or freeze (in same containers) for 6 months.
If you liked this recipe, please be sure to LIKE FOODLETS on Facebook and or get our posts delivered right to your email inbox! You'll never miss a recipe or tip. And if you're new to Foodlets, check out some of our most popular posts right here: