THESE HOMEMADE LARABARS couldn't have come sooner. Eating less sugar is one of our family food goals this year. And while we're usually pretty good at watching sweets I knew things might go off the rails over the holidays when three year old Estelle only wanted one thing for Christmas: a chocolate bear.
Since our oldest is just five, these kids are still adorable about special occasions. They don't get that you can ASK for things, specific things. And people will give them to you. Suckers for this clueless simple request, we supplied the goods and then some. Three giant chocolate bears and countless Hershey's Kisses later, here we are. In chocolate rehab.
If you're swimming your way out of a sugar-fest of your own, consider these coconut fudge bars a halfway house. Yes, there's cocoa powder in there but it's unsweetened. Sweetness comes in the form of honey, coconut (ours was sweetened; if you want to be more disciplined you could use unsweetened) and a few chocolate chips. But the main ingredient? The secret ingredient? Raisins.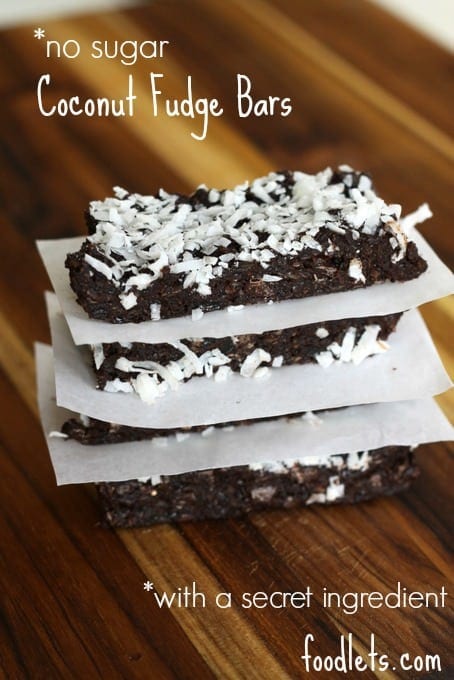 Just grind everything  up in the food processor, press in a pan and let sit for 30 minutes to set (if that).
Chop them up into bars or squares and store the rest in an air-tight container in the fridge. We've had 'em for snacks, dessert and even breakfast. Here's how you can make your own.

No-Sugar Coconut Fudge Bars (with a Secret Ingredient)
We used raisins because we had them on hand but figs or dates would also work perfectly.
Ingredients
2 cups raisins or dates
½ cup shredded coconut, separated
⅓ cup unsweetened cocoa powder
¼ cup high quality chocolate chips
½ teaspoon salt
2 tablespoons honey
Instructions
Prepare 9x9 pan with non-stick spray and a piece of parchment paper over it. Leave enough parchment hanging over the side to use as handles to lift the entire pan of bars out later on.
Combine raisins and ¼ cup coconut plus cocoa powder, chocolate chips, salt and honey in a food processor and plus. Eventually it'll all come together in a big ball, almost like dough.
Press all the "dough" into your prepared pan. Tip: It'll be sticky so use the back of your measuring cup to press it down and flatten out.
Sprinkle remaining coconut on top and press that in too.
Cool in fridge for about 2 hours, allowing it to firm up, then cut into bars. NOTE: If your dough is too sticky for bars, bake the pan in the oven at 250 degrees F for about 20 minutes. OR mix in about 1 cup of whole oats and roll into balls.
Store leftovers in an air-tight container in the fridge.