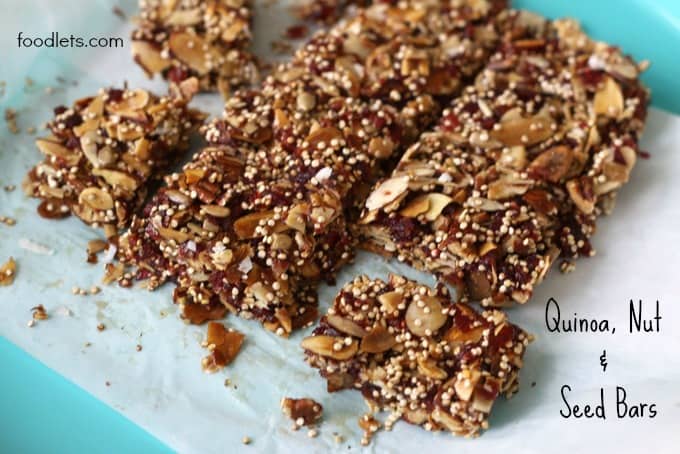 CONFESSION: SOMETIMES I HIDE THE GOOD STUFF FROM MY KIDS. No, I don't mean the chocolate. Because that's OBVIOUS. My stash is in the freezer where I can get to it the moment nap time begins. No, I mean those delightful but expensive Kind bars.
Usually I buy granola bars for the kids. The nice ones. Low sugar, "only 8 ingredients", etc., etc. But every time I sneak into the pantry for one of my own delicious Kind bars, they all start following me like zombies.
"Can I have a bite?"
"Me too!"
"Please?"
Just when I thought we'd have to cash in the college fund to buy enough bars for everyone I saw an idea for making your own and thought, YES. We can do that.
Here's how you can too.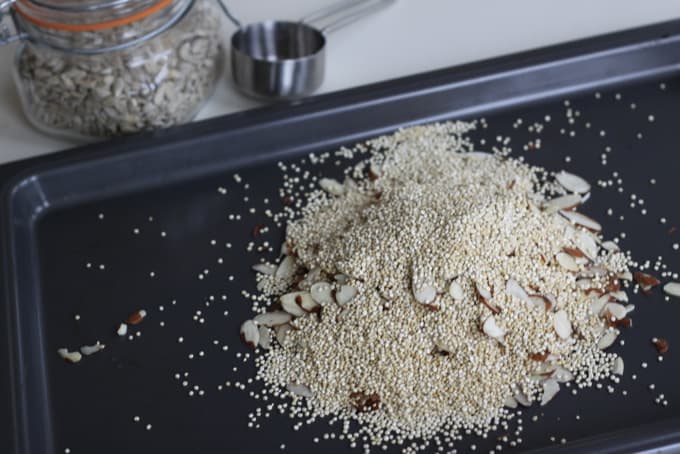 Start with raw quinoa, chopped (or slivered) nuts and sunflower seeds. We used almonds and walnuts.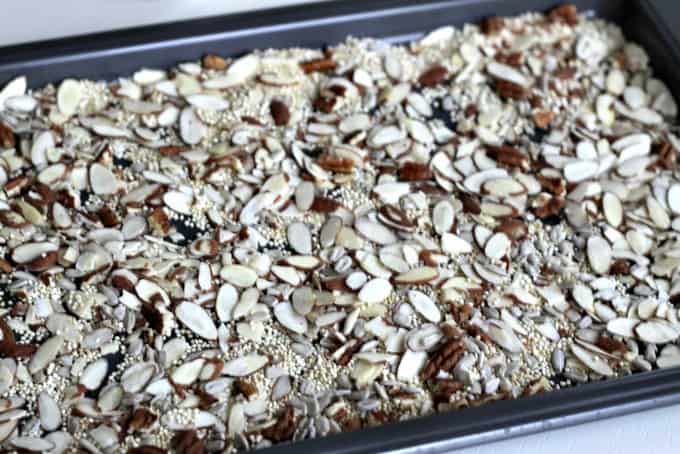 Roast them in the oven to boost the flavors and texture. Then combine with honey and pureed dried fruit (we used dried cranberries) and bake.
I used things we already had at home but will experiment with a few different ideas going forward: dried apples and apricots, using only one kind of nut (our kids love pecans) and dates instead of cranberries.
Low in sugar, high in protein, and easy on the wallet. A trifecta this mom can love.
FOODLETS' REVIEW
George (2) Thumbs Up
Estelle (3) Thumbs Up
Phoebe (5) Thumbs Down "They're too nutty."
DIY "Kind" Bars
Ingredients
1 cup raw quinoa, rinsed
2 cups chopped nuts
1 cup pureed dried fruit (dates, prunes, honey, cranberries)
2 tablespoons honey
½ teaspoon salt
Instructions
Preheat oven to 250 degrees F and prepare a 9x9 pan with spray oil + a layer of parchment paper with the edges sticking up (you'll use this as a handle to lift the bars out of the pan.) Alternatively, plan to roll your "dough" into balls and skip this step altogether.
Spread the quinoa and nuts on a baking sheet and roast for about 15 minutes, until it smells nutty. (Check it often; don't burn your mixture like I almost always do!)
Meanwhile, put dried fruit, honey and salt into a food processor and pulse. Add up to 2 tablespoons of water to get a paste-like consistency.
Let the nut and quinoa mixture cool off then combine with fruit mixture in a big mixing bowl. It'll be VERY sticky. Pour the whole thing into your prepared baking dish and bake for 20 minutes at 350 degrees F.
Allow to cool, then cut into bars or squares.