I WARNED YOU. If you follow Foodlets on Facebook (and I hope you do), you'll see that I posted a strawberry, cheese & crackers board for Valentine's Day…and vowed to do it again. Here's the first one.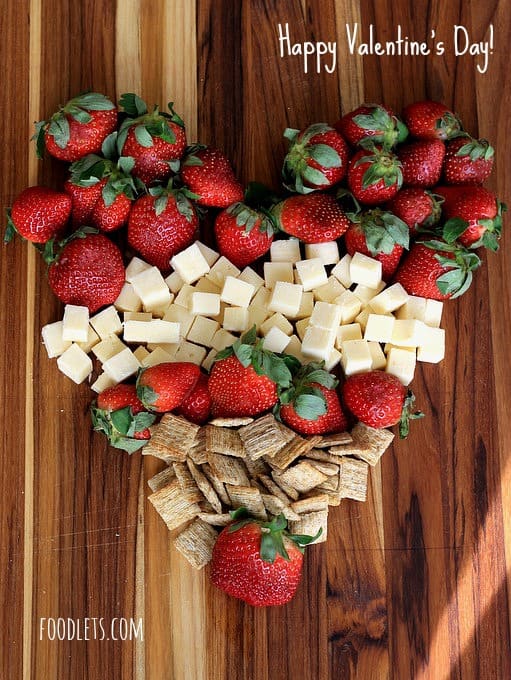 But first, one quick note about the ups and downs of fresh strawberries. It's not strawberry season in most of the U.S., and of course I can't speak for the rest of this crazy world. Here in North Carolina we are able to get our hands on Florida strawberries that have just arrived. But they are not organic. I like organic strawberries, particularly because they're on the Dirty Dozen list, which are those fruits and vegetables that typically have the most pesticide residue left on them (and the fact that you can't really scrub them without producing jam). But I mentioned this earlier, and still feel the same way: eating conventionally grown fruit is better than not eating fruit. And way better than eating candy.
Let's focus on eating more fruit and vegetables. Then we'll tackle whether it's organic or local. (This is like what Mark Bittman said about meat in his very inspiring TED talk, which you have probably already seen but do check it out if you haven't.)
Strawberries, Cheese & Crackers #2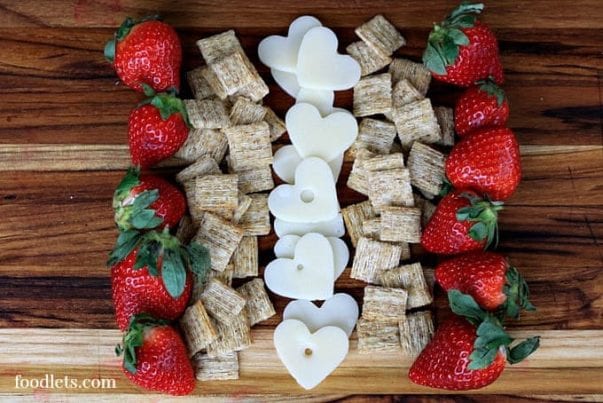 Also, Triscuits have 2 ingredients: wheat and salt. To me, that means they're pretty darn close to real food.
And cheese? Cheese is a tasty protein. Moderation, folks. This goes for mini folks, too.
Strawberries, Cheese & Crackers #3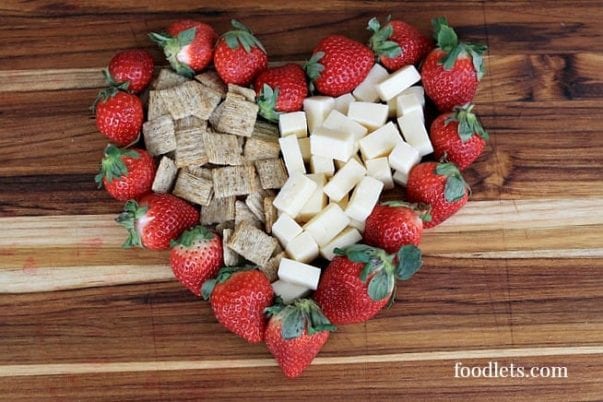 And if you just can't do fresh strawberries in February? You're in good company. Barbara Kingsolver doesn't even buy bananas because they're not local, ever. Try these instead:
PS. Don't forget our strawberry shaped hearts! Get the easier-than-you-think how-tos right here.