I'M JUST AS SURPRISED AS YOU ARE. When I mentioned fish stew to my husband that afternoon, it was with this instruction, "So you might want to go to the store and get yourself some burritos or something." He's not a fish person. That much I knew. Then, bracing myself for a round of complaints, I set the stew on the table.
None came.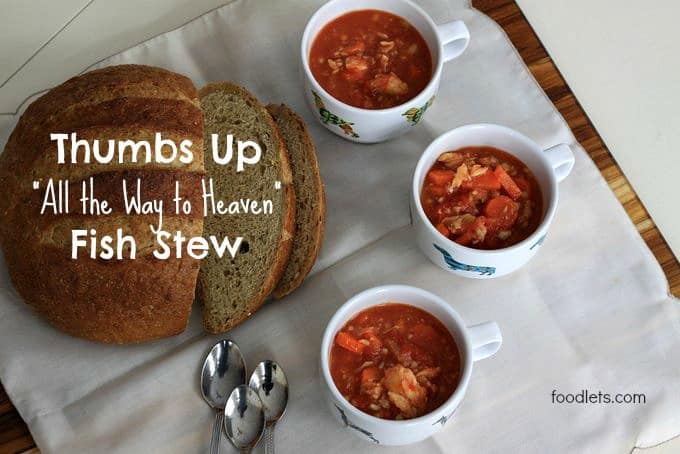 "Oh, Little Bear eats fish stew!" My five-year-old chirped.
In went the spoon. Then my four-year-old joined in. "Mmmm. Thumbs up!"
"Thumbs up," Phoebe agreed. "All the way to heaven!"
George, who is two, and automatically says "No" to any question he's ever asked (just as a point of reference here), George, was not so keen. But he did try a few spoonfuls, which is saying a lot. Everything, really.
This was a shockingly successful meal. And by "successful" I mean everyone ate most of their teacup serving. (These were the cups from Estelle's 4th birthday party last weekend. More coming…)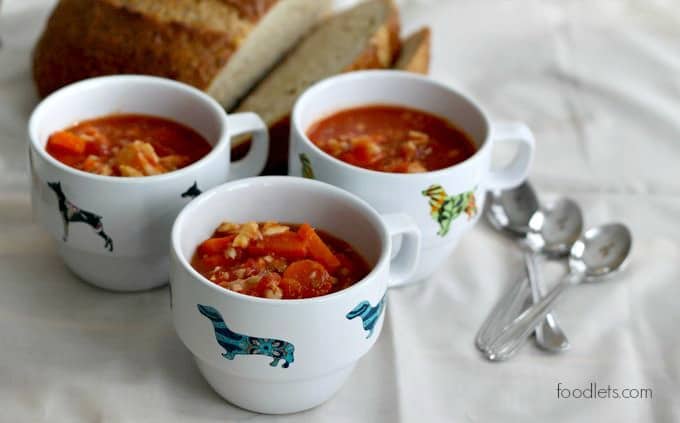 You could make it heartier by adding potatoes and celery, which I made notes about in the recipe. I just went for the straightforward version here and because it does require a little chopping, I'd probably make this dinner at nap time in the future, when I have a bit more time.
I served our stew with crusty bread and highly recommend you do the same. But whatever you do, have them start on the soup before they even see the bread. Once they lay eyes on that warm, crusty goodness, your soup will be done for. DOA. Hungry kids eat better than rascals who are already satisfied with bread. This little nugget is something I've learned, and learned, and… (You really think I'd get these things sooner, right? Maybe someday I'll get it and do a marvelous TED Talk about it. "Stop Sabotaging Dinner" will surely be the biggest hit of 2040, or whatever year both things actually happen.)
In the meantime, give it a try. You may have a small miracle, not to mention a tasty dinner, at your house too.
The Foodlets' Review
Phoebe (5) = thumbs up
Estelle (4) = thumbs up
George (2) = thumbs middle
Thumbs Up "All the Way to Heaven" Fish Stew
I like San Marzano tomatoes, imported from Italy. They cost about a dollar more but they're practically bursting with flavor. A good little investment. I used frozen white fish fillets. If you have better access to nice fresh fish, by all means go that route and just reduce your cooking time by a few minutes.
Ingredients
3 tablespoons olive oil
10 cloves garlic, diced (a whole head of garlic)
1 medium onion, diced
4-6 carrots, cut into medium chunks
(optional) 2 celery stalks, diced
(optional) 2 yellow potatoes, peeled and cut into medium chunks
1 (28 ounce) can peeled tomatoes
16 ounces clam juice
1½ teaspoons thyme, fresh or dried
1 teaspoon salt
½ teaspoon freshly cracked pepper
1 pound frozen white fish fillets, semi-thawed
Instructions
In a Dutch oven over medium heat, add the oil then the garlic and onion. Stir and cook until the onions and garlic start to get tender, about 5 minutes. Add carrots plus celery and potato if using, and cook for another 5 minutes (just carrots) or 8-10 minutes (for celery and potatoes too).
Once the veggies have gotten a bit tender, add the tomatoes, clam juice thyme, salt and pepper.
If you are using potatoes, bring the soup to a boil and cook just the veggies for about 10 minutes. If you aren't using potatoes, throw in the fish now. Even totally frozen fish is fine here. (If it IS frozen solid, allow a few more minutes of cooking. It'll turn out perfectly.)
Bring to a boil and lower heat. Let simmer for 10-15 minutes, stirring occasionally to break up the fish fillets. The stew is done when everything is soft and the fish is flaky.
P.S. This would be a great recipe to double and freeze as a freezer meal. In a zip-top bag before you cook it. OR obviously, cook it ahead of time and freeze half for later.