JUST LIKE OUR 4 KIDS INSIST ON DINNER EVERY NIGHT, breakfast is practically the first word on their lips when they wake. Sure there's cereal and oatmeal. We make one zillion muffins, rotate through our share of yogurt parfaits and smoothies but more often than not, it seems like we end up on toast.
Enter the higher protein, all-you-do-is-heat-it-up Make-Ahead Egg McMuffin. And the whole thing starts with Mark Bittman's brilliant advice: Use the broiler to make a batch of "fried" eggs in minutes.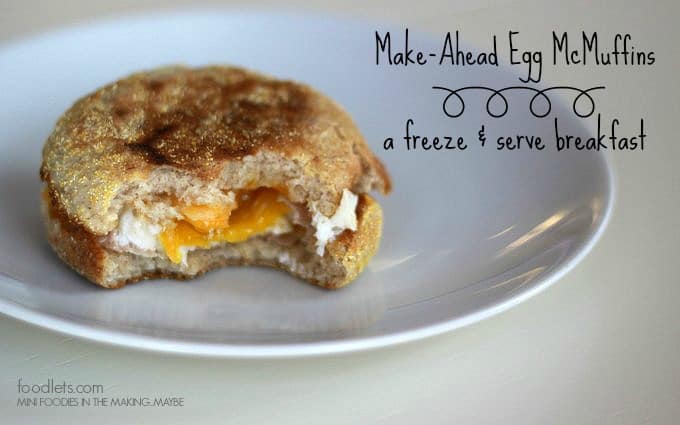 To make your own McMuffins, start with a muffin pan. Heat the broiler to high and while it's warming, spray a muffin pan with canola oil. Then break your eggs into the cups, one by one. Add salt and pepper. And if you like, a small slice of cheese.
Alternatively, start with a slice of deli ham before cracking each egg in and sprinkling the salt and pepper.
Into the oven they go: 9 minutes for runny yolks, 10 minutes for slightly runny yolks (like ours), 12 for solid yolks.
TO SERVE RIGHT AWAY:
Toast your English muffin add the egg, put the lid back on and push down gently. The egg is smaller than the muffin but it's so soft that when you squeeze it a LITTLE, it'll fill up the whole thing. (Also, as always, we like whole wheat.)
TO FREEZE FOR ANOTHER DAY:
Two methods.
Toast the English muffin ahead of time (to get those nice brown, crispy bits) and assemble. Then wrap individually in foil before popping in a zip-top bag and freezing. Don't forget to label it. You think you'll remember or recognize it but if you are like me, you won't. Instead you'll pull out a bunch of chicken thighs for breakfast.
Skip the muffin for now and just freeze the eggs. When you're ready to serve the McMuffins next time, toast your English muffins live while you microwave the egg.
Either way, just microwave to reheat when you're ready.
p.s. No English muffins? Since part of the charm here is the shape, you can use a biscuit cutter or like I did, the lid of a jar, to cut regular bread. That works too.