THERE'S A SECRET TO MAKING A CAKE MOIST. Add yogurt. This time, it was vanilla and the result was delicious.
I learned about yogurt cake when we lived in Italy. Estelle was about a month old when we took a weekend trip to Umbria and did all sorts of things I can't imagine doing now. Hikes (which meant breastfeeding on top of a mountain), cooking classes (which meant breastfeeding the second before I walked out the door and immediately again after sprinting back.)
What I remember most about that cooking class was two things: 1. Put yogurt in the cake. 2. A voice in my mind that would not stop saying, "Please don't be screaming when I get back. Please don't be screaming when I get back." To be clear, Paul was there with her. He's just lousy at breastfeeding.
Back then, our outlook was all about living in Italy for a limited time and wanting to get the most out of it. Eventually that meant soaking up  the wine, sun and fun at a breakneck pace with one, two then three babies on board. Looking back I feel an equal mix of tired, and inspired.
The less exhausting good news is, this information doesn't have to be so hard to come by. There's a certain cook in East Hampton who makes a mean lemon yogurt cake and this version today is a simplified riff on one from the master herself, Ina Garten.

To my surprise the chef in Italy used flavored yogurt. It just adds flavor, she said. And ultimately you use less sugar as a result. So we used lemon flavored yogurt here but added more lemons and honey too.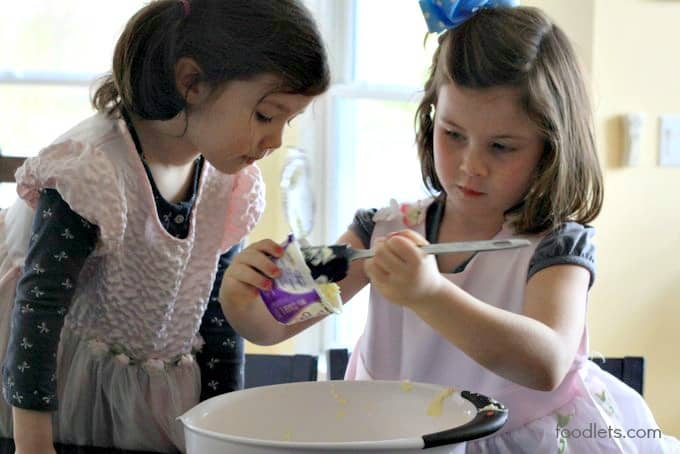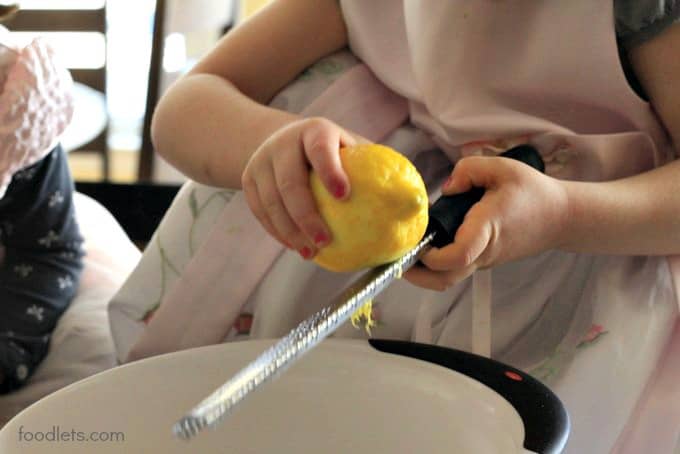 The result is still less sweet, which is just what we wanted. At this point, our family's collective tastebuds are actually looking for slightly LESS sweet flavors, even in desserts. If you want more sweetness you could certainly add sugar but I thought the dusting on top did the job.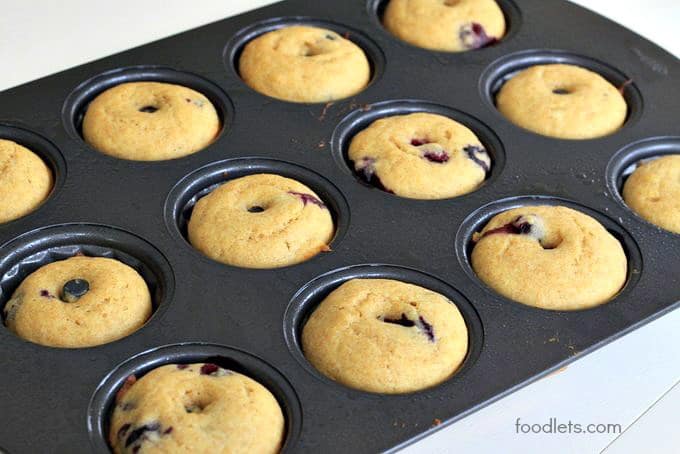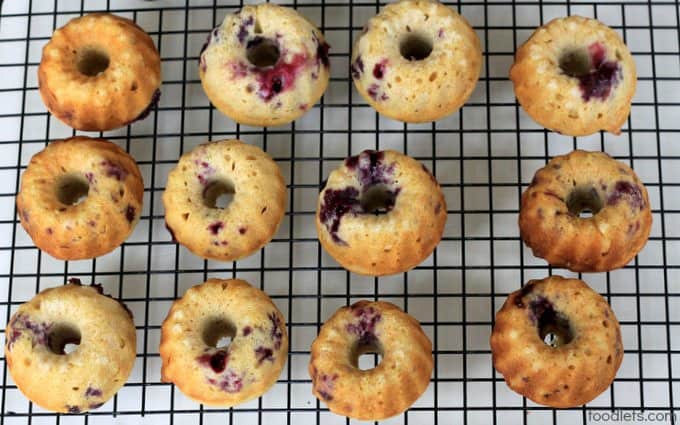 Print
Lemon Yogurt Cakes with Blueberries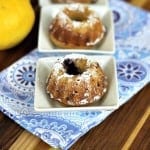 Ingredients
1 cup lemon flavored yogurt
3 eggs
1/2 cup honey
1/2 cup olive oil
2 lemons (use the zest and the juice)
2 teaspoons vanilla
1 1/2 cups flour (I used whole wheat)
2 teaspoons baking powder
1/2 teaspoon sea salt or kosher salt
1/2 cup fresh blueberries
few tablespoons powdered sugar, to sift on top
Instructions
Preheat oven to 350 degrees F and line or grease a cupcake pan. We made mini muffins and mini bundt cakes but any shape will work.
Combine wet ingredients in a large bowl, stirring together. Add flour, baking powder and salt, stir until almost combined then toss in the blueberries. Stir one more time but only until all ingredients are incorporated.
Fill muffin pans almost all the way full and bake for 15-18 minutes.
Sift powdered sugar on top and serve immediately (or skip the powdered sugar and store in the fridge or freezer.)