"I JUST DON'T LIKE IT" they all said. Before any of them had tried a single bite.
Even I was worried. Would four kids under the age of six like sautéed cabbage and sausage with apples and, gasp, onions?
But I couldn't help myself. A dinner like this is so nutritious, so colorful and it's even a one-pot meal with that crowned glory of all dinner features: you can make it ahead of time.
This mattered not to the kids. They took one look at dinner and freaked out.
Making matters weirder, Paul's are parents in town. So during the double meltdown at hungry o'clock, his mom and dad could only look on in the kind of quiet horror well-schooled grandparents have. The kind where they'd love to jump in but knew I was already about to lose it. So instead, they dug deep into those grandparent reserves and waited it out.
So did I.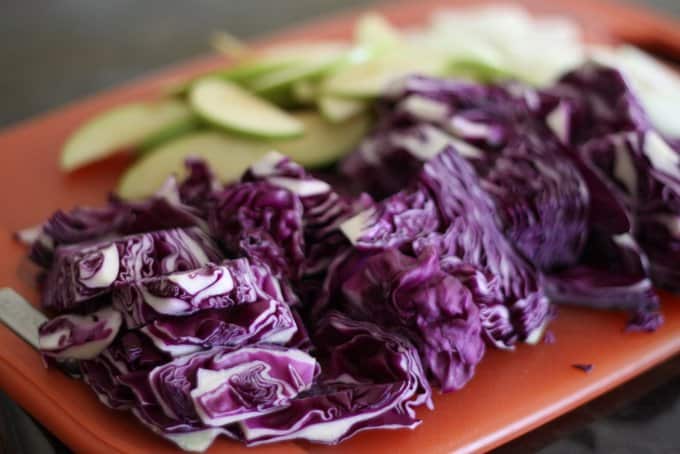 When everyone came to, out of their End of the Day, I-Don't-Like-It stupor, everyone had the same reaction to this dish. They LOVED it.
Those rascals loved it so much this is the only image I have. Of freshly sliced cabbage, Granny Smith apples and slivers of onions. Pre-pan. Pre-meltdown. Pre-chow down.
We'll make it again and next time, I'll take pictures before serving.
You know, if no one is screaming.

red cabbage with sausage, onions and apples
Ingredients
2 tablespoons olive oil
¾ pound sweet or mild sausage (turkey, pork, any kind you like), casings removed
1 medium onion thinly sliced
2 Granny Smith apples thinly sliced
1 medium head of red cabbage (though I think green would be fine too)
1 teaspoon salt
½ teaspoon pepper
Instructions
In a large skillet, heat oil on a medium setting and add sausage. Cook until almost browned through, about 5 minutes.
When sausage is nearly done, add onion, apple and cabbage, plus salt and pepper, stirring often for about 5 minutes.
Continue cooking on medium heat for about 15 minutes until the cabbage leaves are soft and wilted. If along the way you notice any pieces sticking to the pan, add about ¼ cup of water and deglaze the bottom of the pan, scraping with a spatula. Be sure to allow the water to boil off before serving.
Offer malt vinegar or soy sauce at the table.
Foodlets rating: 5 thumbs up (including grandparents). Violet (10 months) even ate a lot–I really couldn't stop her–but she's not great with the Thumbs Rating System yet.