THERE ARE TIMES WHEN I NEED A LITTLE HELP getting the kids to try something new. Part of my goal here is to create a great relationship between our kids and the food we eat. Part of that is nutrition, cooking fresh and healthy meals. Part of that is fun.
They're just the right size for any small fry to TRY a couple of bites.
Plus, they're fancy.
Another thing this dinner has going for it, besides being a one-pot meal (hooray said every parent who considered throwing all the dishes away last week!) is DIY toppings.
Squeeze your own lemon! Add a little cheese! Yes, please.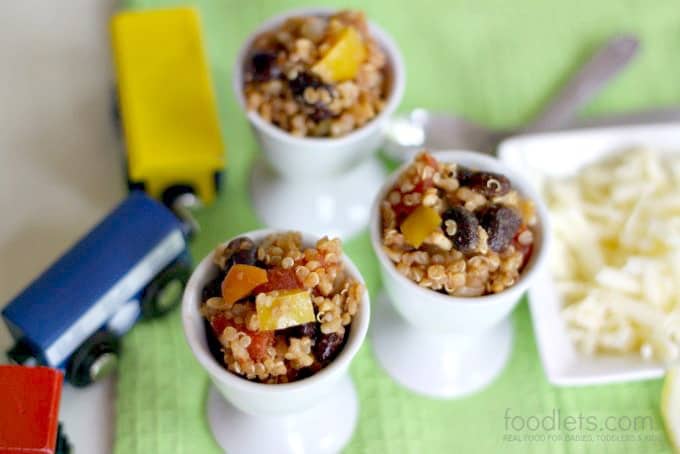 There have been times when I've cooked an entire casserole in a muffin pan, just to get a castle shape. That's surprisingly simple. But this? It's even easier.
Adapted from a spicier version on Damn Delicious. 
Print
One-Pot Mexican Casserole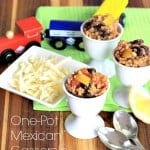 Ingredients
1 tablespoon olive oil
1 half onion, minced
1 cup diced bell peppers
1 cup quinoa
1 cup chicken broth
1 (15-ounce) can black beans, drained and rinsed
1 (14.5 oz) can diced tomatoes
1 teaspoon chili powder
1/2 teaspoon paprika
1/2 teaspoon cumin
Kosher salt and freshly ground black pepper, to taste
optional: 1-2 cups diced chicken (rotisserie or otherwise pre-cooked)
1 cup shredded cheddar, white or orange (garnish)
Wedges of lemons or limes (garnish)
Instructions
In a large pan, warm the olive oil and add onions. Cook on low heat for about 3 minutes. Add everything else–diced peppers, quinoa, beans, and so on–EXCEPT the garnishes. Bring to boil, turn the heat to low and cover. Simmer for about 20 minutes.
Serve family style or get fancy in little individual bowls.
Top with cheese, lemon or lime juice.