Is bacon.
These bacon-topped cornbread squares are a riff on our already beloved makeover of Ina Garten's cornbread. As with all of our Barefoot for Babies recipe makeovers, our version is healthier, sweetened with honey and packed with either wheat germ or ground flaxseed. But there's also lots of plain yogurt and milk in there, resulting in a moist but not-at-all greasy cornbread our kids love.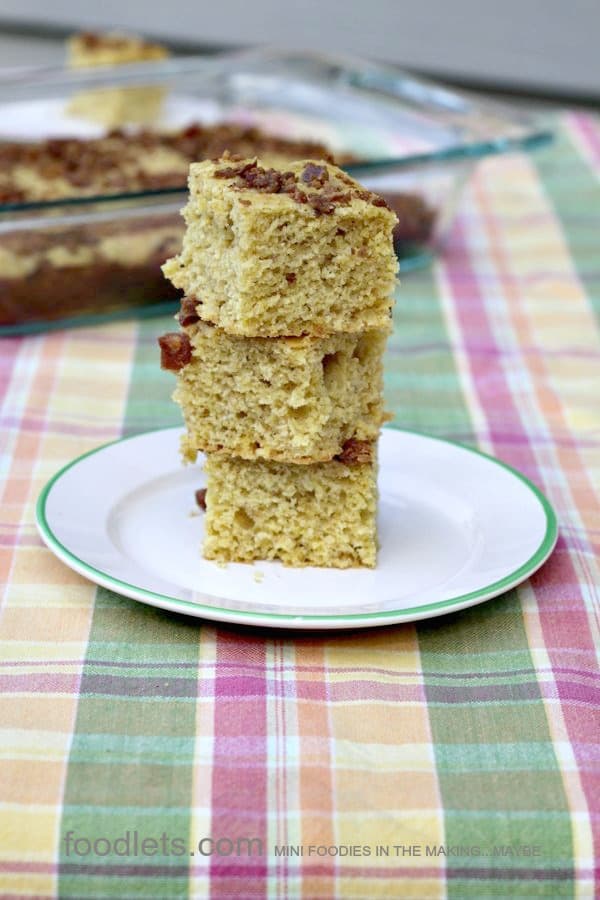 I made them for our contribution to a special staff lunch at my kindergartener's school. One giant platter, laden with cornbread for 28 teachers, assistants, gym teachers and more. It sounded like SO MANY PEOPLE to feed, so I whipped up a double batch of our whole-wheat honey cornbread in one of my half sheet pans (This is like a regular cookie sheet with thicker and higher sides. If you've even watched a fraction of the Barefoot Contessa episodes I have, which is probably a wiser use of your time, you already know this.)
Then I sprinkled bacon bits on top. I happened to have some cooked bacon leftover in my fridge because I often make it on weekends and my people are small with wee appetites. I'm sure the concept of Leftover Bacon will not apply in a few years.
But even then, it wasn't enough. So I nabbed a bag of store-bought bacon bits from my husband's shelf in the pantry. Sometimes it's great to be married to a junk food diehard. Not always. Just sometimes.
So the pan got sprinkled. And baked. Cooled, cubed and packed.
Yesterday morning as I was tucking a cube of salted butter into my daughter's purple backpack, telling her "When you get to school, just tell them this goes with it", I felt two things: Worry (Would a good mom risk smearing butter all over The Folder just for the sake of butter?) and pride. And the latter won out because if we've learned anything from the Barefoot Contessa at all, it's this: butter makes everything better.
Ditto for bacon.
We've been stashing squares of this bacon cornbread in kids' lunches all week. The lunch box comes back with nothing left but a couple of crumbs. Ina would totally approve.
Get the recipe for our Whole-Wheat Honey Cornbread. Then just add a bit of crumbled bacon and you're off.