I love mini food for kids. It's easy for them to handle and the portion sizes are perfect.
But there's something I like even more than mini food, versatile food.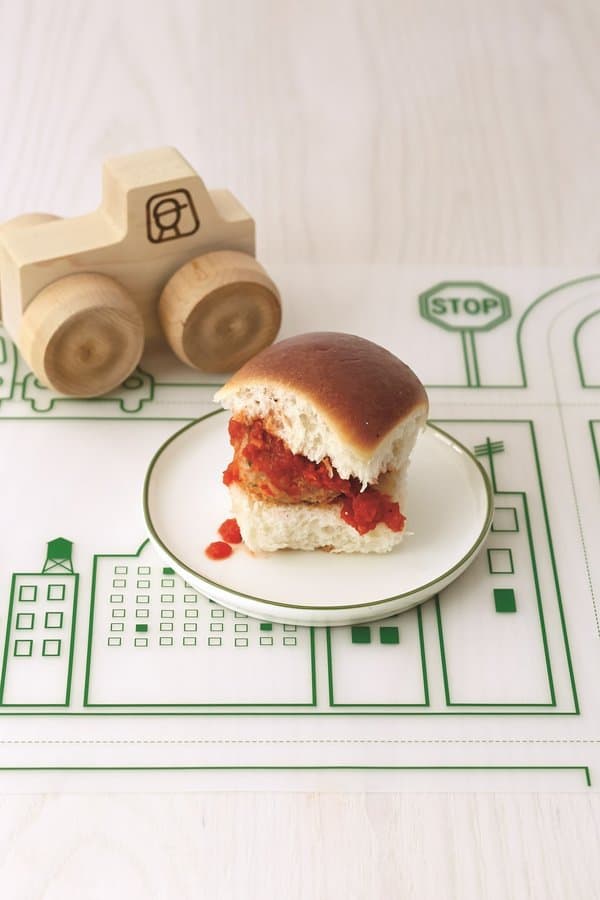 Meatballs can be served straight-up, in pasta or on small buns as sliders. Like these! Whole wheat dinner rolls make the excellent "buns" and bonus, you can either use the rest of the package for perfectly portioned sandwiches later in the week or freeze the bag for later.
This recipe for Saucy Meatball Sliders is from one of my favorite new cookbooks for kids, "Real Food for Babies:Easy All-Natural Recipes for Your Baby & Toddler" and best of all, you have a chance to win one of five copies right now!

Saucy Meatball Sliders from "Real Baby Food"
Ingredients
1 teaspoon olive oil
1 egg
1 lb. ground turkey, preferably 94% lean
¼ cup panko
¼ cup ricotta
2 tablespoons chopped parsley
¾ teaspoon Italian herb blend
¾ teaspoon salt
Freshly ground pepper, to taste
1 batch Go-To Tomato Sauce, warmed
12 slider buns
Instructions
Preheat the oven to 450°F. Grease an 8 x 8 baking dish with the olive oil.
Crack the egg into a large bowl, and beat it with a fork. Add the turkey, panko, ricotta, parsley, Italian herb blend, salt, and pepper to taste. Mix with a fork until the ingredients are evenly distributed.
Form 12 meatballs and place them in the baking dish in rows, shoulder-to-shoulder in a grid. Bake for 10 minutes.
Pour the tomato sauce over the meatballs and bake for an additional 15 minutes or until the temperature on an instant-read thermometer reaches 165°F when inserted into the center of a meatball.
To serve, place a meatball and about a tablespoon of sauce on each slider bun.
Go-To Tomato Sauce
Pour a 28-ounce can of crushed tomatoes into a medium saucepan. Add 2 tablespoons unsalted butter, ½ yellow onion, 1 peeled garlic clove, ½ teaspoon salt, ½ teaspoon sugar, and a sprig of basil. Bring the sauce to a boil, reduce the heat to medium-low, and simmer, partially covered, for 25 minutes.
Remove from the heat and let cool for 10 minutes. Remove the onion, garlic, and basil and discard. Makes 2½ cups. Store in the fridge for up to five days, or freeze for up to three months.
Nutrition per slider: 287 calories; 18g protein; 14g fat (6g sat. fat); 26g carbohydrates; 2g fiber; 8g sugars; 705mg sodium; 102mg calcium; 3mg iron; 445mg potassium; 11mg Vitamin C; 1084IU Vitamin A.
Excerpted from Real Baby Food, © 2015 by Jenna Helwig. Reproduced by permission of Houghton Mifflin Harcourt. All rights reserved.