This is the creamiest, richest, most melt-in-your-mouth chocolate buttercream frosting you may ever have. And guess what, there's no white sugar involved.
Only honey.
In fact there are only 4 ingredients. If you don't count the tractors.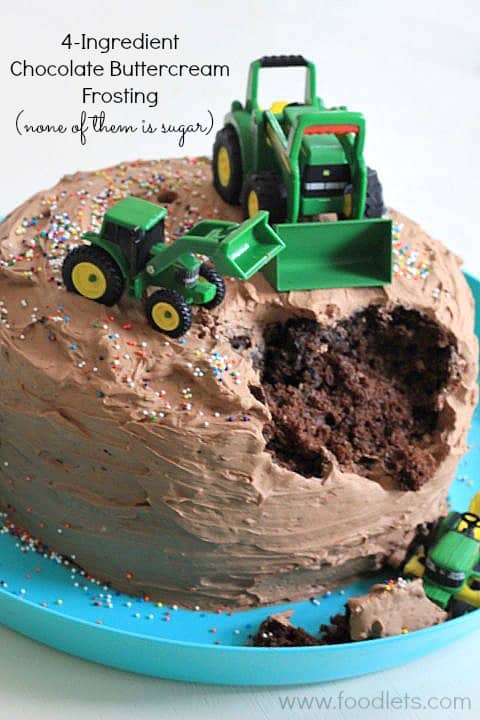 All you need for this simple chocolate buttercream frosting is:
vanilla
cocoa powder
butter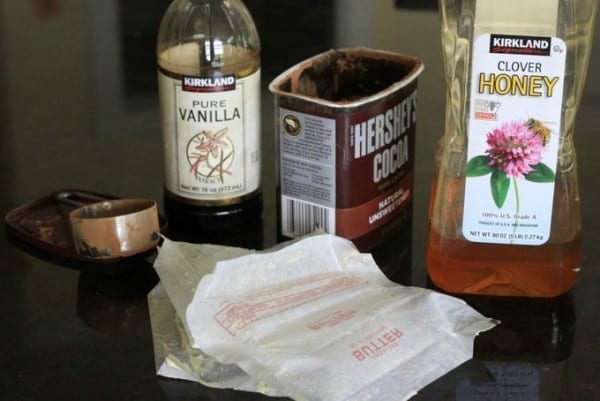 For this particular birthday cake, I also used sprinkles & toy John Deere tractors. (Bulldozers would also be awesome.)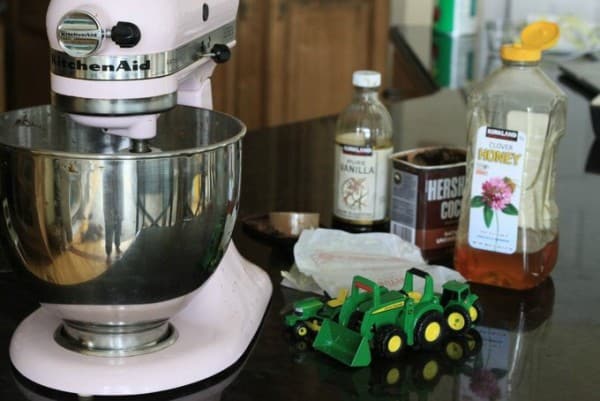 This chocolate cake is our DELICIOUS Healthier Chocolate Zucchini Cake, doubled to produce two layers. Chocolate Zucchini is the perfect low-sugar option for small kids' birthday parties. It's a simple recipe, plus who can argue with a built-in veggie? (Don't worry; you can't taste the zucchini but it's doing important work by keeping the cake moist.)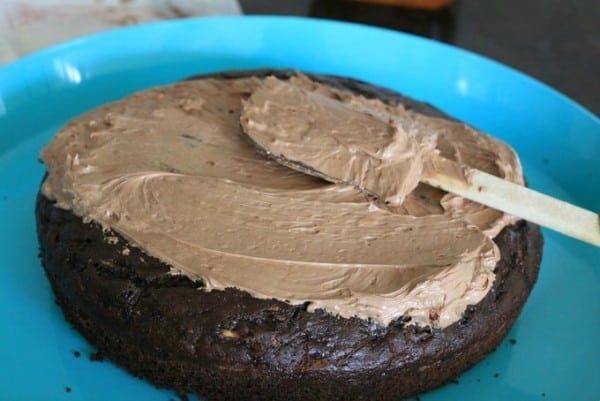 And frosted as usual.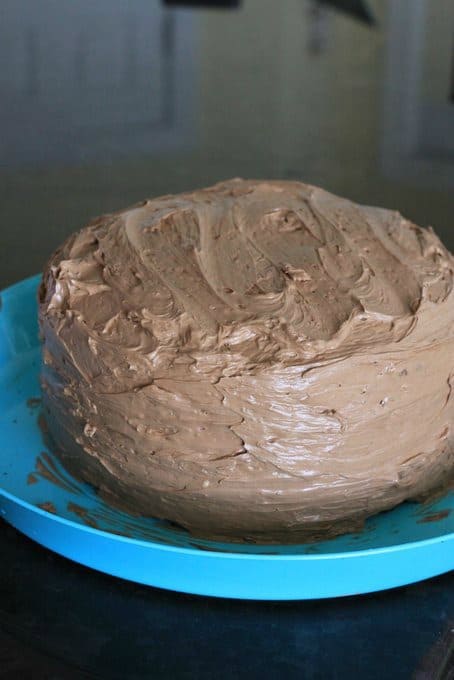 Then the excavation began.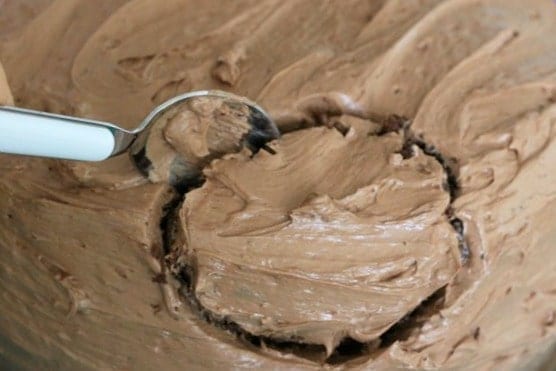 On went the sprinkles and the heavy equipment.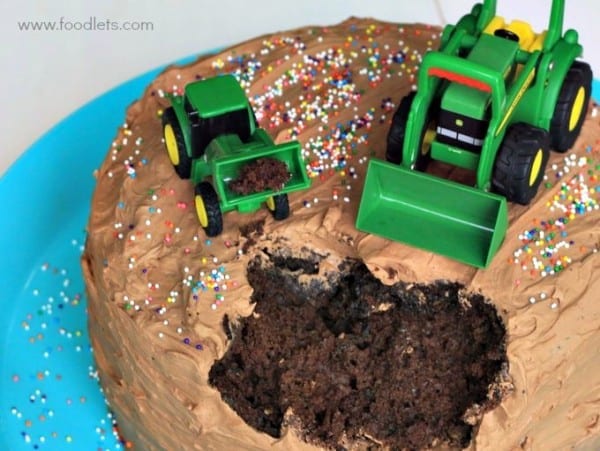 What a hit!
By the end of dessert, the tractors were so full of chocolate that I threw them in the bathtub along with the kids. Worked like a charm. For everything.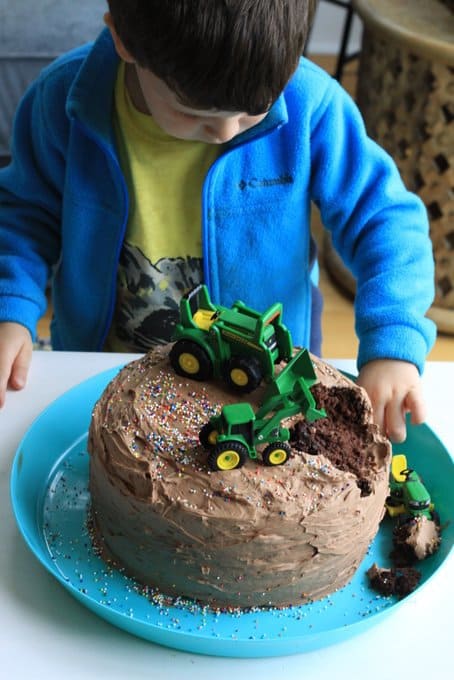 Print
Recipe: 4-Ingredient Chocolate Buttercream Frosting
Makes enough to frost a 2-layer cake using 9-inch round cakes.
Ingredients
4 sticks butter, at room temperature
1/3 cup honey
1/2 cup cocoa powder
3 teaspoons vanilla
Instructions
Mix on high speed for a couple of minutes, until smooth and creamy.
Store in the fridge; if you're making frosting ahead of time, allow to come to room temperature before spreading. It's VERY buttery, so also be cautious if serving outside on a hot day. 🙂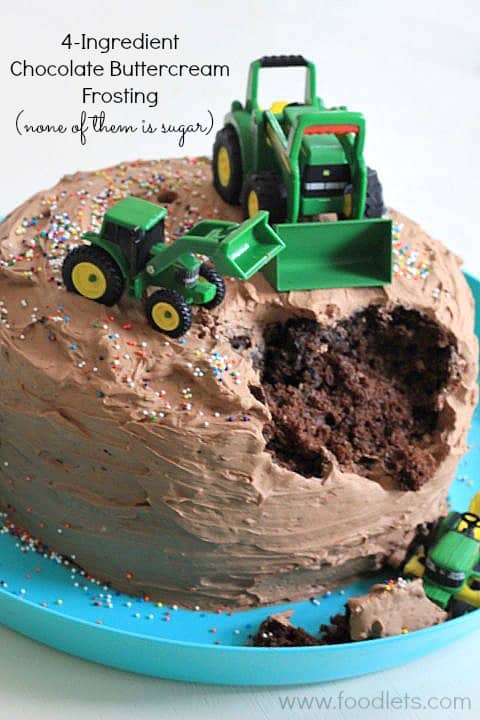 Want more?
More birthday party ideas for kids
Sign up for our free newsletter (at the top of this page and every page on Foodlets) and you'll never miss a new recipe or idea!