We've done an American flag with fruit on skewers. It was fun and not nearly as hard you might think.
But this new American flag fruit and cheese platter is SO easy, I'll do it every time I get the chance: 4th of July, Memorial Day, Labor Day.
All the Days!
If it looks familiar, this particular  fruit and cheese platter is actually a spin-off of our Christmas tree grapes & cheese platter and dare I say it, even prettier.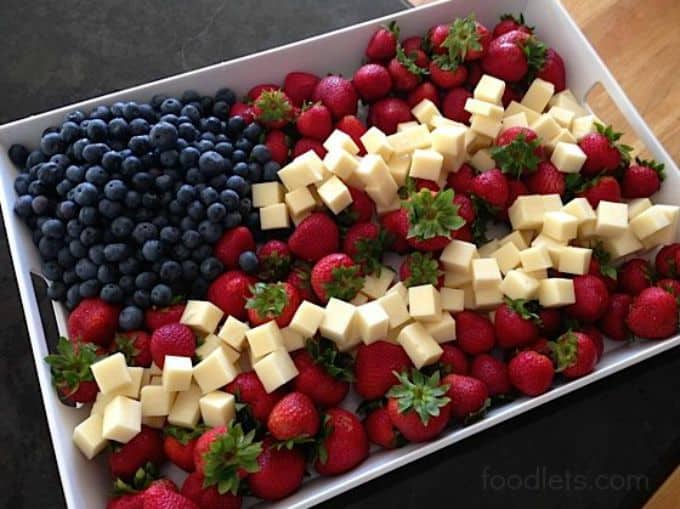 What you need:
Fresh blueberries
Fresh strawberries
White cheese cut into cubes (cheddar or Monterey jack)
Easy tips:
For your serving tray, find something with a lip or an edge. If you don't have a tray like this one (that I use all the time just to get dinner served), try a baking sheet. It's the right shape and will work perfectly. And if you really want to get fancy/feel embarrassed about the state of your pan, line it with shiny aluminum foil for an instant facelift.
Leave the greens on the strawberries to add an extra pop of color, and save yourself time.
Have extra fruit and cheese already rinsed and cubed (respectively) to replenish your tray mid-way through your event. That way you'll never have to slip inside the house, leaving your guests huddled around a cooler with half-melted ice as you say things like, "No it's fine! I'll just get more fruit. Now, where did I put that colander…"
Want more? We've got a few more ideas for fresh 4th of July food you can feel great about serving!
Plus, like Foodlets on Facebook to see all of our ideas plus carefully selected food and parenting advice from other places around the web.
And sign up for the Foodlets newsletter at the top of this page, and you'll always get our best tips and tricks for feeding your family well.