These cold noodles are a summer staple. Because they are awesome.
At least some of our kids think so.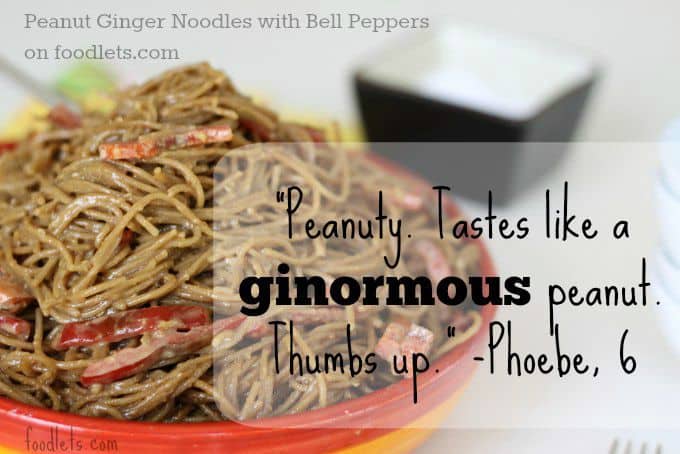 Use any shape of pasta your kids like and don't worry about the flavor of whole-wheat pasta taking over because in this salad, that nutty whole-wheat taste holds up perfectly. Even better than regular pasta.
These noodles are a simpler version of Ina Garten's amazing Szechuan Noodles. As always, I deeply love Ina Garten. But for reasons of health and happiness, I made this recipe a little simpler, less expensive and more kid-friendly.
Here's the important part: Add any veggies you (and the kids) like!
Things that are awesome to mix into these noodles:
Sliced bell peppers
Zucchini
Matchstick carrots
Cooked chicken, cut into bite-sized pieces
Blanched asparagus or broccoli
Frozen peas, just thawed out and sprinkled right on
Add a lot; the sauce is very intense and the more veggies (or chicken) you mix in, the better! And of course, the more filling and satisfying the whole thing will be.
Not bad for a make-ahead meal you serve nice and cold.
Print
Ginger Peanut Noodles with Bell Peppers
Ingredients
1 pound whole wheat pasta
1/3 cup olive oil
1/3 cup peanut butter
1/3 cup honey
1/3 cup tahini
1/3 cup soy sauce
6 garlic cloves
1/4 cup fresh ginger
1 teaspoon Worcestershire sauce
1/4 cup apple cider vinegar
2-3 bell peppers, thinly sliced
Instructions
Cook pasta al dente and drain.
Meanwhile combine all ingredients EXCEPT THE PEPPERS in a food processor and pulse until smooth.
While pasta is still warm, add the peanut sauce. Reserve about 1/4 cup; don't pour that on yet. Let your noodles soak up the sauce and add the reserved sauce if you need it, closer to when you're serving the meal.
Optional: Add cooked chicken to make this a full meal.
PS. You could also bring a bunch of these add-ons to the table and let each person top his or her bowl "all by myself". If your kids are into that sort of thing.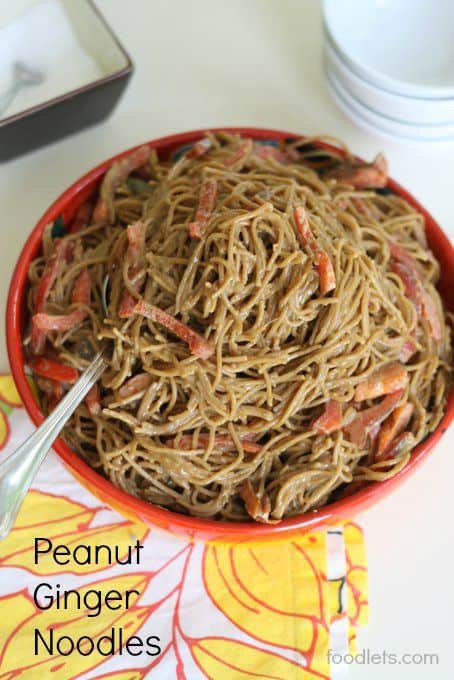 Foodlets Rating >> 2/3
"Great" – George, 3
"Thumbs down. Because it's not yummy." – Estelle, 4
"Peanuty. Like a ginormous peanut. Thumbs up." -Phoebe, 6
If you liked this idea, be sure to like Foodlets on Facebook! You'll never miss a new idea or recipe.