Who knew Cheerios were so fun?
Seriously. Who was aware of this and why didn't they tell me earlier?
Inspired by today's sponsored post, I got my hands on FOUR kinds of Cheerios (again, who knew?) and put the rascals to work. These are 3 ideas I found online then adapted in our own way.
We have a beach vacation coming up and that means 5+ hours in the car. Prepping our kids for the haul, I suggested they make 2 snacks for themselves to enjoy on the way: Edible Necklaces and Personalized Snack Packs.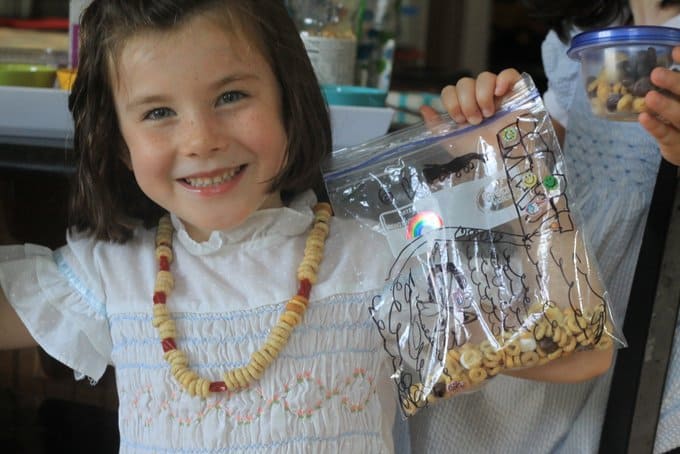 We also made a dessert: Peanut Butter Cheerios Treats with Chocolate Chips. Yep, like Rice Crispies but using their whole grain o-shaped cousins, Cheerios. Sweet, salty, chocolaty. Basically, not for the car. But definitely for the condo when we arrive.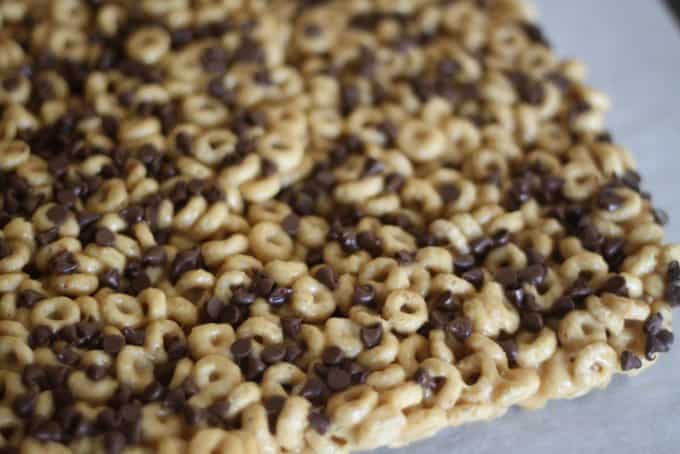 One of the best parts is how much the kids LOVED doing this! They threaded necklaces yesterday–and again today. For at least 30 minutes. Thirty happy, busy minutes. If you don't count cries of "Look at this!", they were also 30 quiet minutes.
Here's how we did everything, plus a few tips.
The Cheerios
We used a combination of these four.
• Honey Nut
• Original
• Multi-Grain
• Apple Cinnamon Cheerios
Edible Cheerios Necklaces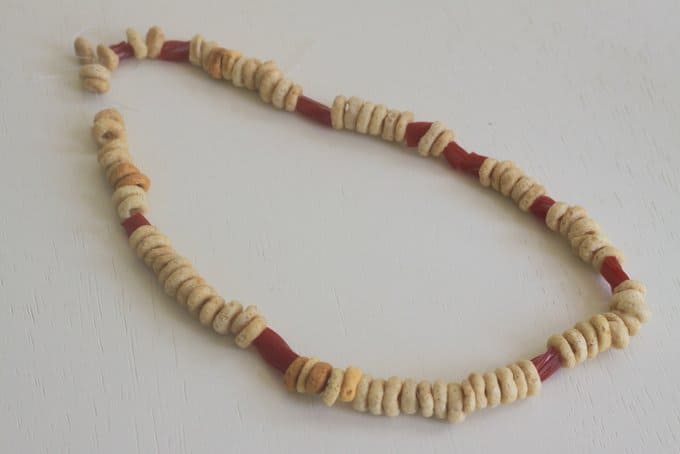 We used plain dental floss for string. It's durable but easy to dispense and cut. Plus, you're supposed to put your mouth on it, unlike twine, ribbon or the other alternatives I could think of.
These were best for my 4 and 5-year-olds. George, who is 3, had trouble threading the Os.
I used all 4 varieties of cereal plus one extra "bead". Those red parts are licorice that I just cut with kitchen shears.
Tie a Cheerio on one end so the rest don't slip off.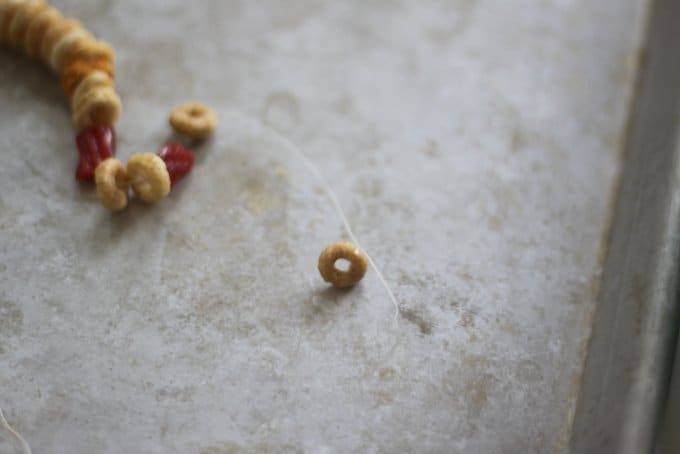 Give each kid a tray or cookie sheet to use as a personal work space. This will hold all the cereal and really cut back on spills.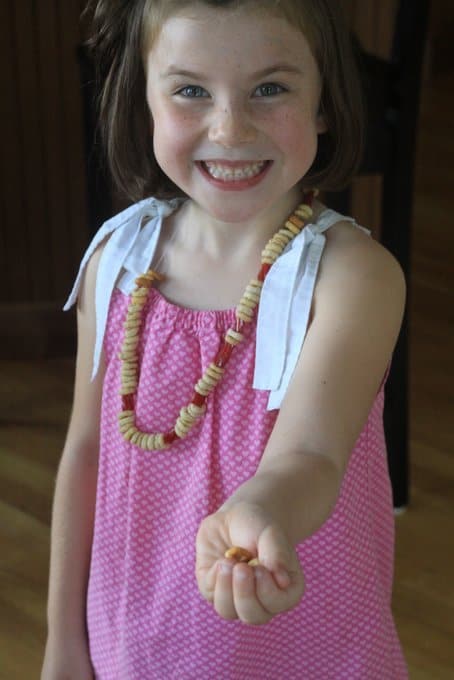 Personalized Snack Packs
THE INGREDIENTS: Another car-trip friendly snack, we started with the base of Cheerios for these, plus I bought a bunch of other mix-ins (but limited the marshmallows and Rasinets) and loaded everything onto a tray.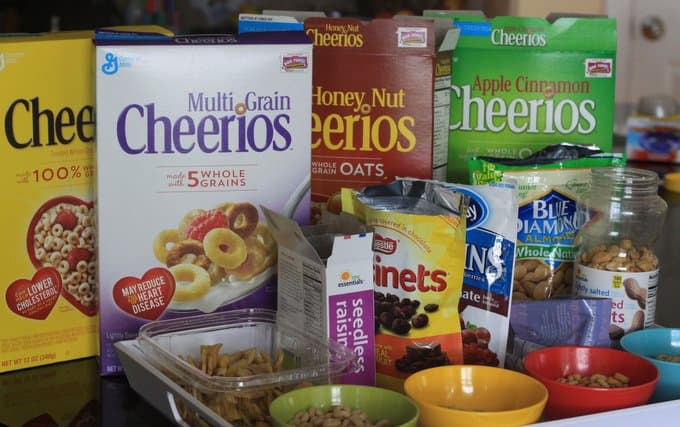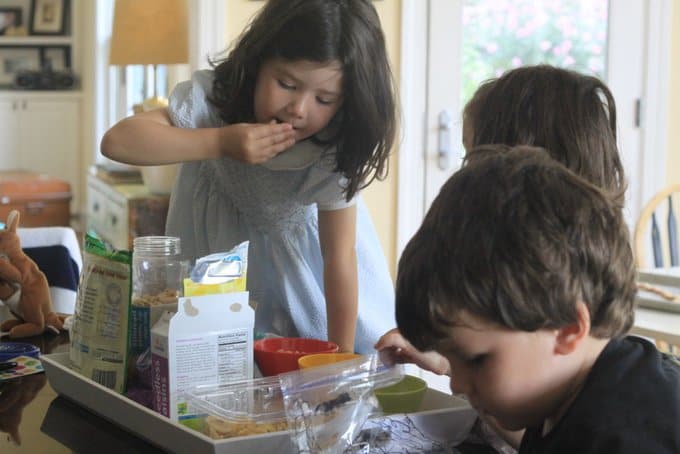 THE PACKS: Everybody picked either a plastic zip-top bag or a container with a lid. To avoid a cereal war, one kid decorated while another filled up his or her snack pack. "Decorations" were just stickers and a Sharpie, which stays put on plastic bags.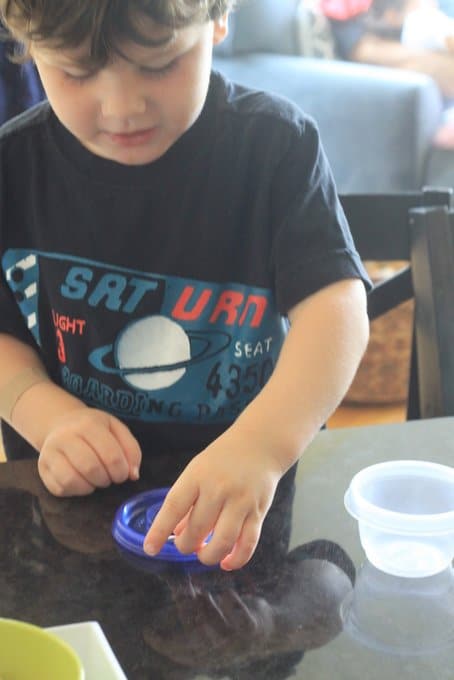 Here's how Phoebe's turned out:
And the little guys':
Peanut Butter Cheerios Treats with Chocolate Chips
This is such a simple recipe that the kids can easily help. Pouring, stirring (but careful it's hot), pressing and cutting.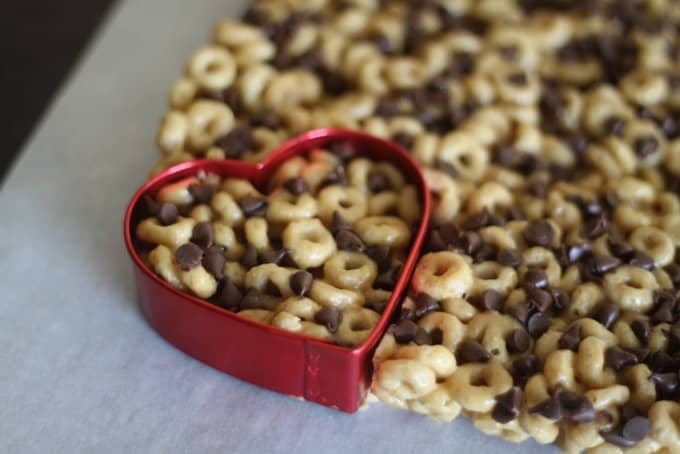 Cheerios Treats with Peanut Butter & Chocolate
Ingredients
3 tablespoons butter
10.5 ounce bag of mini marshmallows
½ cup peanut butter
5 cups plain Cheerios
½ cup mini chocolate chips
Instructions
Grease a 13x10 baking pan.
In a microwave friendly bowl, combine the butter and marshmallows. Cook for 1 minute, then stir. Add the peanut butter and cook for another minute. Stir in Cheerios.
Press into pan. Use the bottom of your measuring cup to press down onto the cookies.
Let sit for about 10 minutes and cut.
Quick Tip
And one more thing. Our kids love the Honey Nut Cheerios so to cut back on sugar, I usually combine one box with another box of plain. It's a win-win that works