These pink cupcakes might just help save lives.
That's right. But they're also pink cupcakes without food coloring or artificial strawberry flavoring.
They're pink cupcakes, without food coloring or flavors that are part of 10,000 Cupcakes & Cook for the Cure. And KitchenAid will donate $1 to support the fight against breast cancer right now.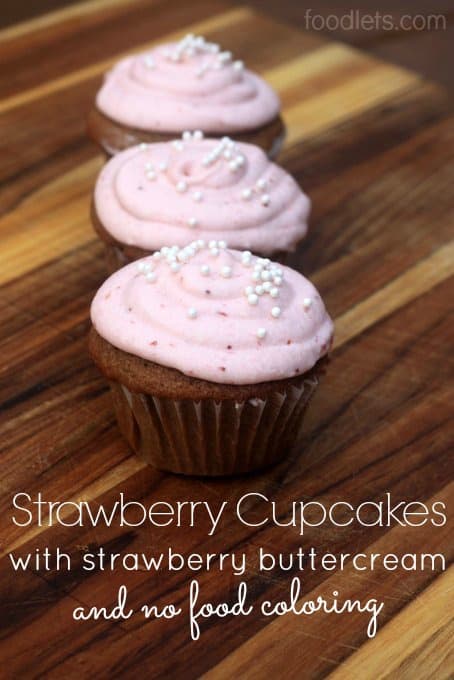 I'm thrilled to take part in Cook for the Cure! With these cute little strawberry cupcakes, we've just become part of 10,000 Cupcakes, a breast cancer awareness campaign that works like this:
Bake cupcakes and share an original picture of YOUR creation on your Twitter and Instagram channels using the hashtags: #10000cupcakes & #donate and tagging @KitchenAidUSA. KitchenAid will donate $1 to support the fight against breast cancer. (For more information visit 10,000 cupcakes).
That means you can get in on it too!
Whether you're cooking for the cure, or just whipping up a batch of delicious cupcakes for rascals you love, here's the recipe for our new favorite strawberry treats.
Start with frozen strawberries. That's them in the bag there, thawing out on the counter for an hour or so ahead of time, and the key to avoiding anything called "Food Dye #[whatever it is]" in your strawberry cupcakes with strawberry buttercream.
Blend the strawberries into a puree. You'll use this puree twice, once for the strawberry cupcakes and again for the strawberry buttercream. This is what the buttercream process looks like: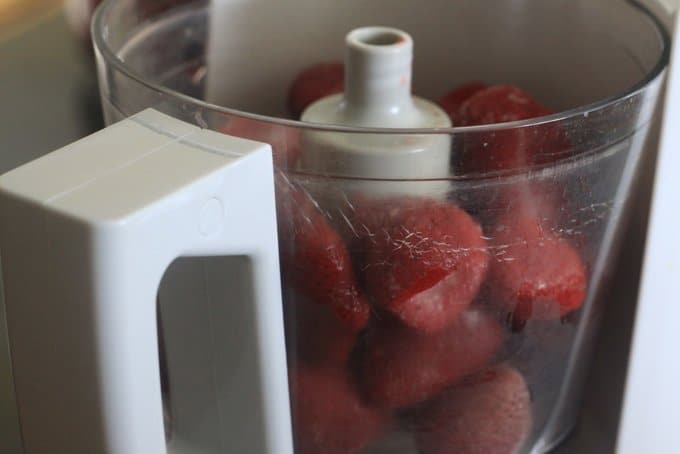 You'll need to cream the butter.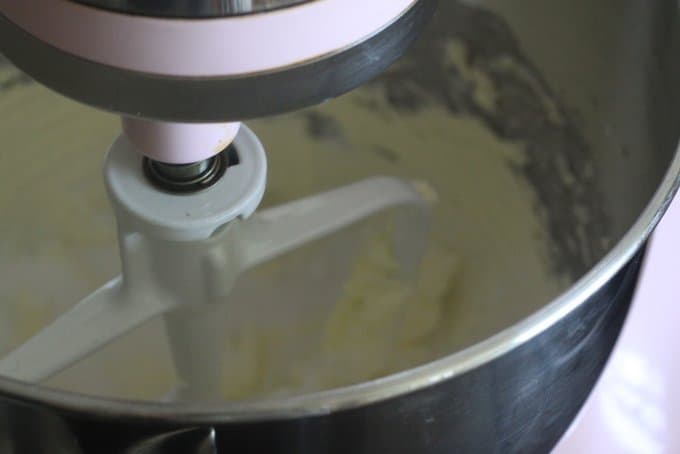 Eventually you'll end up here. If you have a pastry bag, use that! If you don't, use a sandwich bag…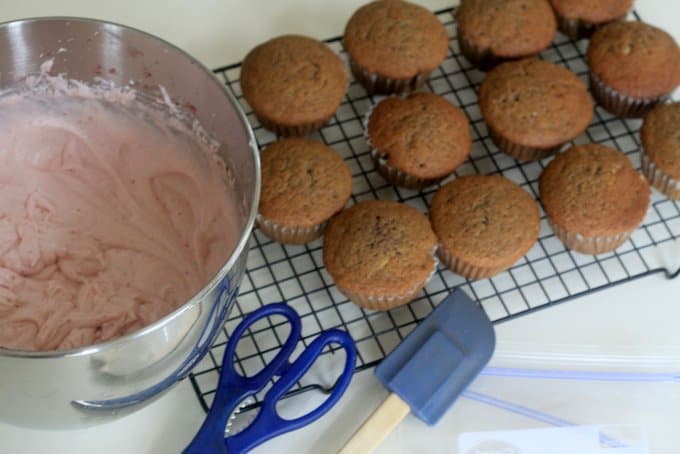 And just snip off one corner.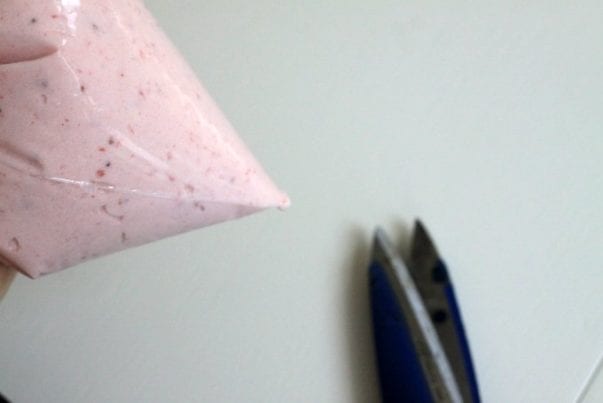 And just swirl.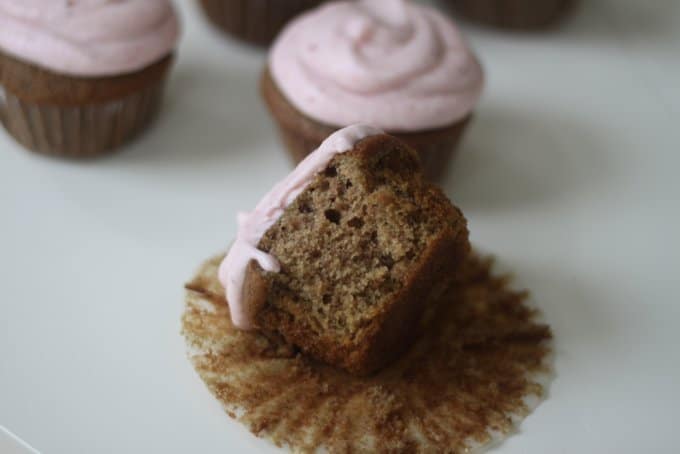 You might have helpers, who "ask for a taste" in their own unique ways. That'll be your call.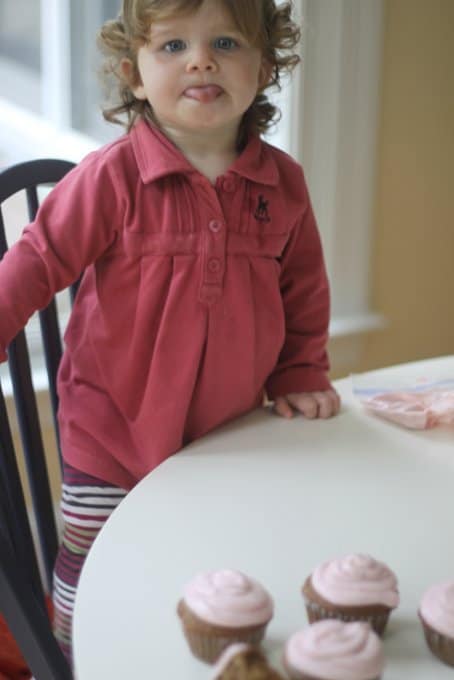 Me, I just keep swirling.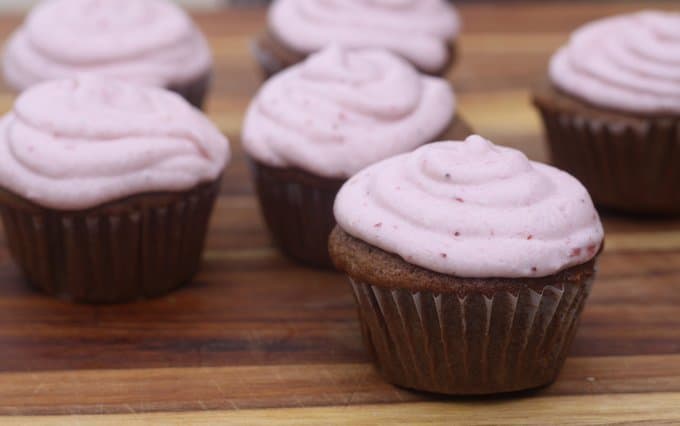 And I do like to add a few sprinkles.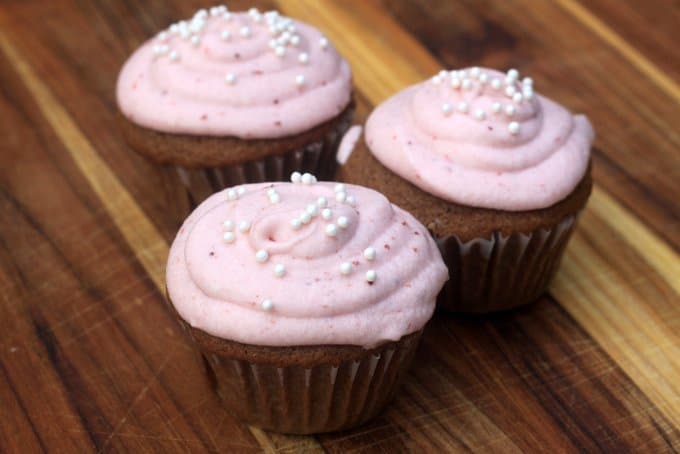 In the end, you'll definitely have delicious cupcakes without a hint of artificial food coloring or flavoring involved.
And maybe more.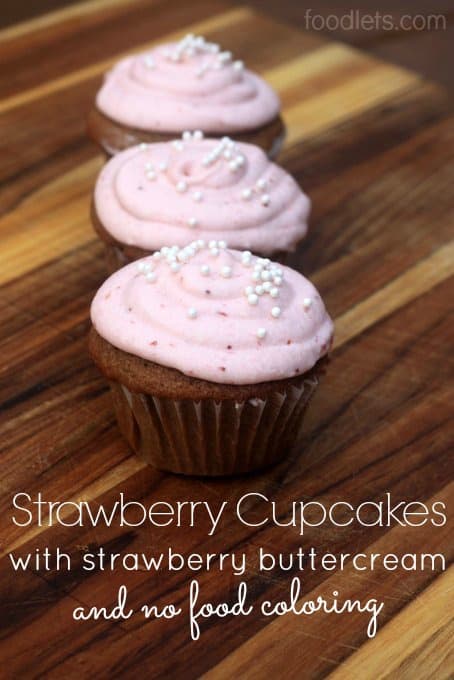 There's so much going on here! All the ways you can support the cause:
Here's the recipe to get you started (though you can certainly use any recipe you like…as long as it's a cupcake!)

Naturally Flavored Strawberry Cupcakes (Using Real Strawberries)
This is a dainty recipe, making only 12 cupcakes. Double it as needed. Adapted from Sprinkles' Strawberry Cupcake recipe.
Ingredients
1 cup whole fresh or frozen strawberries, thawed
¼ cup whole milk
2 teaspoons pure vanilla extract
½ cup (1 stick) unsalted butter, room temperature
1 cup sugar
2 large eggs, room temperature
1 large egg white, room temperature
1½ cups all-purpose flour
1 teaspoon baking powder
¼ teaspoon salt
Instructions
Preheat the oven to 350 degrees F and prepare a 12 cupcake pan with paper liners.
Measure the strawberries BEFORE you puree them. Then pulse them in a blender or food processor until liquified. Add the milk and vanilla, pulse to mix, then set aside.
In a separate bowl or mixer, cream the butter for about 2 minutes. Add the sugar and cream again. Add the eggs, one at at time, then the egg white. Mix until blended completely.
Into the butter mixture, sift the flour plus baking powder and salt. (Do this all together, using a sifter or small metal strainer.) Fold in the flour mixture but don't over-mix.
Now add the strawberry mixture and mix until JUST combined.
Fill each cupcake liner with about ¼ cup of batter.
Bake for 22 minutes. Remove from oven and let cool on a wire rack. Make sure the cakes are COMPLETELY cooled before you try to frost them.
Now for the strawberry buttercream frosting, which comes with a caveat. I've only made it once and it wasn't as stiff as I'd like it to be. The following is what I will do next time, with updates to the recipe I used here. (Which was awfully good but just a tad runny so the cupcakes definitely needed to be stored in the fridge.)
Not-At-All Tested Strawberry Buttercream
ingredients
1 cube softened butter
8 ounces softened cream cheese
2 cups confectioners sugar
1/4-1/2 cup strawberry puree (use a little at a time)
instructions
Using a standing mixer or handheld beaters, cream the butter and cream cheese for about 2 minutes. Add the sugar (there's so much of it, I know, but that's frosting) and cream again for another 2 minutes or so.
SLOWLY, add the strawberry puree. You want to color the frosting without making it runny. There should be nice flecks of red in there too.
If your frosting does come out too runny, put it in the fridge for an hour or so and it'll firm up.
Use a pastry bag or a sandwich bag to swirl your frosting on top, then add sprinkles if you like.
Store cupcakes in an airtight container in the fridge.
Many thanks to hhgregg for sponsoring today's story and encouraging me to help a great cause!