My kids love toast for breakfast. They'd eat it every day.
So for the sake of variety — both in terms of appreciating new flavors and nutritional value — we started getting adventurous about toppings.
This is only a start (and I'd love to hear about your ideas) but these 3 ways to make toast a healthier breakfast are totally kid-tested, beloved and part of our regular rotation.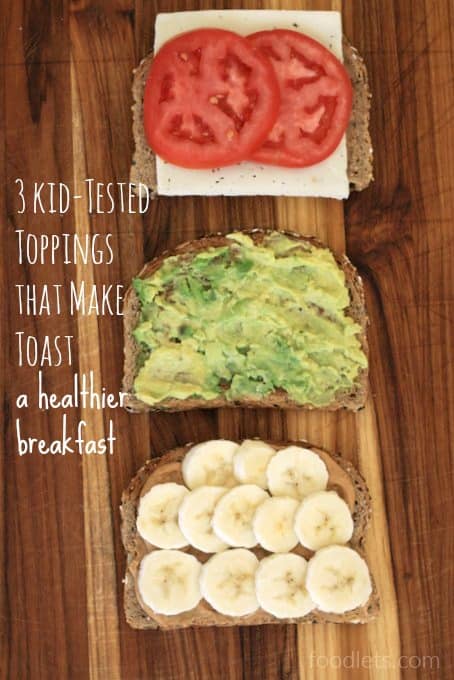 Start with Hearty Bread
I love Dave's Killer Bread. It's thick and studded with seeds, which makes for the greatest toast in the world. There's also the part where its non-GMO, organic and full of fiber too.
Ezekiel Bread is also pretty good. It's the same idea but also comes in a gluten free option.
3 Healthy Toppings for Toast
Melted Cheese + Fresh Tomato + Kosher Salt
Cheddar is perfect for cheesy tomato toast (and bagels work too) because it's so salty but Swiss is also delicious. Toast the bread, then pop a slice of cheese on top and either broil for about 30 seconds or throw it in the microwave for 15 seconds (you can see ours melted right into the bread). Add fresh slices of tomatoes and sprinkle with a tiny bit of salt.
2. Smashed Avocado + Lemon Juice + Kosher Salt
To make avocado toast, scoop out a ripe avocado and smear it right onto your toast. It'll actually spread pretty easily but leave a few lumps in there for rich and gooey bites. Squeeze a fresh lemon on top and again, finish with a touch of salt.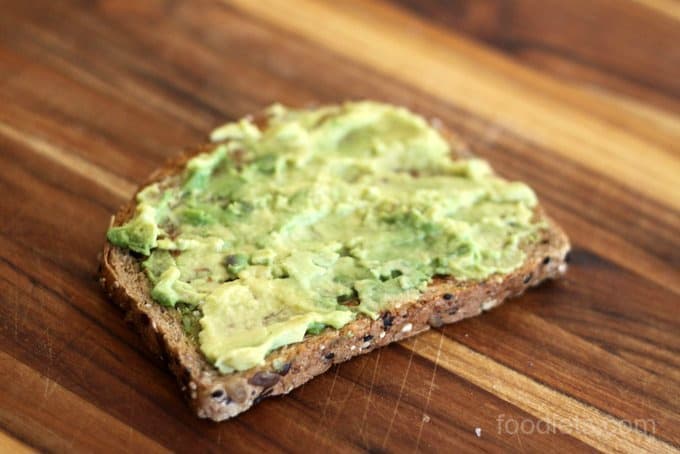 3. Peanut Butter + Sliced Bananas
This is a classic, one for purists like Estelle who would enjoy peanut butter and jam on her toast each and every day. The bananas add potassium and more staying power than jam so this is our new go-to topping.
Those are our top three healthy toppings for toast.
I usually cut the toast into halves, or triangles or squares. And sometimes if I'm feeling REALLY inspired, I'll make a couple of these versions and let the kids sample each one.
What if the kids won't try it?
This is always the first question at my house. We have four small kids, and experts say it's natural for all young kids to be reluctant to try new foods. So here is how I encourage them to take a chance:
I tell them it's delicious. This is straightforward but serious. I say those words.
Toast is not new. They love toast. Toast is the bridge food here. It's just the toppings that are new.
Remind them of another recent time when they were wary of trying something they ended up loving. (This happens weekly, if not daily, with at least one of them.)
Offer a couple of choices: either ask them which 2 types of toast they want me to make in the beginning, or just make 2 kinds and offer each kid a sample of each one.
Let them try it deconstructed: Want just a banana? A piece of  cheese on its own? How about a few slices of tomato? It doesn't matter to me whether they eat a dish as suggested–I just can't make alternate breakfasts for everyone because they don't like the look of this one.
Don't give up! Keep offering new foods. Eventually they'll get the hang of it, learning to actually enjoy something new. It might take a long time. But you'll get there. We (finally) did. Our six-year-old is almost always game–and appreciative–for something new. Especially if she knows its a. good for her b. something I love too.
Want more healthy ideas for kids — and tips for teaching them to enjoy it? Sign up for the Foodlets newsletter at the top of this (and every) page or follow Foodlets on Facebook and Pinterest.
Plus, try one of our make-ahead muffin recipes. Full of healthy vegetables, hearty eggs and so delicious everyone will ask for more.