Got leftover candy?
These Candy Bar Blondies are my favorite way to use Halloween Candy (and depending on how you celebrate, they're also awesome for the day after Christmas and Valentine's Day too.)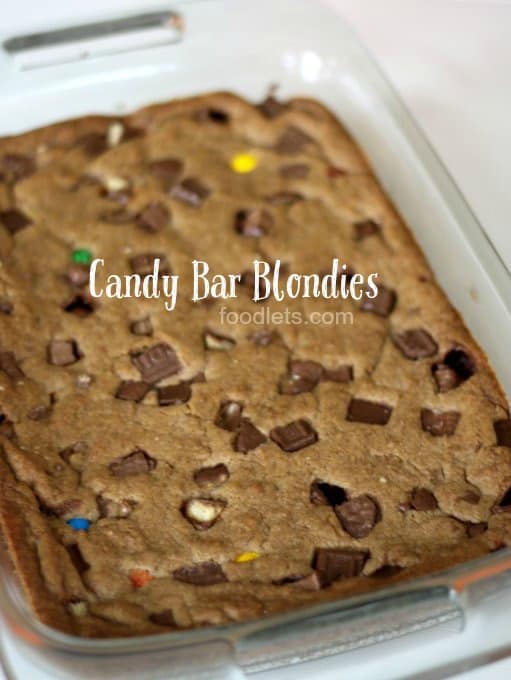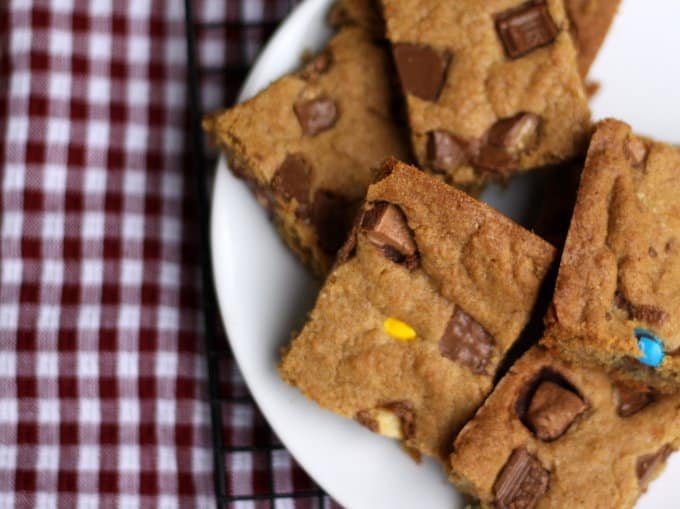 We went trick-or-treating for the first time this year and there's basically candy oozing out of our house right now.
That's because we've been going at it for two weeks. There was an awesome Halloween party at a friend's house, complete with a scavenger hunt, three pinatas, a trick-or-treat trail (in the woods!) and a spooky trail (same woods, more scary stuff!).
We went home with three bags of candy.
Then, at the last minute, we decided to meet up with some families from school for real trick-or-treating downtown. Traipsing up and down main street before hitting a Trunk-or-Treat at a church (When did these start? And wow! So elaborate.) has resulted in the thing you have too: So. Much. Candy.
So much that we needed a candy system. Because after the first weekend we learned our lesson. Just let them eat candy this weekend, my husband and I said to each other. Live it up for just a couple of days!
Those were awful days.
Whining. Crying. Fussing. Throwing. Falling. Whining. Crying.
It's better when we step in.
On Halloween night, each kid got to come home and dump out their loot on the rug. Then they ate three pieces of candy. You guys, they acted like I had just handed them both Showcase Showdowns on the Price Is Right. "We get THREE pieces of candy!" they all shrieked.
And it was enough.
They went to bed. Happy as sugar-drenched clams.
The next day I asked them to give me three pieces of chocolate candy each, nine in total, to make this dessert. They were a mix of M&Ms, Three Musketeers, Twix, Milky Way and more.
This easy dessert is just chocolate chip bar cookies, studded with chocolate candy bars instead of chocolate chips. If you want MORE chocolate (and I usually do), I'd add up to 20 pieces total. (We used 10 here.)
It's a nice way to take care of a ton of candy, in a way that everyone can enjoy.
How to Make Candy Bar Blondies
Make a batch of bar cookies using our World's Best Chocolate Chip Cookie recipe.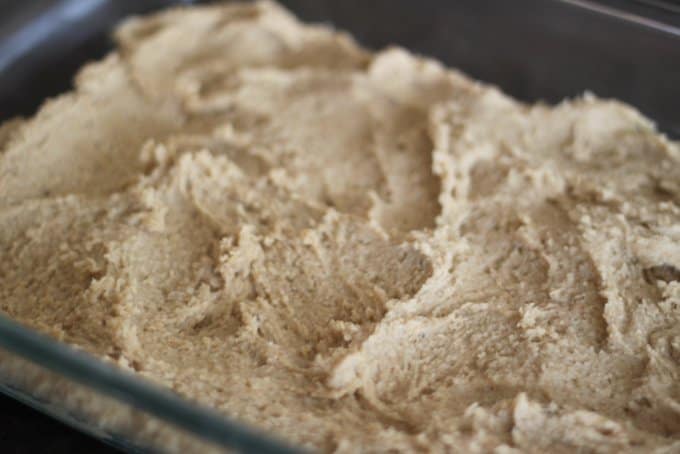 Leave out the chocolate chips.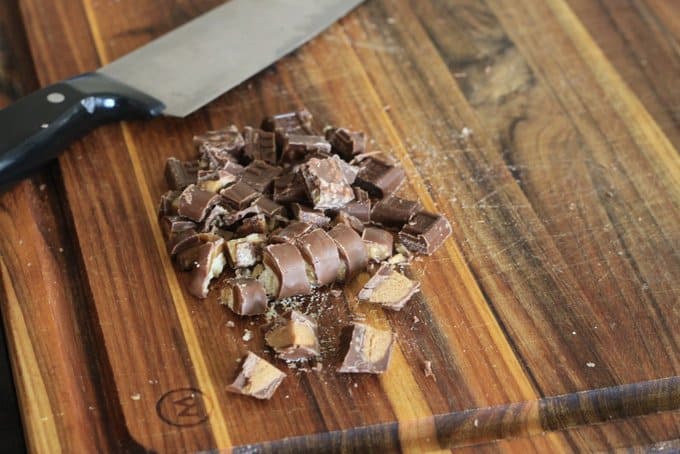 INSTEAD, chop up some chocolate candies (about 20 should work perfectly).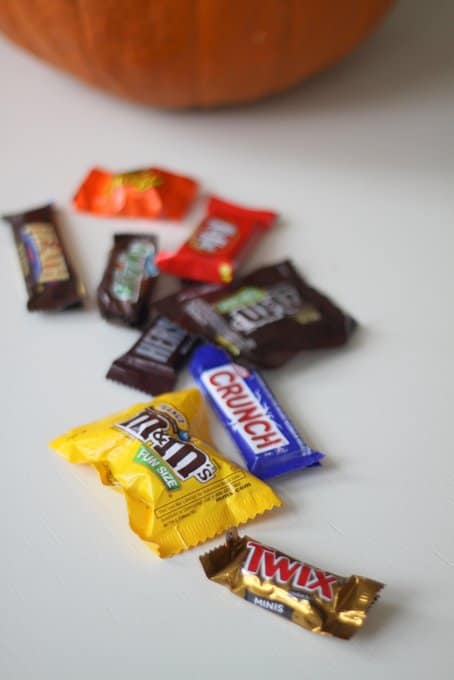 Pour the dough into a greased 9×13 pan and put in the oven to bake. BUT reserve a few candies.
Fifteen minutes before you take the bars out of the oven, stud the top of your pan with the cut up chocolates. Ta da!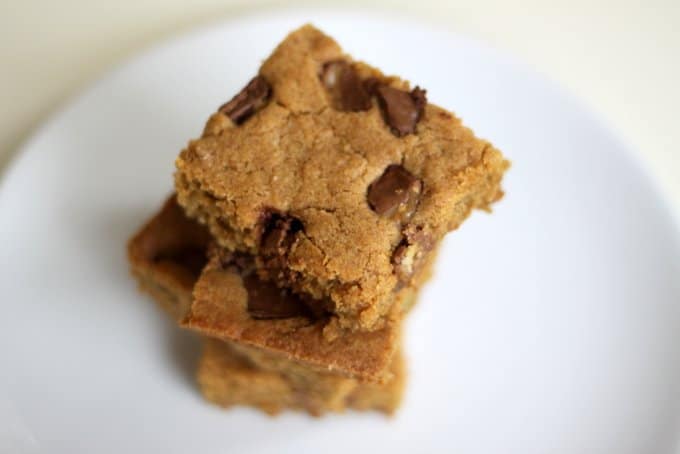 Recipe for Candy Bar Blondies
Print
Candy Bar Blondies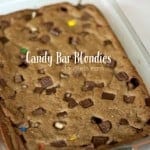 Author:
Prep Time:

15 mins

Cook Time:

25 mins

Total Time:

40 mins

Yield:

15
Ingredients
8 tbsp salted butter (1 stick), softened
½ cup brown sugar, packed light
¼ cup granulated sugar
1 tsp vanilla
1 egg
1¾ cups all-purpose flour
½ tsp baking soda
¼ tsp salt
3 1/2 cups chocolate candy, chopped
Instructions
Preheat the oven to 350 degrees.
Beat the butter with the sugars until creamy, using a stand mixer or hand-held beaters on medium speed for 2 minutes. It should look like caramel.
Add vanilla and egg, then beat again on low speed for about 10 seconds.
Add flour, baking soda, and salt. Mix only a couple of rotations until crumbles form, about 30 seconds.
Add 3 cups of chopped chocolate candy. Mix for 30 seconds.
Grease a 9×13 inch pan and spread the dough into one even layer. (It'll rise as it cooks so don't worry if it seems thin.)
Bake for 12 minutes. Remove the pan from the oven and stud the top with a handful of reserved candies. Cook 15 additional minutes until the edges are golden.
FILL YOUR CHILD'S LIFE WITH MORE GOOD, FRESH & HEALTHY FOOD: