Have you ever made Marcella Hazan's bolognese sauce? It's amazing. But it takes almost 4 hours.
If you have one, two, four or nine small kids at your house like I do, this just won't work.
So as part of my quest to introduce our kids to delicious food made from fresh ingredients, with tons of variety and rich flavors–without driving myself insane–I made a quickie version of Marcella Hazan's bolognese sauce. I mean, I am a very busy person with four little kids but I still want to eat the good stuff, right?
And that's just what this sauce is. Seriously good. "Thumbs Up!" good.
The Shortcuts
To make something like Marcella Hazan's bolognese in a fraction of the time it really takes, you've got to take a few shortcuts. Here are a few of my favorite shortcuts for cooking fresh food quickly.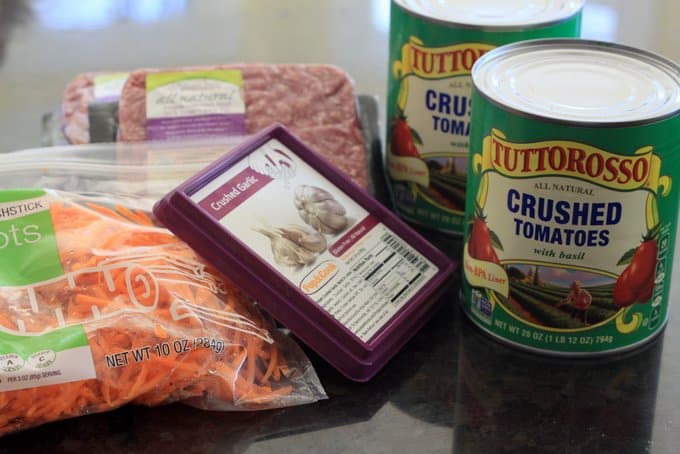 Use crushed or diced tomatoes. The original recipe calls for stewed tomatoes that are whole and become broken up slowly during the long cooking process. *If you ARE going to simmer the sauce for the full 3 hours, don't do this. The tomato flavor won't hold up as well.
The original recipe didn't call for garlic but it adds that layer of flavor to a sauce that doesn't cook as long as the traditional sauce will. But instead of mincing garlic yourself, pop out a cube from the freezer. I love these little frozen squares you find in the frozen food aisle; I have them in garlic, ginger and basil. (And no, this is not a sponsored post. I just love these things.)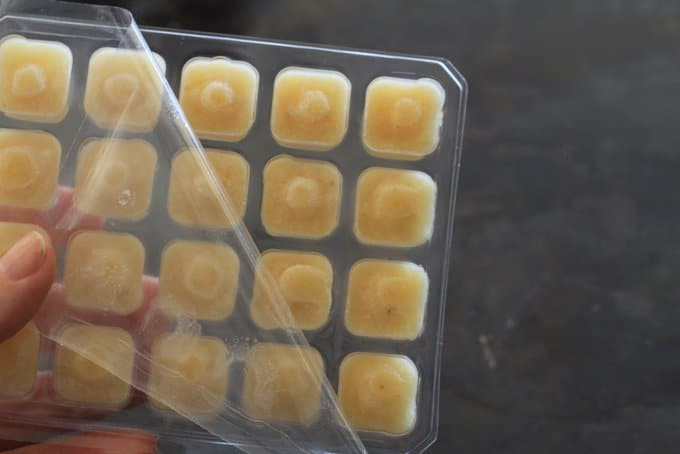 Throw a handful (or two) of matchstick carrots into the pot, again instead of peeling and chopping your own carrots. Neither are particularly difficult but at this stage of life, you might want to just cut back on anything that requires serious patience from the littles.
Skip the celery.
Add a bay leaf. Bay is another one of those subtle flavor adders that works hard to give a dish a little something extra, even in a short amount of time.
Throw it all together, simmer for 1 hour and that's it.
This 1-hour bolognese sauce is A THREE-BOWLER for my kids, and one they still ask about.
Bonus: It's a great one to double and freeze half of for later.
The Recipe
How to Make Marcella Hazan's Bolognese in 1 Hour
Serve over pasta with freshly grated Parmesan cheese. Tip: let the kids serve themselves to the cheese but give them a guideline, like "Grate until you count to 8" so they get excited but don't end up with a giant mountain of cheese with a little pasta peeking out.
Ingredients
4 tablespoons butter
1 cup chopped onion
1 cup chopped carrot
4 cloves garlic, minced
¾ pound ground beef
½ teaspoon Salt
a few cracks of black pepper from a pepper mill
1 cup milk
⅛ teaspoon nutmeg
1 cup white wine
1 28 ounce can of crushed or diced tomatoes and their juices
Bay leaf
Instructions
In a large saute pan or Dutch oven, heat the butter on low. Add the onions, carrots and garlic and cook until soft, about 7-10 minutes. Add ground beef, salt and pepper. Turn heat up to medium-high and stir until meat is cooked through.
Add milk and nutmeg, stir and bring up to a boil again for about 5 minutes until you see no more milk.
Add white wine, stir and bring back up to a boil for about 3 minutes, until you see no more wine.
Then add the tomatoes and bay leaf.
Turn the heat to the lowest possible setting and simmer for 1 hour. Stir every once in a while to prevent scorching.
Serve over pasta with freshly grated Parmesan cheese.