I've been trying to write this post for 2 years. Roasted sausage, sweet potatoes and apples on a sheet pan is an easy, delicious meal that everyone loves every time.
That's the problem.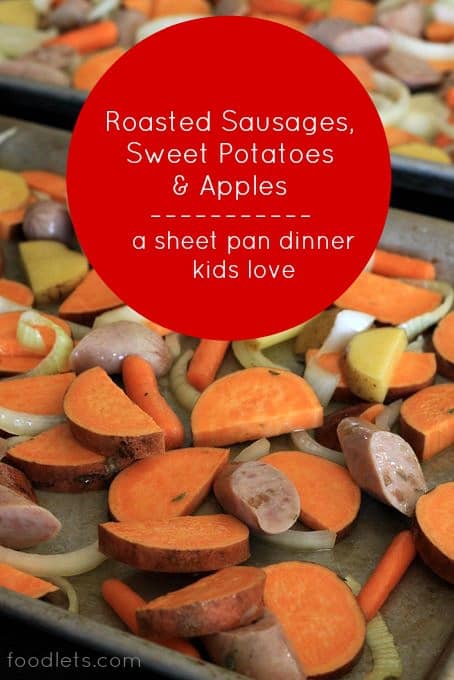 It's one of my Hail Mary meals when I need dinner done fast–throwing whatever veggies I can find on a sheet pan, along with some good sausage cut into big bite sized pieces. And every time I've ever made this meal, the whole thing is gone too fast for me to snap a single photo.
This time is actually no different. There's not a finished shot. (You start to feel like a pretty questionable parent when hungry kids are wailing for dinner and you hear yourself say things like, "Just a one more shot for the blog!")
But I did take the time to shoot prep shots.
So you get the idea.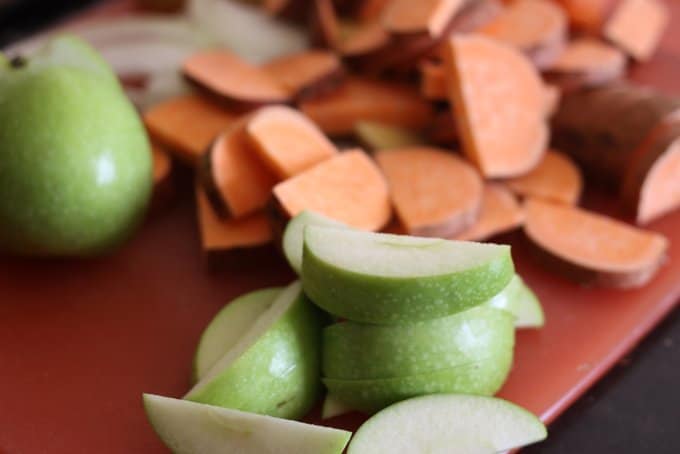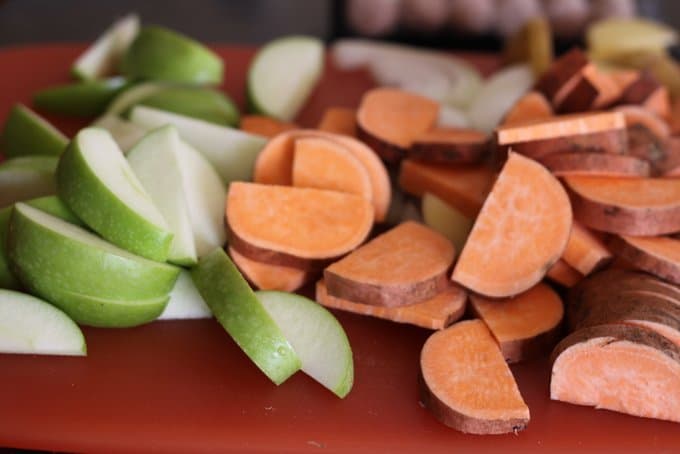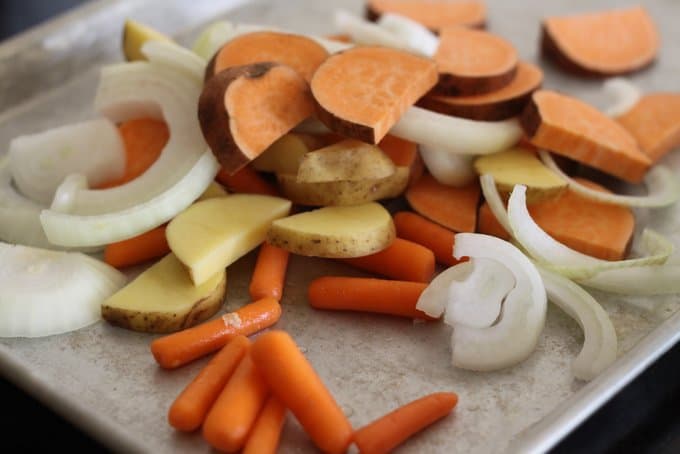 What's a Sheet Pan Dinner?
You've heard of one-pot meals. A sheet pan dinner is the same idea, for the oven. Everything is roasted together on a sheet pan at the same time.
And there are benefits. A sheet pan dinner like this one works perfectly for 2 scenarios every parent knows:
cleaning out the fridge and pantry
accommodating a variety of different people's tastes in one simple meal
Use any combination of veggies. I think root vegetables are great here because they cook at about the same rate. We've used only sweet potatoes (which the kids like), only yellow potatoes (which my husband prefers), skipped the onions and so on.
About the sausage.
I particularly liked the look of the ingredients on this package of sausage. All items I know and use myself.
Also, it was on sale.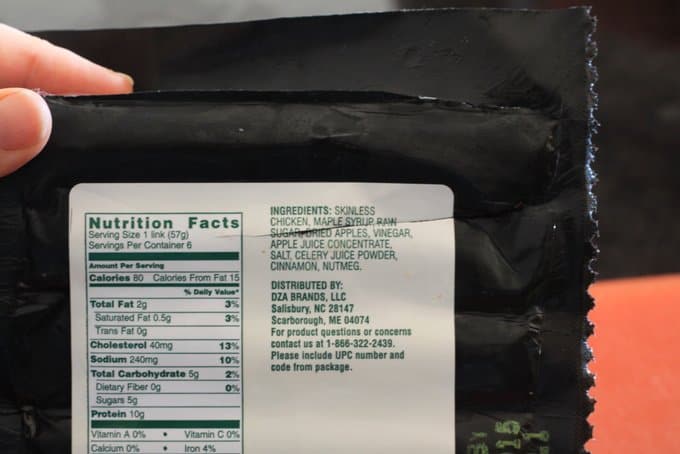 Chop everything up, slather with olive oil and a touch of salt. Then roast at 400 degrees C for about 30 minutes.
Serve with ketchup, mustard or both.
And because it's so easy, this is one that we often make for spring or summer meals outside. Nothing's easier to transport to the patio–or the picnic table–than a single sheet pan. Trick: When I'm ready to bring dinner to the table, I slide all the goods from one pan to the other so it's easier to handle.
Print
Sausage, Sweet Potatoes & Apples: A Sheet Pan Dinner Your Kids Will Love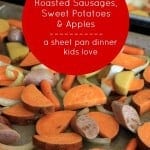 Since surface space is necessary for cooking evenly, I use 2 pans to roast everything, then transfer the cooked mixture from 1 pan to another to make carrying to the table easier.
Author:
Prep Time:

10 mins

Cook Time:

35 mins

Total Time:

45 mins

Yield:

4-6 servings
Ingredients
1-2 sweet potatoes, sliced in half-moon shape
1-2 yellow potatoes, sliced in half-moon shape
1 sweet onion, sliced
1 cup baby carrots
2 granny smith apples, sliced
1 package sausage links, cut into large bite-sized pieces
About 3 tablespoons olive oil
1 teaspoon salt
Instructions
Preheat oven to 400 degrees F.
Pile all sliced ingredients onto a single baking sheet and slather with the olive oil. Sprinkle with salt and mix with your hands. Coat every piece with oil then put half the mixture onto a second baking sheet, trying to get it into a single layer.
Bake for about 35 minutes, flipping once halfway through baking time.
Serve immediately or cover with foil and keep warm until you're ready.