This pesto naan bread pizza taught me two things:
Kids love pesto.
I'm not nearly as clever as I think.
It's part of our What to Make for Dinner When You're in a Hurry After Work series that I'm calling Dinner in a Flash. This instant pesto pizza was recommended by a lawyer mom whose girls go to school with my first grader.
When she mentioned it, I thought, "WOW that's so exotic!" (Please note that Aimee, the amazing mom who told me she always keeps pesto, mozzarella cheese and naan bread on hand said nothing about being a trend setter. That was all me.)
Cut to a week later. I'm at preschool picking up three tired little guys after a long day when I try to inspire them, "Come on. Let's go home to make our pizzas!"
That's when the teacher chimes in, "I'm having pizza tonight too! Naan pizza."
Noted.
Cutting edge we are not. But totally onto something awesome? That's us. That's this pizza.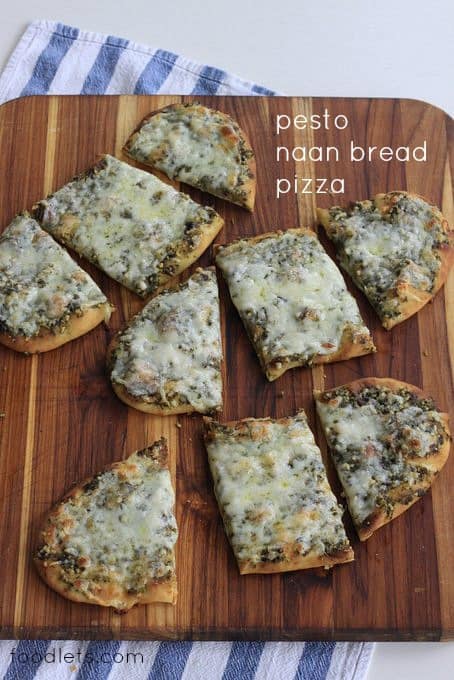 Why pesto? Because pesto is jam packed with flavor: garlic, basil, cheese. Because it works perfectly on the naan bread, just soaking through the top layer enough to give your melted cheese excellent gooeyness. Because it's just enough of a new thing, combined with an already beloved thing, homemade pizza.
That makes this pesto naan bread pizza a bridge food. An easy way to encourage kids to try something KIND OF new, gain confidence in the experience and be even more up for trying new things next time.
It's also so delicious that we've had it twice in the last week. And both times, all four kids brought leftovers for lunch at school the next day. Winner!
Worried your kids won't even try it?
Here's how you set it up.
Talk it up earlier in the day. Tell the kids "We're trying a brand new kind of pizza tonight! You've NEVER had it before. My friend's kids LOVE it and I want to know what you think too." Make it sound like a cool adventure.
Institute the Family Food Rules. Print it out and show it to your little guys BEFORE dinner time. Among these rules is the best rating system ever: Thumbs Up, Thumbs Middle, Thumbs Down. Ask your kids to say nothing before they try 3 bites. Then ask them about their rating. Thumbs Up?
Serve something the kids like on the side. A well-known, well-loved veggie, like roasted carrots. If you are new to the process of only making one dinner that everyone actually eats and worried that the kids might not eat anything at all, serve a bowl of fruit at the table. Offering an additional choice, in this case one that's nutritious, is great place to start!
What you need:
Plain naan bread. (I got a big pack of naan bread at Costco and used it for both meals. STORE IT IN THE FREEZER to prevent mold.)
Jar of pesto. (I've tried two brands so far, one was much more expensive and didn't make much of a difference to my knee-high critics)
A brick of mozzarella cheese. (I prefer shredding cheese myself because it has more flavor without the fillers they put in there to keep the pieces separate. BUT this is Dinner in a Flash, so if time doesn't permit, I say bust out that bag of pre-shredded cheese and carry on.)
How to make 3-Ingredient Pesto Naan Bread Pizza
Preheat the oven to 400 degrees F.
Slather pesto on each piece of naan.
Top with mozzarella cheese. I love using these pre-cut parchment sheets that fit perfectly in my baking sheets. My mother-in-law introduced me to them a couple of years ago and now I'm hooked for easy set-up, easier clean-up!
Bake for about 8 minutes.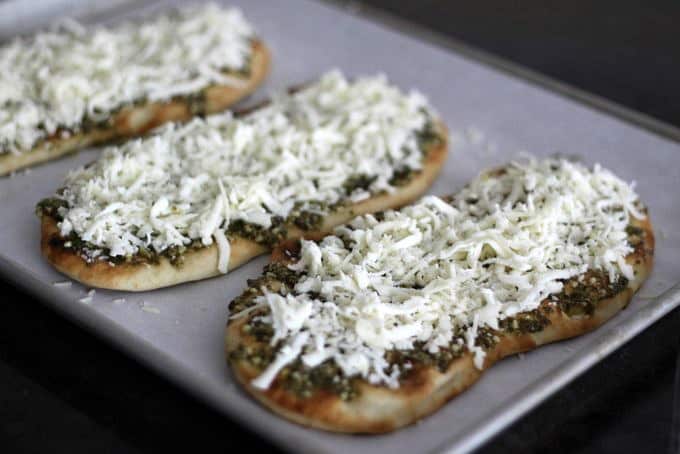 Slice and serve.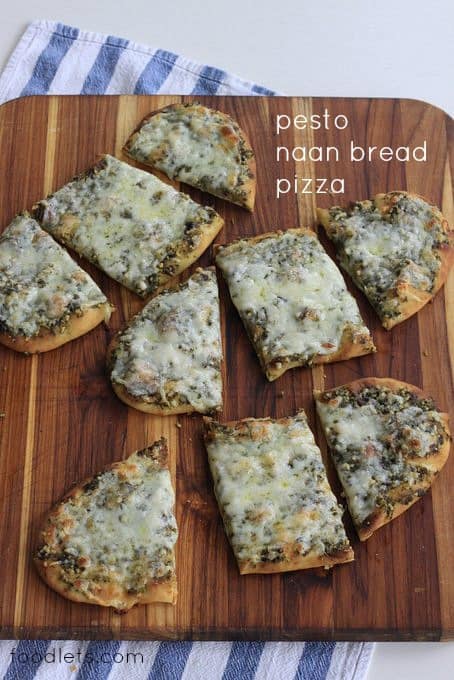 That's all there is to making pesto naan bread pizza, a dinner (and a lunch) our kids already love.
And apparently, they aren't the only ones.
This post contains affiliate links. When you click and purchase something on Amazon, Foodlets receives a small fee. #gocollegefund