Want an adorable dessert for your Easter table? How about one that's actually a cinch to make–and the kids can even help?
These coconut macaroons are adapted from one of my favorite Barefoot Contessa recipes, as part of our Barefoot for Babies series where we update the amazing Ina Garten's ideas (along with a few other culinary rock stars who typically cook for adults) to be either healthier, easier or more kid-friendly. You can guess which category this one falls into…
(Hint: it's sure not healthier!)
Decorating these chocolate coconut macaroons is the perfect job for kids. I whipped up the batter, then baked. After that, it was all them.
Tiny fingers applying a dab of melted chocolate in the center of a "nest", then piling on a few chocolate eggs — or jelly beans. It's such a quick project with totally adorable results.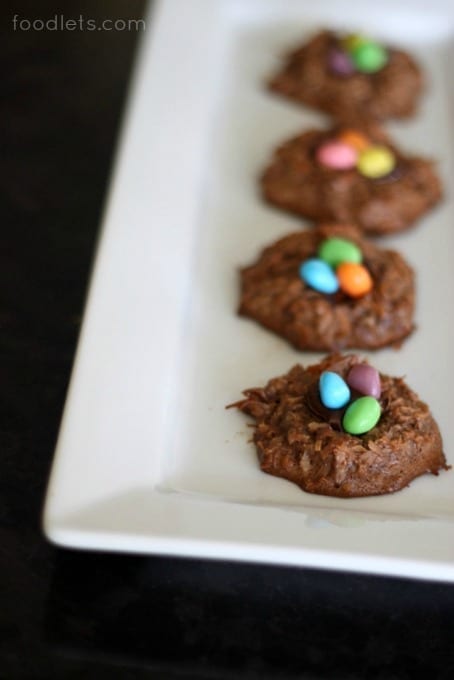 Simple Bird's Nests for Spring: Coconut Macaroons with Chocolate Eggs
Ingredients
1 bag (14 ounces) sweetened shredded coconut
1 can (14 ounces) sweetened condensed milk
1 teaspoon pure vanilla extract
3 tablespoons unsweetened cocoa powder
2 extra-large egg whites at room temperature
¼ teaspoon kosher salt
¼ cup chocolate chips, melted
chocolate eggs or jelly beans
Instructions
Preheat your oven to 325 degrees F.
In a large bowl, stir the coconut, condensed milk, vanilla and cocoa powder.
Separately, whip the egg whites and salt on high speed using a standing mixer or hand beaters until they form firm peaks.
Fold the egg whites into the chocolate mixtures, carefully so you keep as much air as possible in the batter.
Use a tablespoon (I plucked one right from my utensil drawer) to make scoops, then level out the center with your thumb. Bake at 325 degrees F for 25 to 30 minutes, until firm.
When cool enough to handle, melt your chocolate chips in the microwave in 10 second intervals, stirring in between each one. (It should take about 30 seconds total.)
Use a tiny spoon to put a dollop of chocolate in the center of each nest. Then top with jelly beans or chocolate eggs.