Our kids don't "exercise", they play. And it makes all the difference.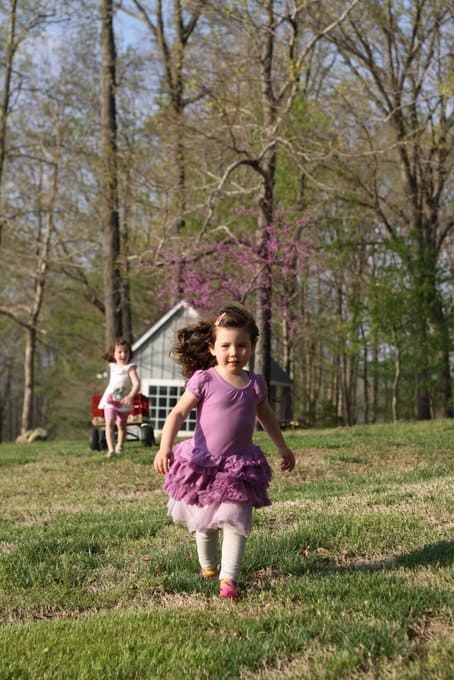 As part of this month's focus on teaching kids to take care of their bodies, today we're talking movement! The Mayo Clinic says kids need 60 minutes of exercise a day (but not continuously) to thrive.
But it almost sounds ominous. Like another thing I have to figure out. Am I going to need a chart for this too?
Let's not overcomplicate things here. The idea is simply moving, for the fun and joy of it. Not to punish anyone.
Remember when this went viral? Outside of a list about what food banks need most, this quote is the single most popular thing I've ever shared on Facebook. (And those two tidbits alone are the reason why I love this amazing little community here so much.)
All we need to do is inspire a love of movement.
That's it.
To create conditions where running around, spinning on a swing, or hop-scotching your way across the yard is more fun than sitting in the couch.
For a few minutes at a time.
What I learned not to do
The thing I've discovered about trying to Work Out with my kids around is…it's annoying. When my focus is on trying to get through a specific routine–yoga, weights, a brisk walk–it's agonizing. That's because we're at odds. I'm trying to get in the zone. The kids are not. When I'm trying to concentrate, I get irritated when people whine, ask for a banana or start screaming that someone's "being mean!"
Plus, this doesn't really meet the goals of inspiring a love of movement. This inspires aggravation.
Instead, we're much sillier these days.
I just let go of the idea that I'd do both at once and exercise when the kids go to bed. That just works better for me. Kickboxing in San Diego is still the plan.
When they're up, they do stuff like this:
Dance parties (turn on a CD and go!) or Just Dance (Wii)

Bike riding obstacle courses (I set up cones in the driveway) 

Climbing & swinging on the play set

Jumping on the trampoline
And they have so much fun! My only job at this early stage is to encourage them to trust their growing bodies. To use every part of themselves every day.
In college I read about sailing on https://outdoorempire.com/finding-best-binocular-reviews/, found myself intrigued so I took a sailing class and the whole thing was taught by TAs. One of the guys, who couldn't have been more than 22 at the time himself, was so discouraged one day as he towed a tiny sailboat along the dock. "These guys don't even know how their bodies work," he complained about college kids who couldn't step on and of the boats without trepidation, or worse, falling in the lake. It was a throwaway comment, but it's lasted all these years.
Use your body. Trust your body. Love your body. That's what it's there for. Nothing more, nothing less.
Planning for bigger adventures
I don't want to overcomplicate anything but at the same time, I'm the leader of this crew and I know that it's up to me to keep things running smoothy. So I've got a few ideas in store for the coming months.
Easy Goal #1: One hike a month
My husband and I have both always loved hiking. Our kids have been on a few outings and this spring we've decided to pick a hike every month for March, April and May. We've found that planning ahead means the difference between wanting to go on a hike and actually making it to a trail. And if going on three hikes sounds measly, that's another tactic at work: aim low and if you actually go more often than this, gravy!
Easy Goal #2: Teach kids to play t-ball
One of the major benefits of a big brood of four is having a built-in game waiting to happen whenever you like. Our kids are between the ages of two and seven so t-ball is perfect (plus you don't need a player to pitch). Santa provided the tee this Christmas, next comes the know-how.
Easy Goal #3: Let kids move when they need to
One of my favorite new ideas for getting a little energy out came from my mother-in-law. George, my 4-year-old, often starts to get squirrely at exactly the same time when we're trying to wind down for bed. This used to drive me crazy. Now when I see him get antsy, I have him do 10 burpees. Right there on the carpet.
And if that doesn't do the trick, he races up and down the hallway 5 times too. Once he gets that burst of energy out, he calms down and it changes the whole evening. He can really enjoy cuddling up to read books together before bed.
You'll notice that I don't have soccer practice, swim team or dance class here. That's because our kids aren't involved in any of these things so far. At this point in our lives, spending time together as a family in the evenings is more important than even the benefits of learning teamwork, coordination and pushing yourself physically–all exceptional traits I value highly. Don't get me wrong, I loved after-school activities as a kid. LOVED THEM. And our time will come.
Just not yet.
For now, we've got t-ball in our own backyard.