These lemon-lime yogurt pound cake parfaits have the perfect topping to make anyone's St. Patrick's Day extra special: Rainbow fruit!
And best of all, this major splash of color comes without any artificial food coloring at all.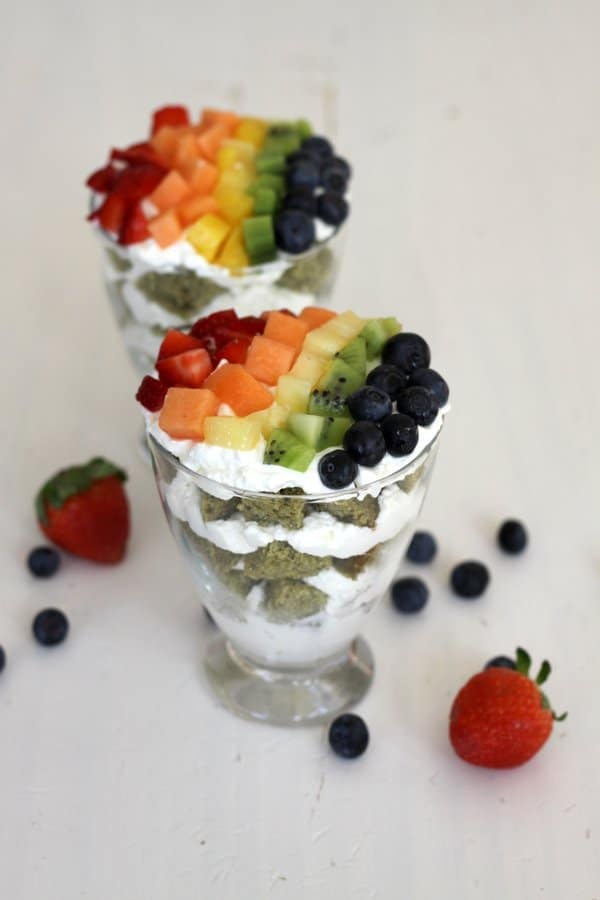 First, comes the better-for-you pound cake. This one's full of zesty lemons and limes, Greek yogurt and to get that sweet green color? Spinach.
No food coloring, just a little shot of the real deal.
Don't worry, the sweetness of the fruit disguises any trace of spinach forever.
And if you don't want green cake? Skip the spinach entirely.
Just whip up your cream, either add a little sugar or maple syrup along the way, or don't.
Dice up the cake, starting with cutting off the browned edges.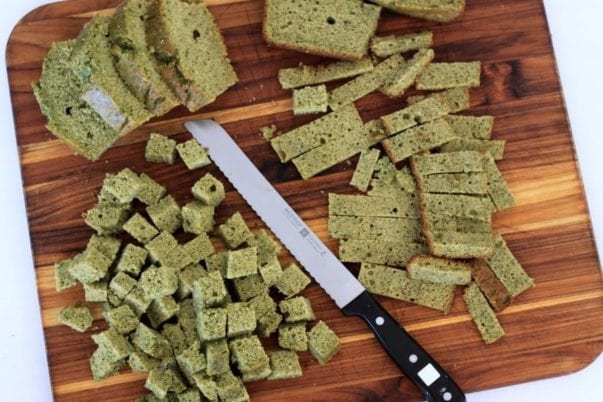 Then make layers.
Cream, cake, cream, cake.
Top the whole thing with diced fruit and ta-da! A showstopper for every season.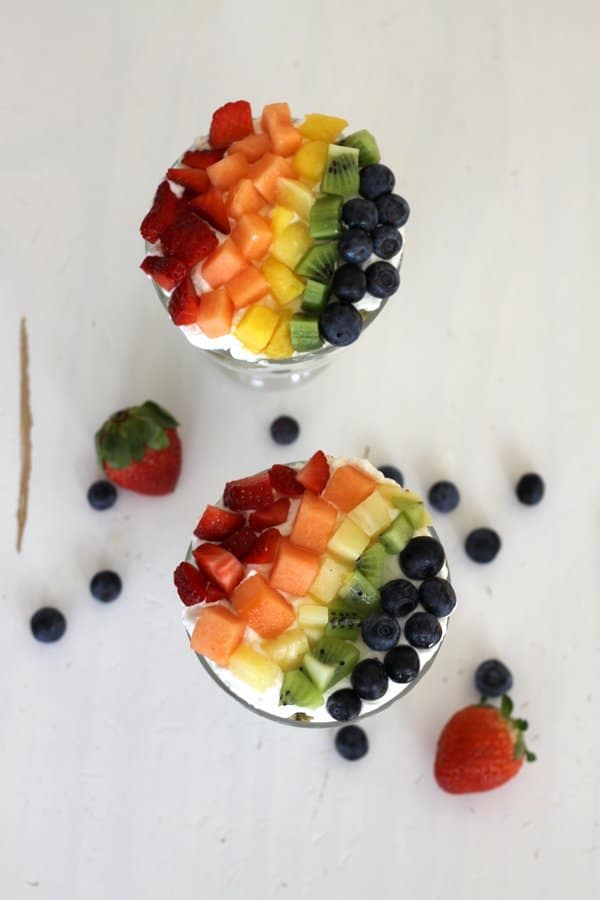 Print
Lemon-Lime Pound Cake Parfaits with Rainbow Fruit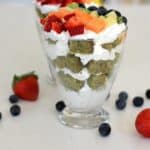 Though I never like washing another bowl, I do find using the food processor for this recipe makes quick work of getting the spinach and citrus zest incorporated quickly.
Author:
Cook Time:

50 mins

Total Time:

50 mins
Ingredients
1 cup frozen spinach, thawed
1/2 cup plain Greek yogurt
1/4 cup milk
1/4 cup extra-virgin olive oil
1 teaspoon pure vanilla extract
2 large egg whites
1 large egg
3/4 cup sugar
Zest of 2 lemons
Zest of 2 limes
1 1/2 cups white whole wheat flour
2 teaspoons baking powder
1/4 teaspoon fine salt
Instructions
Preheat the oven to 350 degrees F. Grease a 8 1/2- by 4 1/2-inch loaf pan with butter or cooking spray.
Place the thawed spinach right on two paper towels or a thin kitchen towel. Wring the towel until that spinach gives up all its juices. (There will be more than you think!)
Combine spinach, yogurt, milk, olive oil and vanilla in a food processor. Puree about 30 seconds, until the spinach pieces become really small but don't worry if you can still see actual pieces. Along with the lime zest, that's what'll make the cake green.
Add the eggs, one at a time. Pulsing in between each one.
In a large mixing bowl, combine the sugar and zest. Use your hands to massage the sugar so the oils of the zest really start working.
Add the spinach batter from the food processor and stir.
Then set a sifter over the top of your mixing bowl. Pour in the flour, baking powder and salt. Sift over the spinach batter then lightly stir until JUST incorporated.
Bake at 350 degrees F for 50 minutes.
For more simple recipes and practical ideas for feeding a family, check out all of our kid-friendly ideas! And sign up for the Foodlets newsletter to get regular updates on TRIED AND TRUE recipes that work for my own four small kids. These are the BIGGEST hits of the week, the show stoppers that your family will love too. 
Or get started with a few of our favorites right here: