I grew up eating tuna noodle casserole. The kind with a whole can of cream of mushroom soup tucked right inside.
This version is not that.
But it's every bit as creamy, tangy and delicious.
There's even a low-cost protein boost, thanks to four hardboiled eggs that make their way into this dish at the end. Now if that's not a nod to the seventies…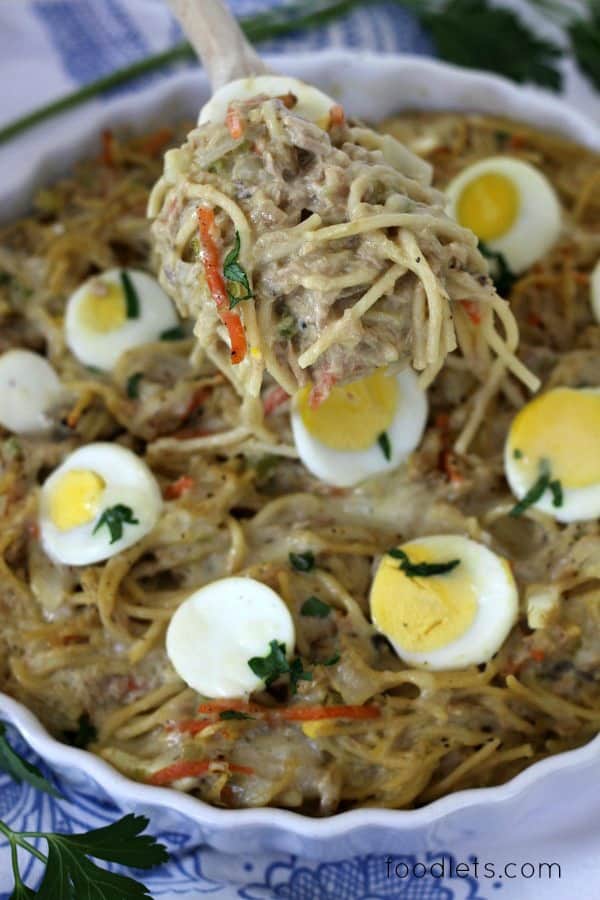 Start with chopping the veggies: mushrooms, celery, onion and garlic.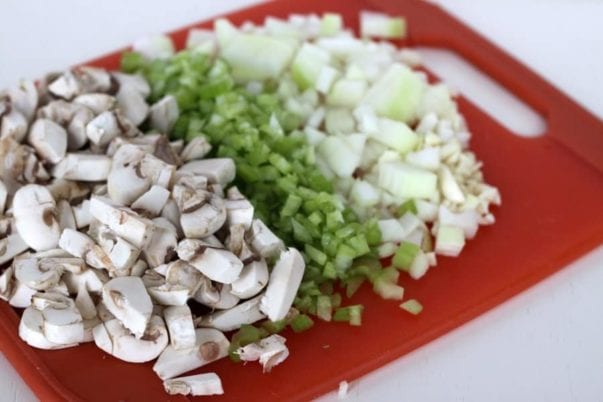 Take a shortcut by throwing in matchstick carrots straight out of the bag. Then sautee everything in olive oil.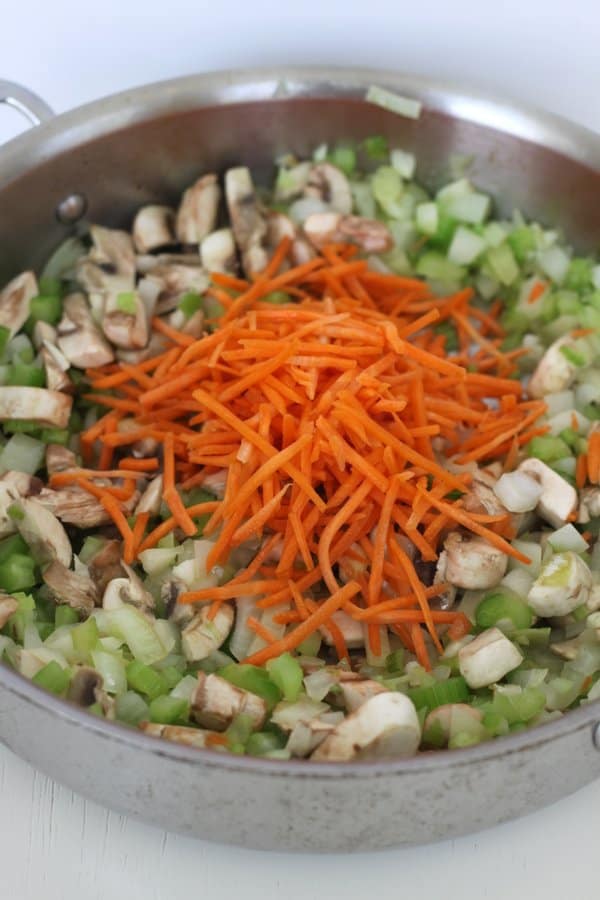 In order to get a creamy casserole without any help from Campbell's, you'll need to make a roux. Don't let the French name fool you. It's a simple process: Melt 3 tablespoons of butter in your pan. Add 3 tablespoons of flour and cook for about a minute. Then pour in 1 cup of chicken stock and stir.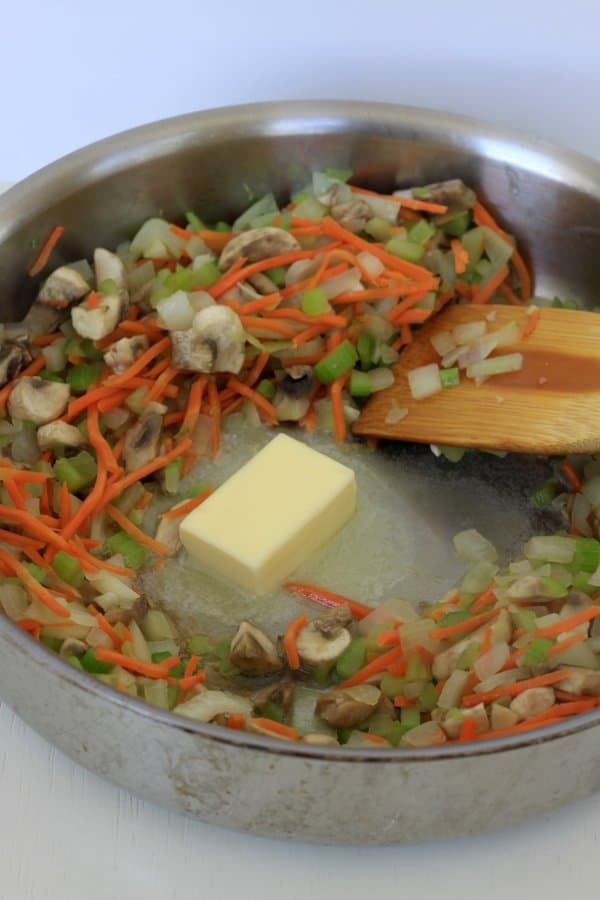 You'll have a thick and creamy sauce in minutes. To it, you'll add a bit more flavor: mustard, salt and pepper, Greek yogurt and crumbled hardboiled eggs.
When your sauce is gooey and bursting with flavor, it's time to add cooked noodles and cheese. I used "SmartTaste" pasta because I like having more fiber and my husband likes not tasting it. The cheese is extra sharp cheddar but Monterey jack would also be delicious.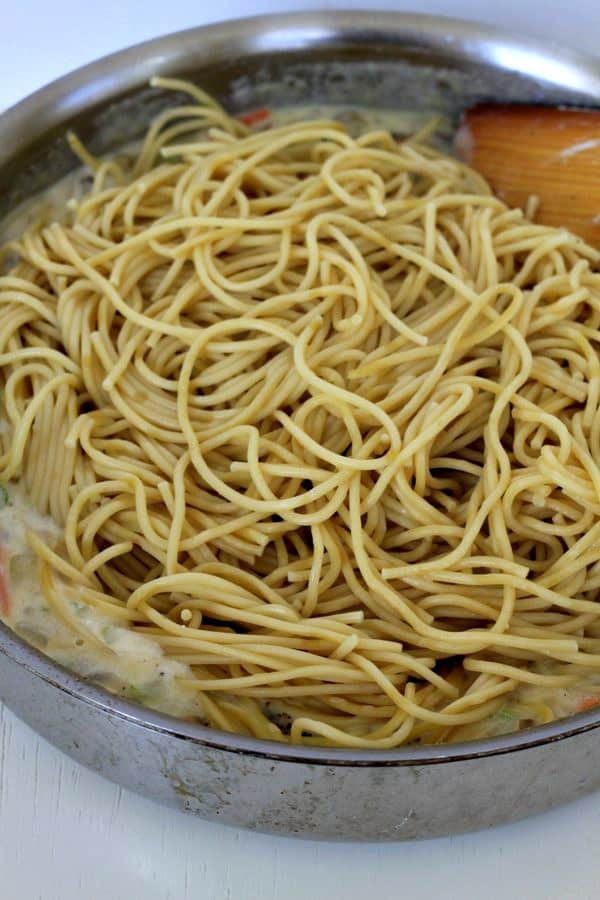 Transfer to a buttered baking pan and top with one last sliced egg, a handful of cheese and a sprinkle of fresh parsley. Bake at 400 for 15-20 minutes.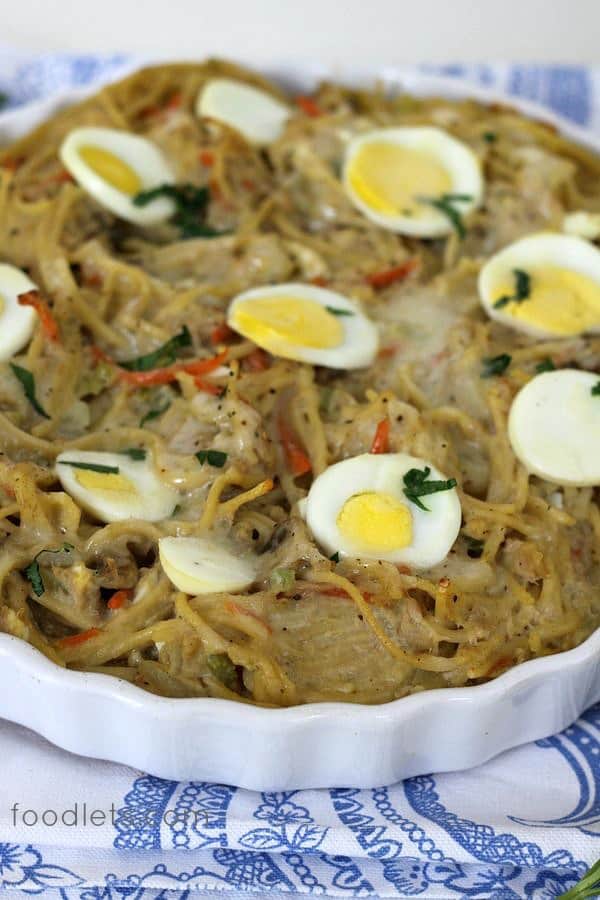 The Updated Tuna Noodle Casserole Your Family Will Love (No Cans of Soup Required)
Ingredients
12 ounces spaghetti noodles (I like "SmartTaste with added fiber)
2 tablespoons olive oil
1 onion, diced
3 garlic cloves, diced
4 stalks celery, diced
12 ounces mushrooms, diced
1 cup matchstick carrots
3 tablespoons butter
3 tablespoons flour
1 cup chicken broth
2 tablespoons mustard (any kind)
½ cup plain Greek yogurt
1 teaspoon salt
½ teaspoon pepper
2 12-ounce cans water-packed tuna, drained and flaked
4 hardboiled eggs (3 crumbled, 1 sliced)
1 cup shredded cheese (extra sharp cheddar or Monterey jack)
Instructions
Cook spaghetti noodles in water for 2 minutes LESS time than required on package instructions.
In the meantime, make the sauce: Sautee onion, garlic, celery, mushrooms and carrots for about 8 minutes, until soft (Tip: Double check the celery because it's the sneaky one that will try to stay crunchy on you.)
Make a well in the middle of the pan and add the butter, followed by flour. Cook for one minute. Add chicken stock and stir until thick.
Stir in mustard, Greek yogurt, salt, pepper, tuna and 3 eggs plus ¾ cup cheese. KEEP ¼ CUP OF CHEESE AND ONE EGG TO SPRINKLE ON TOP.
Mix in the cooked noodles and transfer the whole thing to a buttered baking dish (or two, like I did).
Bake at 400 degrees F for 20 minutes.
This makes a really big casserole so I transferred the final product into two pans: this one, plus another aluminum pan to take to my neighbors. They're an elderly couple and the wife just returned from the hospital. This is a great dish for travel. No liquid spills out and it'll wait patiently in the oven or fridge for its turn on the dinner table.
Plus I liked having my kids see us in action again. It's part of our yearlong focus on feeding kids character. Generosity, kindness. We're working on budgeting and taking care of the environment next–all through decisions (and discussions) about food. Stay tuned!
Don't miss out on the next tip or recipe! Subscribe to our free newsletter at the side of this page and like Foodlets on Facebook.