If you're looking for a way to get your kids eating more vegetables, boats are the thing.
We've made Italian Zucchini Boats and I'm thrilled to say two things about it:
They used a lot of zucchini (a perk because I love actually using produce from our overflowing garden).
They were a huge hit with the kids.
But until that same garden started sprouting summer squash this year, I never realized you could do the same thing with zucchini's yellow cousin, summer squash.
Changing up the flavor (and reusing the leftovers from taco night) I present…Taco Squash Boats!
And now a quick word about reusing leftovers. We NEVER use all the taco meat so this is a perfect way to put a totally new spin on a meal from earlier in the week.
Or, if you're cooking for a large group, taco squash boats are another way to stretch a pound of ground beef/turkey/chicken farther than you'd ever expect.
Need to get even more mileage out of that meat? Add a can of beans. Any can of beans. When you slather the whole thing with cheese, the flavors will come together perfectly.

Making these boats is easy. Cut a squash in half, hollow out the insides so you have plenty of room to fill with your meat mixture. I like to use a melon baller scoop like this one.
First roast the squash CUT SIDE DOWN in a large baking pan (This is the one I have; it's part of a portable set and I love the whole darn thing.), then flip it, fill it, sprinkle with cheese and into the oven it goes again.
Serve with fresh tomatoes, cilantro and if you want to be really popular, tortilla chips with guacamole.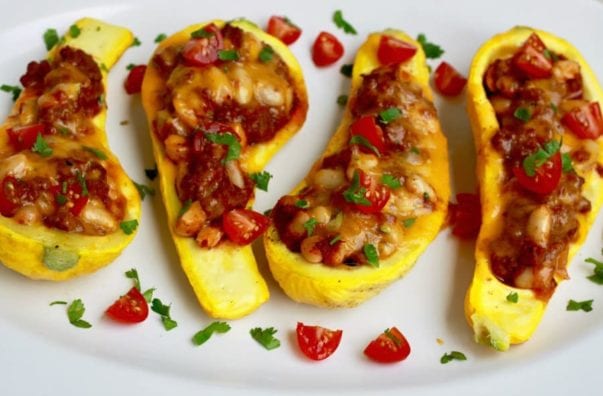 Taco Squash Boats
Ingredients
3 medium summer squash
2 tablespoons olive oil
sprinkle of salt and pepper
2 cups ground beef
½ onion, sliced
your favorite taco spices (garlic powder, chili powder, salt, pepper, paprika and red pepper flakes)
½ cup shredded cheddar cheese
optional garnishes: quartered cherry tomatoes, cilantro or parsley, tortilla chips and guacamole
Instructions
Preheat the oven to 400 degrees F.
Slice open the squash and scoop out the seeds.
Drizzle with olive oil and sprinkle with salt and pepper. Place the squash cut side down on a large baking pan. Roast for 15 minutes.
While the squash is roasting, cook the meat and onions in a large saute pan (if you're not using leftovers). Season with taco spices and add ½ cup of water. Simmer until the liquid is reduced.
Pull the pan of squash out of the oven, use tongs to flip each one over. Fill the insides with the meat mixture and sprinkle with cheese.
Bake for about 15 more minutes, until the cheese is melted.
Serve with any garnishes you like: tomatoes, cilantro, tortilla chips or guacamole.
This post contains some affiliate links. When you purchase one of the items, Foodlets receives a very small bonus at no extra cost to you. #collegefund