These homemade popsicles have been the hit of our back-to-school week.
And trust me, we kind of needed one. There are SO MANY FEELINGS about third grade, first grade and apparently kindergarten is no picnic either.
When I see the rascals come home so stressed — and so very ready to rumble — I like to slow things down.
Come on in guys. Put your backpacks down. Wash your hands and let's just shake it out okay? Seriously, shake, shake, shake. Three dragon breaths! Great. 
Now everyone can have a popsicle.
Outside.
I mean, I feel for them but I still like a clean floor.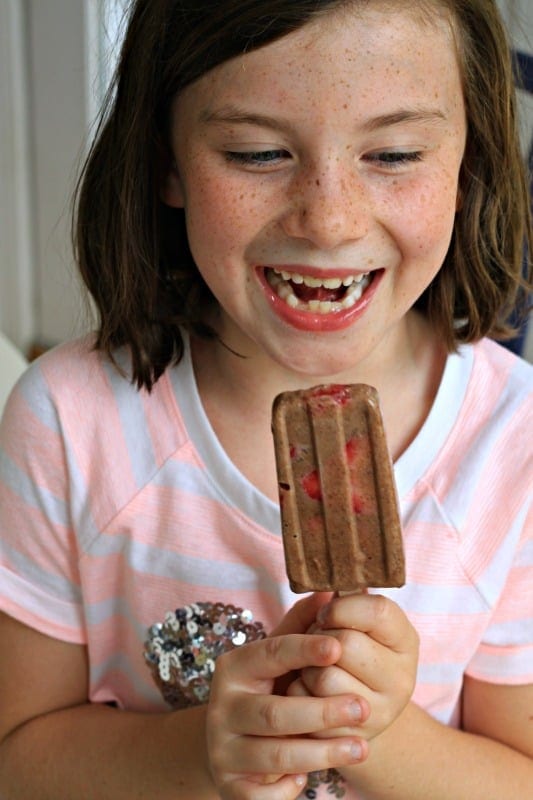 But I also feel good about giving them something like this. There's no sugar, thanks to all that sweetness from one cheeky banana. Just fruit, protein-rich milk and tons of fresh fruit.
And here's the best part: If you can blend 3 ingredients in a blender, you can make them too!

No-Sugar Strawberry Fudgsicles
Ingredients
1 banana
1 cup milk
1 tablespoon unsweetened cocoa powder
about 20 strawberries
Instructions
In a blender, combine a banana, milk and cocoa powder.
Slice strawberries and fill popsicle molds (using about 2 strawberries each).
Pour chocolate mixture over the strawberries.
Add sticks and freeze for 4 hours or overnight.
p.s. Here are the popsicle molds we use. I love them because you can make a big batch at once AND each popsicle is a great size. 
This post contains affiliate links. When you make a purchase, Foodlets receives a very small commission at no extra cost to you. Thank you for your support!