These 3-ingredient strawberry fritters say welcome to the weekend. With fewer items to add than regular ol' pancakes, they're packed full of flavor–and practically all fruit so you don't even need syrup.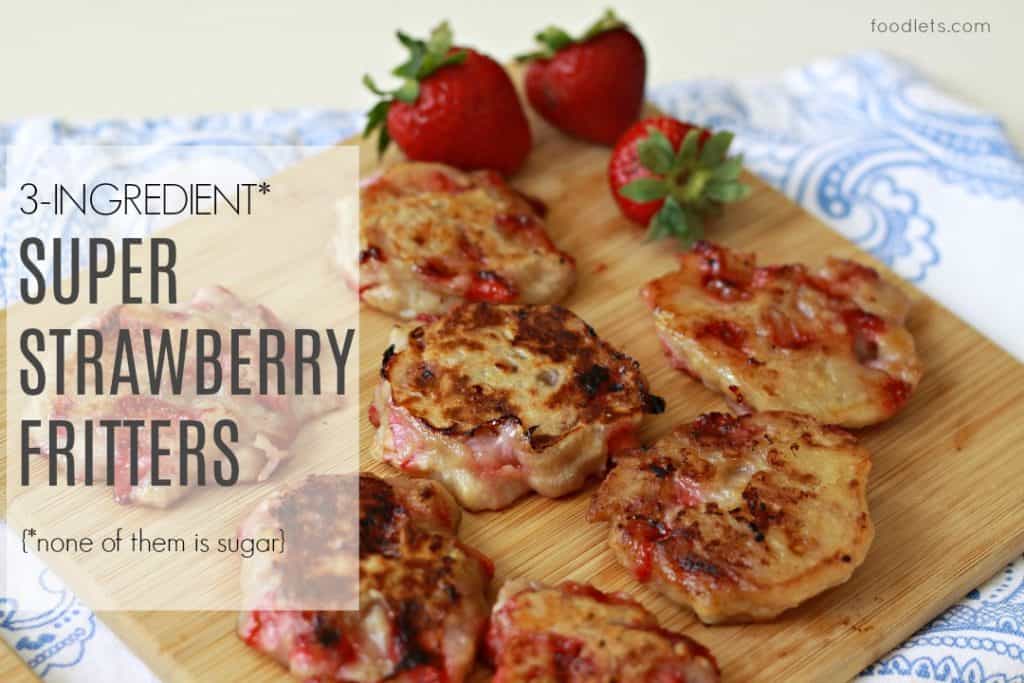 Like our blueberry-apple version, these easy fritters make healthy finger foods for babies and toddlers, not to mention a no-sugar snack for any kid anywhere.
But one of my favorite things about these simple strawberry fritters is that my eight-year-old can whip them up herself. She's mastering the art of sliding a spatula under all that soft batter with enough heft to get it up and over. I love seeing her concentrate, building a reserve of confidence that will serve her well for a whole lifetime to come.
Not bad for a banana and a handful of strawberries.
Tip: If you make these ahead of time, heat them up in the broiler on low for about 1 minute and they'll be as good (and fresh) as new.

Super Strawberry Fritters
Ingredients
1 banana
½ cup flour
1 cup strawberries, diced
1 teaspoon butter
Instructions
Mash a ripe banana in a mixing bowl.
Mix in flour.
Gently fold in strawberries.
Melt butter in a non-stick skillet and drop fritters onto the pan, flattening a little with the back of your spatula as needed.
Cook for 3-4 minutes on each side.
Serve immediately or store in an airtight container in the fridge. (Reheat under the broiler or in a pinch, the microwave will work too!)